---
---
Get the Job Done
---
---
By Anna Guy
When Canadian giants set out on large construction projects, the smallest deviation in budget or schedule means losing tens of millions of dollars, if not more. That's why for almost 25 years, clients have trusted L. Nardella Associates Ltd to ensure that every aspect of the project—from technical and safety requirements, budgetary concerns, and deadlines—are met.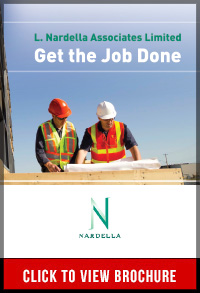 You may not be immediately familiar with the name L. Nardella Associates Ltd, but chances are you know many of the high-profile projects the company has had a hand in. Since 1995, L. Nardella Associates—hereby referred to as LNA—have served industry owners and their production teams, national and international corporations, government institutions, research and development laboratories, consulting engineers, architects, contractors and suppliers.
Grown out of years of combined project management & construction management experience in, pulp & paper, mining and metallurgy, to petrochemical, energy, environmental, textile, heavy industrial, bio-energy, and wind farms, there is no project unfamiliar to LNA. Luigi Nardella, Founder and President, and Dino Maselli, Executive Vice President, describe the expertise, skills, quick-thinking and foresight that has led LNA to the top of its field.
Planning, Coordination, and Control
"To summarize our services in three words, we deliver efficiency and transparency within our Planning, Coordination, and Control," says Maselli. This is achieved through services based on an objective analysis of project priorities, technical requirements and professional team set-ups.
LNA is a multi-disciplinary organization, offering everything from project management (PM), and construction management, feasibility studies, estimating, cost control, planning, constructability reviews, establishing long-lead items, collaborating with client-chosen engineering firms. LNA has also developed over the years the expertise in Procurement services which comprise purchasing, support to contract formation, expediting, inspection, logistics, material management and warehousing.
LNA is renowned for its strength in field construction management, representing the owner and client's interest in construction management.
"LNA acts on our client's behalf to reinforce the PM group," says Nardella. "The owner or client is seeking a representative on behalf of their investment—and they are often unable to find one, because of their professional time constraints, or unwilling to go on the market and hire all these people individually, and therefore require trustworthy lead people who are able to take care of project control, contract administration and field supervision. They come to us because we have the flexibility to offer a complete package of services or to be more selective on specific services tailored to the client's needs."
Streamline Your Organization
LNA works as an integrated combined team with clients' team and engineering firm to deliver the global strategy to develop a streamlined organization. The company's first step is to do a complete, thorough audit on the status of the project. From there, recommendations are made to get the project on track, which can include a complete reorganization of the methodology. Then, LNA will do reverse engineering of the schedule from the completion date, and the project will be driven from there.
Quick Project Recovery
Over the years, L. Nardella Associates Ltd. has mastered the ability to customize its management services, from preliminary studies to final start-ups. In the past few years alone, 7 out of 10 LNA projects were already in progress when LNA was called in to redress the situation. "Owners come to us and ask would we be able to recover and how, and we've built a strong reputation on recovery," says Nardella. LNA has trademarked this specialty service as Quick Project Recovery Task Force ability—or QPRTF.
LNA recently joined a project that involved a cement plant that was underway when LNA was brought in. Financing became compromised, and the owners needed QPRTF services. After the audit, some recommended management restructuring, and a dedication to realigning the subcontractors to the project goals. It is not uncommon for LNA to take over a project worth half a billion dollars and more, with over 40 subcontractors, steer the entire team into the right direction.
Savings are also measured through expertise and methods of execution at all levels that save time and money. "We pride ourselves in efficiency that we instill at all levels of a project by being more selective with project resources and best practices, saving the client money, optimizing the schedule, and meeting the client's objectives through proven LNA project controls," adds Maselli.
"We work together with the owner's personnel as an integrated team within the client's team to be transparent to the client and for quick and informed decision making rather than having a team writing up multi level reports and having them sift through them," says Maselli. "We have been told by some clients that they have saved money and time by using us and the introjection of our philosophy into the project, because we also validate that the contractors' methods of execution are efficient and therefore reduce the costs and meet or better the schedule."
"LNA has the reputation of being firm and fair with all," says Nardella. He adds "LNA has gained the respect of contractors, workers and workers representatives through honesty and determination for success for all".
LNA provides a unique and vital service to the construction industry, and has helped companies and the Canadian economic engine by ensuring projects are completed properly, on time and on budget. With its head office located in Laval (QC) and several representatives across the country, and a growing international roster, LNA's cutting-edge technology and top-level professionalism gets the job done.