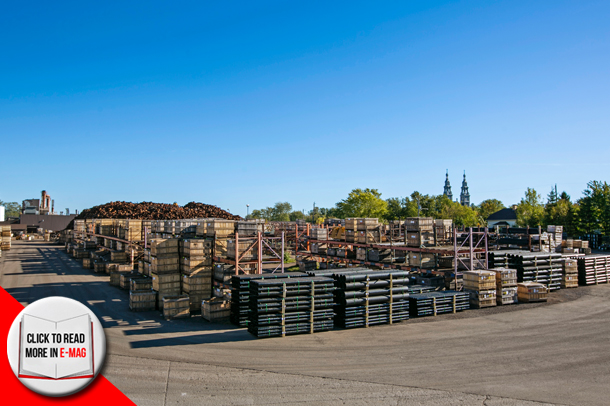 Leader in Cast Iron Foundries
By Cheryl Long
Being the first foundry in Canada to earn its ISO 14001 certification was a crowning achievement for Québec-based Bibby-Ste-Croix. When it comes to safety and environmental awareness, the company holds itself to high standards and being recognized for that commitment on an international level was a proud moment.
Tom Leonard is President of Bibby-Ste-Croix, a privately-owned manufacturing firm dating back to 1921. The company, a division of Canada Pipe Company Ltd., has two successful production facilities in Québec – one in Ste-Croix de Lotinière and another in St-Ours. At a grassroots level, the foundry is a true recycler by taking scrap metal and turning it into everyday products such as manhole covers, fire hydrants and cast iron soil pipes. The bulk of the foundry's production is gray iron, which is made from 100-percent recycled material; the remaining ductile iron is comprised of 80-percent recycled material, and all production revolves around a commitment to protect the environment for generations to come.
"We actually have a rather aggressive program to modernize the Laperle foundry over the next two years. Because it's such a competitive business we have to make a decision either to modernize or close," Leonard said.
Closing isn't an option for a company rich in history and proud of its longevity. Bibby-Ste-Croix became part of the McWane family of companies in 1997, and began a new journey marked by modernization and technological advancement. Headquartered in Birmingham, Alabama, McWane is the largest manufacturer of soil pipe and waterworks products in the U.S. and Canada, and has invested hundreds of millions of dollars to become a leader in the industry. Tom Leonard was a plant manager for one of the Alabama foundries when McWane completed the Bibby-Ste-Croix acquisition, and offered Leonard the opportunity to relocate to Québec as general manager.
It was a huge change for someone who didn't know a word of French. Today he attempts to speak French daily "but I've never quite mastered the language," he admitted. "It was quite an adventure to come to a foundry in Canada being a U.S. citizen, and then come into a French-speaking province. It was quite a challenge.
"I must admit it was an exciting challenge and I had the opportunity to live in Québec City and that makes it all worthwhile."
The bulk of the scrap metal recycled by the Québec foundries comes from automotive parts. The scrap metal is melted down in either a cupola or electric furnace and the molten iron is cast using a sand mold system or a pipe spinner. Thanks to the foundry industry, those junkyard heaps undergo a "green" facelift, re-emerging as pipe, fittings, manhole covers, and valve and hydrant parts distributed across Canada and the northeastern U.S. That dedication to sustainability runs throughout all of the McWane companies, which are estimated to recycle more than 750,000 tons of scrap iron each year, or the equivalent of 800,000 cars.
Leonard is proud of the achievements he's seen since he joined the Québec operation. Today, the two foundries and two distribution centres – one in Hamilton, ON and another in Medicine Hat, AB – distribute close to 90 percent of their products throughout Canada with the remaining shipped to the U.S. The foundry operations provide 500 Canadian jobs and being able to keep those team members employed is a priority.
"Bibby-Ste-Croix right now is one of the few foundries left in Canada that produces cast iron products. Most of the foundry industry has transferred over to either India or China but Bibby has been able to stay successful," Leonard explained. "In 1997 when we came to Canada, there were seven other foundries producing the exact product we do and now we're the only one left producing cast iron drain pipe and we're the only foundry left producing solely 'Gray Iron' manhole frames and covers and valve boxes. So I guess our biggest milestone is being able to stay alive."
Competing against countries with production costs much lower than North America can make it difficult, if not impossible, to stay afloat.
"Manufacturing is in trouble in Canada. There's hardly a week you do not see some manufacturing facility close," Leonard said. Canadian manufacturing is only going to survive if the federal and provincial governments level the playing field, whether that means imposing trade barriers on products entering Canada or removing barriers that other countries have, preventing Canadian product from being exported.
"In Canada there's nothing that prevents low wage countries from coming in here and taking our manufacturing jobs," he explained. "The thing we should do is recognize the tax contribution of a manufacturer. In the case of Bibby-Ste-Croix, 40 per cent of what we sell goes back to the government in taxes. If our product comes in from India or China, there are no taxes paid by the employees who manufactured that product. I think that should be taken into consideration, particularly in municipal bids and government bids."
Years ago, Foundry Laperle supplied sinkers for the buoys used in the St. Lawrence River. The federal government contract was lost to a company from China that came in with a bid two percent lower than Bibby-Ste-Croix. "Now granted that company was two percent below us but 40 percent of our bid price would go back to the government in taxes so I argued with them … but it fell on deaf ears," Leonard said.
Despite industry challenges, the company forges ahead with great success by continuing to make improvements that benefit their team members, customers and the environment. One future change will see a transition from the use of cupola furnaces, which rely on coke as a source of fuel, to electric furnaces. This will allow greater flexibility in the types of products the company can manufacture, and it will also reduce carbon monoxide emissions.
Bibby-Ste-Croix is also committed to giving back to their community, holding annual food drives, putting together food and gift baskets for local residents, supporting the purchase of hockey equipment for young players and offering home-cooked meals during the Christmas season. Donating to organizations such as Opération Enfant Soleil, the Red Cross, local schools and the municipality is an important part of the company's culture. Bibby-Ste-Croix has also developed great relationships with area companies, including JAG, a transportation company that delivers the foundry's products; AIM Québec, which purchases scrap iron from the foundry; and Minéraux Mart, a company instrumental in providing raw materials and assistance in improving the chemical profile of Bibby-Ste-Croix products.
At the end of the day, Leonard said the company's goal is to be one of the last foundries remaining in Canada, achievable thanks to continued investment by McWane. "The family who owns us is more interested in reinvestment into our foundries so that we're a healthy company and can keep our 500 team members knowing that they have a long working career ahead of them. We not only work hard to stay alive but to excel and succeed."