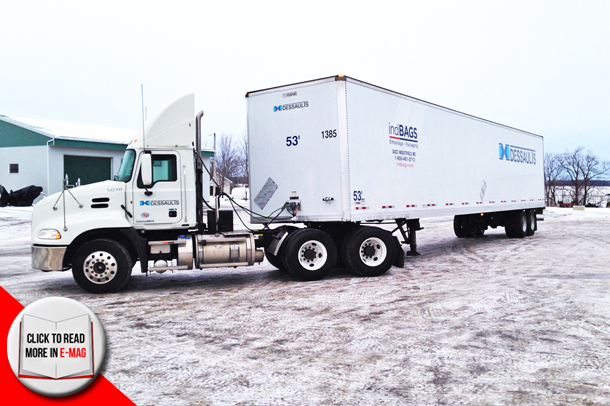 Transport Dessaults: The Highest Level of Professionalism
By: Fadeke Adegbuyi
This year Transport Dessaults, an LTL (Less Than Truckload) transport service based in Quebec, celebrates its 10th year of operations. Brothers Leo and André Fréchette are the original founders of the company. José Serli, the company's new CEO and President, bought the company in July 2013 and has focused on rebranding the firm.
With him, he brings a wealth of experience from his extended time in the transport industry. From a young age, he was exposed to the industry and worked in his father's truck dealership in the garage. At the age of 16 he began to work for SGT2000, a large full-truck load company in the center of Quebec, during the weekends and summers. After completing a Business Administration Degree and working for several years in the logistics department of a transport company, he went on to start his own partnership that was in operation for over 7 years. He achieved great success and he departed from the firm in 2012 for bigger opportunities.
In February 2013 he started Transitex Solutions Inc., a logistics company, and completed the acquisition of Transport Dessaults. The merging of the two entities allows the Dessaults Group to provide its clients a full service of international logistics. He's recently begun the process of restructuring the company. "The trucking company has 31 trucks and 65 trailers. We have 60 employees and I have been the 100% owner since July 1st 2013," says Serli.
In the matter of a few months, the company has seen positive changes. "The first thing I did when I came here was to restructure all the plans of the pricing department. I began to work with customers," says Serli. The company continues to surge forward with restructuring by reassessing the fleet of forklifts, trucks and trailers. Additionally, Serli has implemented the use of driver uniforms for unity and brand recognition. The logo was changed to "reflect the new administration and the new way of doing things."
Transport Dessaults is already gaining momentum under new leadership. "In 2013, when I arrived, we were 5% behind of last year and right now we are 10% ahead of last year," says Serli. "We should finish the year at 10-12% ahead despite starting behind," he adds.
A new emphasis has been placed on customer service within the company. "The customer feedback is very positive," says Serli. "Here you can have direct access to dispatchers who can tell you where the truck is. If we have any problems, dispatch and operations are very fast to answer and redirect or correct," he adds.
The company is also thriving due to their specialization and ability to meet the unique demands of various customers with varying requests and needs. "We can do 10-15 deliveries in the morning and 10-15 pickups in the afternoon…every customer has their own expectations and their own opening hours," says Serli. "We are one of the best to take care of all these special demands," he adds.
"We are trying to get more and more sophisticated and specialized equipment such as heavy duty tailgate equipment, heething service, and double deck trailer for more efficient loading," says Serli.
While the firm's logistics department covers all of the North America market, Transport Dessaults is based in Drummondville. "Montreal is the main attraction; a lot of things are going in and a lot of things going out because there's a lot of manufacturing business," he says.
Aside from customers, the firm has also attracted attention from job seekers. "A lot of carriers want to work here because they know they will start in the morning and end at 5-7pm instead of going to Texas and leaving for weeks at a time," says Serli. "Great drivers are hard to find…it's a very physical job," he adds.
In terms of expansion, Transport Dessaults is looking to move from their current facility to allow for increased flooring, freight, and trucks. "We want to be near the center of Quebec because almost 75% of our equipment is going west and 10-15% to the east," says Serli. Being more centered in Quebec will allow the firm to save fuel, manpower, and money.
Support has been provided to Transport Dessaults by National Bank who helped with their acquisition. "They've been a big partner," says Serli. Dessaults is supplied their fuel, oil and lubricant by Petro West and law services by Therrien Coutre. "We take care of suppliers as much as we take care of our custumers… this is a key to success," says Serli.  "A great future is in front of us because we're a very specific kind of transportation," he adds.