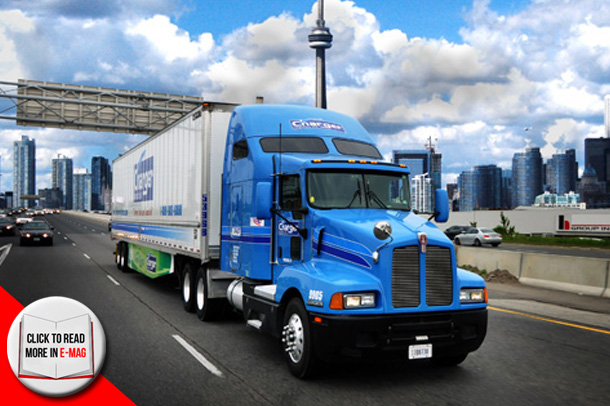 By Cheryl Long
Long gone are the days when Charger Logistics had two trucks on the road and one lone customer. Today, the long haul trucking company provides road transportation services across North America, and its success and corporate philosophy have earned the organization a place among Deloitte's Best Managed Companies.
In 2013, Charger joined the prestigious list of companies recognized annually by Deloitte for their outstanding business performance and innovative management. Having received Deloitte's aware for the "Best Managed Companies", this rapidly-growing organization continues to be guided by a set of principles that promise to pave the way to an even more successful future.
Sameer Pichumani joined the company early this year as a financial analyst, and has already witnessed how the company places a priority on not only the growth of the business, but the people behind the Charger name.
"Charger focuses to grow its most valuable assets, which are its employees and its drivers," Pichumani said.
It seems fitting for a company that began in 2005 as a family-run business. Founder and President Andy Khera set out to become one of the industry's top transport carriers by applying his own knowledge of trucking, logistics management and information technology. Outfitted with two trucks, they began hauling automotive parts for Ford Motor Company.
"Having gained valuable experience moving automotive parts, our next customer was GM (General Motors), which saw significant growth within Charger," Pichumani said. "Our key focus was to diversify our customer base."
Recession brought renewed efforts
The company faced one of its biggest hurdles during the recession of 2008, as its clients were among those hit hardest by the financial crisis. That's when Charger decided to refocus their efforts to expand their client list, implementing four key pillars that would guide the company as it grew: diversifying their customer base, increasing hauling capabilities, expanding into new markets and building regional capacity, Pichumani said. They also adopted what would serve as the company's mission statement: "Service You Can Count On".
Those efforts have paid off and today, hundreds of Charger's signature blue trucks move everything from consumer goods and fresh produce to industrial equipment up and down the highways running from Canada to Mexico. The company operates from several locations, including their headquarters in Mississauga, Ontario, and a network of offices and yards throughout North America. The fleet has grown substantially over the years and now includes more than 300 tractors and 400 trailers with the capability of hauling temperature-sensitive, oversized and overweight goods, dedicated loads, specialized hauls and Hazmat cargo.
Customers also benefit from the company's team of dedicated dispatchers who are on the job 24 hours a day, every day of the year, to ensure that there's no interruption in service.
"Charger Logistics is committed to delivering value, on-time performance, to our customers with passion, energy, and integrity in a cost-efficient, safe, flexible, and productive environment," says Khera.
Charger invests in its people
Investing in people is among the company's six guiding principles, which means equipping their team with top-of-the-line trucks and providing all employees with ongoing training and support. Specialized training developed by the safety department assists Charger's drivers in gaining the skills they need to meet customers' changing needs. The company's extensive IT department is continually developing applications designed to increase efficiency and sustainability.
Saving fuel and reducing greenhouse gas emissions
 "As an over-the-road logistics company, we invest in and perform in-depth research to create customized IT solutions to increase efficiencies and proactively monitor our fuel economy", Pichumani explained. This information helps the company establish certain controls and reach the goals they've set for fuel optimization.
Efficiencies are always being explored at Charger, whether that means installing aerodynamic skirts to reduce drag, or filling tires with nitrogen to maintain a more constant tire pressure. The majority of Charger Logistics' fleet is custom built using select components and aerodynamic fittings, handpicked by management after conducting extensive product research.
In addition to improving the fleet's fuel economy, Charger's managers strive to reduce non-essential truck idling times, which not only waste large quantities of fuel, but also emit copious amounts of greenhouse gases each year. TriPac units have been outfitted in every truck to provide consistent heating and cooling to the cabin without requiring the vehicles to keep running.
Charger Logistics maintains a vision for excellence and encourages their employees to provide an exceptional level of service to customers. It also means adopting a high level of transparency, making sure that costs are up front and in line with client expectations. Safety is a crucial part of any logistics company and Charger ensures that its customer`s loads arrive risk-free, on time and on budget, by dedicating resources to truck and driver safety. It's all about providing the best in logistics services.
Corporate social responsibility is another facet of the company. Giving back to the community is something that employees and management alike take to heart, and they've donated shipments of non-perishable food items to local food banks and supported charitable events organized by their customers.
To learn more about the company behind the blue trucks, visit chargerlogistics.com.