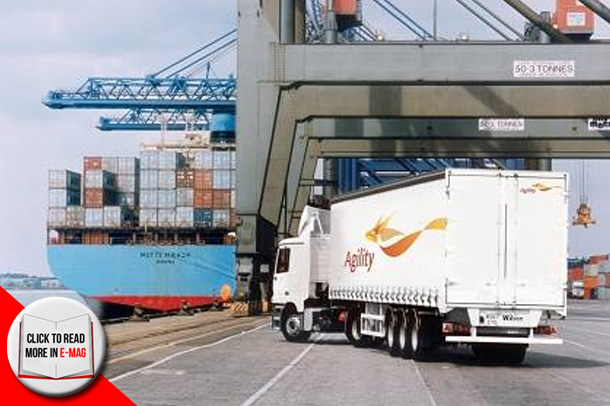 Agility Logistics: Meeting the challenges of global trade
By: Mudeeha Yousaf
Theoretically speaking, moving from point A to point B is not given much thought. Though in practice, there are many aspects that go hand-in-hand with the meticulous approach to the supply chain industry. Agility, a full-service logistics provider, stands as one of the most trusted names in the industry and relishes in its global brand that is rapidly expanding into emerging markets. Established in Kuwait in 1979, the company reigned in the Middle Eastern market and became the largest logistics provider in 2004. Expansion remained, and still remains, on the company's itinerary and they went on to acquire many global brands. These firms united to form an integrated global network which gave birth to the Agility brand in 2006.
With its logistics group global head office situated in Switzerland, the Canadian organization is over 75 years in the making and looks very promising. Business Elite Canada was delighted to chat with Mike Shum, Vice President of Business Development at Agility Canada, about its extensive corporate footprint, and its significance in Canada.
Mike's passion for the Logistics trade grew upon graduating from University. "I entered the logistics arena relatively young, trying to get a feel for multiple industries… I dabbled in the pharmaceutical industry prior to logistics but found it wasn't a clear fit moving forward." Mike's extensive background in the industry is evident from his past experience working with two previous Global Logistics Companies and was involved in a broad range of supply chain postings – from international freight forwarding to custom brokerage and contract logistics. He joined Agility in 2010 as head of the sales organization, and never looked back. "Now 14 years later I'm still inspired by the industry… I enjoy the day to day challenges and what makes it unique and refreshing is how it shifts depending on industry group, and where the products may be moving to and from."
Agility Canada is a well-established and mature part of the Agility global network, with its legacy brand dating back to the 1930's. Being a service provider, the company heavily depends on long-term partnerships with their suppliers to provide them a valuable experience, which is then forwarded on to their customers. "It's really about the people, process and how we service our customers. The process is fundamental to move goods, but having a global network of people and integrated infrastructure is key." Like an orchestra where all individual efforts lead to a unifying experience for the audience, Agility's strength stems from its team of highly skilled professionals.
Servicing all products of the Supply Chain, Agility is involved in different aspects of the Renewable Energy Industry and "one of the areas we're looking to bolster is our project's sector, which is catering towards the alternative energy market place, oil and gas and mining industries." Everything that produces energy needs logistics services and Agility handles everything from electric car fuel stations to the storage and distribution of solar panels, as well as big project moves for the wind energy sector.
"[There is an] evolving dynamic in the Canadian market place. The manufacturing has been struggling in Canada, with the dominance of oversees lower-cost markets," explains Mike. "For a logistics organization to really grow with the dynamics in Canada as a consuming economy there is a lot of consumer goods coming into Canada, but there is other opportunities when you look at the alternative energy market place, oil and gas and mining industry. From an Agility standpoint, those are areas that truly do complement our global structure."
The Freight-Forwarding business is highly competitive with all the major players trying to grow market share, so it is essential for every company within the industry to set itself apart from the norm. Agility distinguishes itself from others in the market because of its place as the only Middle-Eastern freight forwarding company in the top 25, and their Middle-Eastern background equips them with a new outlook on business practices. Their pillar of strength comes from life in their emerging markets, and the company has efforts in developing set-ups and infrastructure in developing markets along with supporting global developments.
The Canadian logistics market has seen its share of challenges, which was evident after the economic challenges and the slowdown since 2008, which forced a lot of the logistics players to become even more eager to secure business at any cost, having an impact on margins and profitability. With its wider spread out geography than say the European market for example, Canadian logistics is a whole different ball game. "[There must be an] understanding that the movement of goods is not generic… it very much is important to standardize things, to provide efficiency, but also have the ability to adapt and meet varying degrees of a customer and their business and how they interact with their customers, so having that diversity in the organization is a true strength."
Becoming a frontrunner in the supply chain industry did not come without its set of challenges for the pragmatic company, and if there is one thing Agility Canada has learnt throughout the course, it is that change is inevitable to adapt in this fluid economy. Being one of 750 registered Freight Forwarders in Canada's supply chain service market, personal service is integral to the company's success, as well as knowing what the customer expects and to meet those expectations accordingly, and especially focuses on people, their product and the process as the center of their business.
To protect their customers, and their corporation, Agility has stringent practices in place to ensure a safe business environment with as little risk as possible. The company invests in the education of their staff and the standardization of their processes, combined with continuous improvement efforts to help manage risk. The implementation of Quality standards (ISO and the likes) and the Continuous Improvement process is helping the company deal with risk, as well as its efforts in extensively training staff. There is a focus on training and integrating long term employees which will assist young people coming from post-secondary schooling with limited to no work experience to integrate into the industry and company. Specifically in North America, Agility invests a lot of resources and money into training and it is because of these recruiting and training practices that Agility Canada's voluntary turnover rate sits at a low 3.7%.
The company supports the Emergent Market Index – an index that is updated on a yearly basis to highlight the progress and challenges in developing world and emerging markets to help customers see where they should invest money and resources – and advises that the logistics industry is the best indicator to where the next big developments will be. "The culture of the company, being an organization with its roots in the emerging market place that have had to deal with a continually evolving environment, is engrained in the organization. Because we're a relatively young brand, we have a long legacy with the various organizations that are part of the mergers and acquisitions that our parent company formed several years ago. With that you really need to be unique and visible in the market place for our customers." Agility is ready to expand into Africa, which is said to be the next Asia, and the continent is in need of infrastructure and supply chain companies that will help them deal with volumes.
So the question remains, what's next on the already soaring enterprises business agenda? Agility plans on investing millions in their own IT system to drive their own destiny. Community outreach also remains a goal for the corporation, as they handle all the logistics for the Samaritans Purse "pack a shoebox" initiative. The establishment carries on its altruistic practices by engaging with the disaster recovery team with the United Nations, where they go into a disaster area as one of the first responders to re-establish the logistics infrastructure.
"Agility Canada has an extremely loyal customer and employee base and our success as a company is attributed to their continued support," says Mike. "The organization wouldn't be successful if we didn't have their support… the key focus for us has always been our customers and we look forward to supporting them in 2014."
Agility should be one of the big players of the future, and Canada, specifically, will remain a strong player in the world's economy especially because of its vast resources and global relations — Agility will only drive Canada's innovative optimization process.