Providing Top Quality and Highly Skilled Trades and Labour
~By Cheryl Long
It's being described as a pioneer in social hiring, combining some of the best practices from well-known sites like LinkedIn, Facebook and Indeed. Matrix Connect, the brainchild of Calgary-based Matrix Labour Leasing, is changing the way workers find and apply for jobs in Canada's blue collar labour industry.
The innovative site, powered by complex algorithms in the back end and a simple wizard up front, encourages workers to join through a first application touchpoint and then create a customized profile that outlines their skills, training and career goals. "The one thing applicants hate more than circulating resumes is creating them," said Shannon Warren, President & CEO of Matrix Labour Leasing.
Members are alerted only to positions that fit their criteria and also have the option of including a personal message with each submission. Matrix Connect also allows users to keep in touch with co-workers and potential employers as part of its social networking component, and provides an opportunity to comment on particular job postings. The ultimate goal: to simply make it easier for workers to find jobs in cities like Calgary, Edmonton and Fort McMurray.
"It is the future," Warren said. "This will be the de facto in blue collar placement." He believes that the current economic conditions are perfect for the growth and utilization of the portal.
"Right now, especially with the downturn in the market, it's perfect timing. It's hard to build something like this when everyone is working in a booming economy. For us, I feel like the timing's right. The economy is dragging a bit and it probably will for the next year or so."
Several jobs have already been filled through the site and the user base is doubling every few months. By early fall, Matrix Connect is expected to be fully operational as a Software as a service (SaaS), Warren said, making it easier to connect employers and employees in the construction and general labour sectors. The site will be responsive, making it easy to apply for jobs or post openings from any location and on any device.
For the past 12 years, Matrix Labour Leasing has been providing qualified and professional human resources services to construction contractors across Canada. They offer an important service to industries that often feel the effect of a fluctuating economy, supplying highly skilled labour at a moment's notice when business is booming and absorbing the challenges that come with layoffs when work slows down.
Began as a three-person start-up
Warren is the driving force behind Matrix Labour Leasing, leading the company's transformation from a three-person basement start-up in 2002 to the organization it is today with $80 million in sales to date. But he still remembers what it was like to struggle in the construction industry, making $9 an hour framing houses, getting shorted on paycheques and never knowing how long a job would last or how long it would take to find the next one.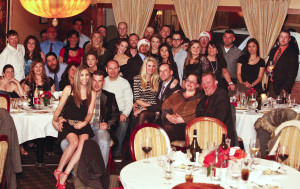 "We've come a long way but we still have a long way to go," he said. "Even though we've grown to this level our roots remain intact. I want to make sure I'm always going back to my roots and knowing why I'm here … It's never about the quick dollar."
Warren's roots stretch all the way back to the East coast of Canada. In search of broader opportunities, he left his home in Rexton, New Brunswick and moved to Vancouver where he found work framing houses, quickly learning both the good and bad within the industry. Today he calls Calgary home, though the business has grown to provide labour across Canada with employees at work sites for as little as three months and as long as three years depending on the project. The company is continually working to build a broader client base that will allow them to operate on more of an ebb-and-flow pattern instead of the more dramatic peaks and valleys.
The company has several businesses under its umbrella. Matrix Labour Leasing offers full human resources and placement services for its clients, including payroll, WCB management, liability insurance and staffing. In turn, they support their employees by providing wages, safety training, benefits, a retirement plan and a tuition refund program to encourage ongoing education. Matrix Connect is changing the face of job hunting in Alberta's construction and general labour industry.
Programs for indigenous and foreign workers
Align Personnel is a unique branch of Matrix Labour Leasing, focusing on the placement of indigenous labour in Alberta's oil and gas sector. Their candidates have the same training provided to Matrix employees with additional education in environmental stewardship and wildlife awareness. Patricia Forrest is Align's CEO and has an extensive background in staffing, particularly for the oil and gas industry, Warren explained.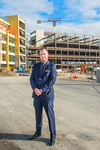 Matrix Construction is meeting an ongoing need for specialized and skilled labour by using a unique process to screen and place foreign workers into qualified roles on job sites in Western Canada. Currently a trial program, Matrix Construction combines the expertise of both immigration consultants and Matrix recruiters to find and place highly skilled workers from around the world.
Offering extra opportunities to their employees, whether it's a company-matching RRSP contribution or health benefits, is important to Matrix and to its founder personally. "We're trying to change the way people think; the way they operate in this industry," Warren explained.
"I personally have been burned by a couple of different contractors; not getting paid, not having any benefits, just not having great representation. I felt that for me, no matter how successful I've become, I don't want to lose that. If you spend so much time growing and you're so focused on growth, you kind of lose a little bit of a sense of where you've come from."
Concerns go straight to the top
That philosophy has helped Matrix build a strong internal team that aims to provide good jobs, take care of their employees and offer exemplary service to their clients. But if there's a problem, whether involving an employee or a client, it goes to the top of the chain to be handled by either Warren or his manager of operations. Same-day resolutions are always the goal.
"You'll get one of us on the phone. If it's a payroll issue, it's very important to me. I've been there. I know when you're shorted $200 or $300 on a paycheque, it hurts. I never forget that so if there's an employee that's been short paid — it doesn't matter if it's their fault or our fault or the client's fault — if we can address it that day, I will."
That level of dedication and success has earned special recognition for Matrix Labour Leasing. They placed seventh on Alberta's Fast Growth 50 list in 2013 and were also named one of Canada's fastest growing companies by PROFIT 500 that same year.
"I built this from nothing and I want to continue seeing it grow," Warren said. "I love my job. I don't even call it a job. I'm very passionate about what I'm doing."
Aiming to become one of the largest staffing agencies in Western Canada, Matrix Labour Leasing is still guided by one of its founding principles: to provide safe, well-paying jobs with full benefits to all of its employees. Warren is continually looking for ways to improve the company's offerings with the latest being a top-up plan that would ensure workers don't lose any wages if they decide to return to school for apprenticeship training.
"It's really important for us, and for me personally, to see this through and continue doing what we're doing, and try to build more of a solid foundation and offer better quality jobs to our employees with better customers that treat our employees like their own."
To learn more, visit www.matrixlabourleasing.com.
OUR PROUD SPONSOR: