---
---
Our Trained Professionals, Are Your Best Defense!
---
---
By Anna Guy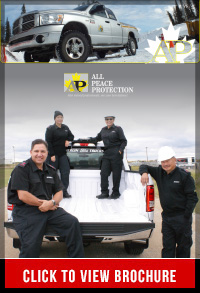 What started as a team of four employees in 1974 installing security systems, All Peace Protection (All Peace) has grown to be one of the largest security companies in northern Alberta. In its 43 years of business, All Peace has expanded its services provides from providing and installing alarm systems to providing patrols and alarm response to residential and commercial building in the city of Grande Prairie. All Peace has also branched out into the industrial sectors, providing security to oilfields, pipelines, mines and construction companies, as well as camp providers and Fire Watch. This division has grown substantially over the last few years and has taken All Peace into new territories such as British Columbia.
In January 2017, Athabasca Basin Security—a 100 per cent aboriginally-owned industrial security company—purchased the All Peace Protection and has been managing it ever since. As an Aboriginally-owned company, All Peace Protection strives to form partnerships with local first nation communities to provide employment to their members and financial benefits to the community. "One of All Peace's mandates is to provide employment to not only First Nations People but any local community members near the project," says Sascha Sasbrink Harkema, Vice President of All Peace Protection. "Our clients also want to ensure that local groups who traditional lands are in the project area are benefiting financially by the projects, so we both meet each other mandates by working together."
Customer Service
All Peace has built a reputation on going above and beyond for its clients as Schlumberger, Halliburton, and BJ Services and Precision, whose needs can change very quickly. All Peace has numerous local clients that depend on it to protect their businesses, so All Peace's around-the-clock service with four patrol units patrolling the city every night is of vital importance to them. All guards have H2S, WHIMS & Alberta First Aid certification, which enables them to guard well sites and/or private roads.
"Our residential customers enjoy peace of mind while out of town with our alarm response/house check service, knowing that someone will be able to check on things if their alarm is triggered," says Harkema.
Providing Industrial security service is intrinsically more demanding by nature of the remoteness of the sites, fluctuating start and end dates, and an everchanging scope of work. "We meet these challenges by having a direct line of communication with the client, and can address staffing reductions and additions within 24 hours," continues Harkema. "Working with the oil and gas companies can be a bit more challenging because each one is so different and requires a little more attention to detail. We try to work closely with each client to ensure that every requirement is met, from the contractor on site to the head office."
The clients are looking for a one-stop-shop for security, including Physical Security Officers on location, mobile patrols, surveillance, and in some instances guest service reps at camp locations. "All Peace has met client requests and, in doing so, a relationship has developed with our clients in an effort to better serve their needs than the competition is capable of," says Harkema. "Our clients have direct access to all management. The direct relationship between the Operations Manager and Site Manager allows concerns to be addressed in a positive way."
All Peace's dominant presence and experience in the region for the last 30 years has earned the company its strong, continuously growing, and successful reputation. All Peace is often the first company that locals think of when researching a security company, and its clients appreciate the group's ability to adapt, be flexible, and produce services on short term notice.
There are numerous examples of All Peace going above and beyond for its client. Examples come easily to mind for Harkema. "There was an instance where security was required to respond to a medical emergency for one of the in-house guests. Upon arrival, security found this person unconscious and provided CPR for about an hour until emergency services arrived on scene."
All Peace went above and beyond for a client when the disaster of the Fort Mac Murray Wildfires occurred. "As a contracted security provider for the Alberta Forestry and Wildfire services, we were called out to dispatch around eight security guards to the wildfire logistics setup posts. All Peace went above and beyond to send up two additional security guards as volunteers to assist with security services," says Harkema. "There have also been a few times that our security guards are doing their nightly patrols and see suspicious activity in a nearby yard and even though they may not be a client of ours they will still check it out and take any necessary actions."
Situations like these wouldn't be possible if the All Peace wasn't backed by the best team in the business. "Our employees are extremely important to us. They are the face of the company and our front-line people," says Harkema. They are the first and last impression to clients and site visitors, they also build and maintain relationships with our clients on a day to day basis. Without the hard work and commitment of its employees, there would be no All Peace Protection, says Harkema.
As All Peace Protection celebrates over four decades of providing exemplary support to oil and gas and industrial clients and Alberta and B.C.'s economy, it has set its sites on becoming one of the top employers in the west coast, and the number one security provider for large industrial clients.