---
---

Projects. People. Partnerships.

---
---
By Anna Guy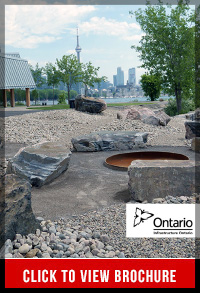 Building, managing, financing, and enhancing the value of Ontario public assets.
It is the largest commitment to infrastructure investment in Ontario's history. In 2014, the Ontario government committed to a 13-year, $190 billion investment in public infrastructure.
The plan is vast in scope: Building or rehabilitating about 5,000 kilometres of highways and more than 750 bridges across the province; building a world-class transit and transportation system; continuing transit projects across the GTHA; and Investing $13.5 billion through Moving Ontario Forward to enable faster and more frequent service on the GO rail network, and the list goes on.
Infrastructure Ontario (IO) is the organization that takes much of those plans off paper and, through extraordinary business acumen, planning, financing, and logistics, turns them into reality. Whether it's construction on a new hospital, highway or transit line, the revitalization of provincial real estate, or a loan to a municipality for a bridge or recreation centre, IO is helping create vibrant, sustainable communities where families and businesses can thrive.
Public and Private
Infrastructure Ontario is one of the most successful organizations of its kind, in part because of a foundation built on public and private sector experience. As a Crown agency of the Province of Ontario, IO is internationally recognized for delivering public infrastructure through partnerships with the private sector. IO also partners with the private sector to manage one of the largest real estate portfolios in Canada, provides municipalities and eligible public-sector clients with loans to renew public infrastructure, and leverages its private-sector expertise to advise the provincial public-sector clients on commercial transactions.
Business Elite Canada spoke with Marni Dicker, IO Chief Commercial Officer, General Counsel & Corporate Secretary, about what makes it a leading organization. Prior to joining IO, Marni was Senior Vice President, Business & Government Affairs and Corporate Counsel for SNC-Lavalin Inc. and was also a commercial litigation lawyer with two law firms. With private sector and infrastructure experience under her belt, Marni looked to IO as a place to use her skills.
"A large majority of people here at IO come from the private sector, which is what makes us a very special agency of the Ontario government," says Dicker. "We understand the needs, constraints, and nuances of the public sector and deftly appreciate the asks it makes of the private sector, so that we are able to deliver on the entire package for billions of dollars of projects."
Most importantly, adds Marni, the IO team chooses to work at IO because they want to contribute something special to public service for the betterment of the people of Ontario. IO has brought more than 100 projects to market, worth approximately $45 billion in capital cost. In real terms, that means hospitals built, roads opened, trains running on time, schools for the children who need them. In addition, Ontario's infrastructure investments are supporting, on average, more than 125,000 jobs each year.
When the new Oakville Trafalgar Hospital opened in 2016, the President and CEO at Halton Healthcare Denise Hardenne lauded IO for its "exceptional" framework. "The contributions of the IO staff, from the project management level to communications, was a true value add for those of us who had not experienced a project of this size and scope," Hardenne continued.
"One of the means in which we are able to deliver upon these projects is through the AFP, or Alternative
Financing and Procurement, model which leverages partnerships with the private sector," says Dicker. The guiding principles for AFPs are transparency, accountability, value for money, public ownership and control and public interest. "Planned, built, operated on budget, on schedule, and without the traditional pitfalls of mega construction projects," adds Dicker. "The public sector has so many priorities and fiscal constraints, it absolutely needs the help of private sector, for its balance sheets, experience and innovations."
Real Estate
IO's work extends beyond building mega projects. Its Infrastructure Lending and Real Estate teams work alongside those major projects to keep Ontario strong. IO is the entity responsible for Ontario's portfolio of government buildings and lands—one of the largest and most diverse in the country, of nearly 5,000 provincial buildings/structures and 130,000 acres of land, and over 5,000 construction projects on provincial real estate each year.
Loan Program
IO's lending program provides affordable, long-term financing to public sector clients enabling them to modernize and renew their infrastructure. "With affordable, long-term financing to public sector clients for infrastructure projects, IO has financed over 2,600 projects for 400 clients, lent over $9.5 billion in financing to public sector clients, and supported more than $15 billion in local infrastructure for the revitalization and modernization of infrastructure in Ontario," says Dicker.
People across the province rely on public infrastructure every day. From the roads, bridges and public transit they use to get to and from work, to the schools children learn and play in, to the hospitals where loved ones receive high-quality health care, Infrastructure Ontario is working for Ontario.