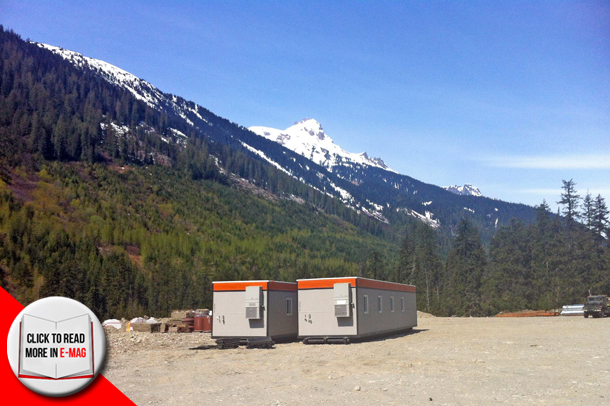 Manufacturing custom-made products of unparalleled quality
By Leah Kellar
RG Solution knows cold weather relief. Quality, innovation and diversification are the keys to the young company's success in a high demand niche market that requires strong expertise building to provide enduring comfort to Canadians in extreme Northern climates. Over the years, RG Solution— an important prefabricated building manufacturer structure to build for commercial and industrial sectors— has built a strong reputation based on its outstanding building performance in Northern and Eastern Canadian regions. The company began in 2005 by its founder, Richard Labrecque, a general contractor who was renting office trailers to prefabricated building manufacturers in the Montreal region. Labrecque  decided to start his own manufacturing company and offer higher quality office trailer, which later became RG Solution. Today, RG Solution offers a diversified product line such as: camps, complexes (dormitories, kitchens, cafeteria, office and community halls), hotels, decontamination units, construction site offices, houses, multi-housing facilities institutional facilities (schools and hospitals) and toilets products.
The company's range of core services focusing on the commercial and industrial sector extended to self-contained conventional and autonomous sanitary units, in other words: outdoor toilets— which provide nothing short of a vital service, particularly in harsh climates exceeding below 40 degrees Celsius in some regions of Canada.
"We have an excellent reputation that comes from the quality of our completed projects and the capacity to fulfill the customer's specific needs," said Stephane Dufresne, Vice-President of Sales and Marketing and in charge of business development for the company.
Dufresne joined RG Solution in 2009 after working for two large corporations, Procter and Gamble, and Mars Canada, for close to  two decades in sales and marketing. He shares co-ownership with company founder, Labrecque who is general manager and also responsible for production, and Martin Lagace, who is CFO and also taking care of general administration duties such as accounting, legal matters, human resources and engineering.
Meeting this industry need with expertise in the toilet industry, or self-contained sanitary units has helped to set RG Solution apart from the competition in terms of its capacity for innovation. While it may seem funny to some, it is no laughing matter when it means living and working in a cold weather building that cannot endure the trying extremes of Canadian climate.  Their latest innovation is a small 4'x5' self-contained toilet with stainless steel sink with heated water to wash your hands, mirror, ventilation to eliminate unpleasant odor and a unit that maintains 20 degrees Celsius while minus 45 degrees Celsius outside.  This new unit is meant to be an alternative to chemical toilets.  They can also come on a custom built trailer and can even offer solar power for certain applications.
"There's some units in the U.S. and in Canada, but none of what we've seen in this size performs in the cold that we have here in Canada without freezing. So the unique challenge for us in our research and development process was to create a unit that performs in extreme cold of below minus 45 degrees Celsius while maintaining 20 degrees Celsius inside, even with no wind-chill, down to minus 50 or 60 and still maintains a warm temperature" said Dufresne.
RG Solution has also received a special grant for its bigger washcars  toilet, which complies with hygienic health and safety standards in Quebec and it is designed for Nordic climates. What is particularly convenient about the set up and portability of these toilets is that they do not require any outside tanks and there is no outside installation other than leveling the unit and plugging it into the electrical main power.
Since the company's founding in 2005, it has expanded from Quebec starting with Labrador, then Newfoundland, Nunavut and moving into Ontario. This allowed RG Solution to increase its production capacity, and to get key certifications to allow it to export anywhere in Canada. RG Solution also realized projects in Manitoba and British Columbia with the only exceptions being Alberta and Saskatchewan for now. A brand new facility of 75,000 square feet opened in November 2012. The company has current plans to expand into Alberta with its CSA standard A-277, a certification of quality that allows the company to sell anywhere in Canada inclusive of Alberta.  With this certification norm, they can easily be Part 10 compliant for the Province.
This new production plant allows RG Solution to realize new projects such as hotels and multi-housing.  One of the benefits of the new plant is that it is set-up to allow them to offer added value to their customers.  For example, they can build at the plant before transporting to final installation site modules that have rooms finished or partially finished, with flooring, furniture, blinds and much more while always maintaining its quality commitment.  For their customers, this represents multiple benefits such as time saving on their project scheduling, guaranteed quality and more.
At the time of building the new facility RG Solution worked hard to establish a green approach of sustainable development. The concrete steps the company has made to minimize negative impacts on the environment include installing a wood-burning system in its new plant, a hot air recovery system, use of reclaimed wood as fuel, an automated energy consumption system, and an adoption of a standard program for sustainable development. Staying ahead of current trends in innovative building solutions suited to meet modern changes to the workplace culture led to RG Solution's unique concept of the Garden Office, or Bureau de Jardin—a beautiful office constructed among a person's home garden or in a private yard— launched just this past June. As more people in this technological era turn toward working at home, or in other words telework, home office spaces that allow for greater privacy and aesthetic appeal are becoming in demand.
Finding new materials is another way that RG Solution ensures long-lasting quality and customer loyalty. For example, it is important to use a resistant type of flooring that will perform in harsh environment such as iron mining as well as in extreme cold temperatures (i.e.  in an office trailer that is not always heated during certain times of the year). The company has looked to flooring materials used in Europe to replace what was used and still used in this industry called TVA/TVC tiles.  "The most important thing for us is to protect the structure in this case so that seven to ten years from now, water does not go in and destroy the structure, the floor, the wood and generate moisture and eventually cause warping and other damage," said Dufresne. "This helps ensure that we don't get deterioration of the building, as we strongly focus on value for the price."
RG Solution has come a long way in less than a decade in business. Dufresne recalls that the first key project that propelled the company forward was a 500-man camp completed for the then new junior mining company, Consolidated Thompson, in the region of Fermont, in Northern Quebec. Since that time RG Solution has completed hundreds of diverse projects for key customers such as Cliffs, Arcelor Mittal, Rio Tinto and many others in Eastern Canada where there is a very strong mining sector. They are now looking to do business in new sectors such as Oil & Gas and expand in others regions.  They continually look for new potential customers, investors and partners.  RG Solution covers all aspects of buildings and living space required on a mining site from kitchens to dorms, office complexes to weigh rooms. The management at RG Solution has recognized that product quality and innovation cannot be had without a strong base of solid training and continuous recruitment.
"It's always a challenge to find skilled labour. We continuously seek new employees, but we make significant time investments in training our staff," said Dufresne.   At RG Solution, we work as one big team.
The training program is more holistic approach that ensures a complete mastery of the construction process at each step as opposed to a specialization in only one or two areas of construction such as flooring, or ceiling installations. Remarkably, by RG Solution standards productivity under this system is just as fast and efficient as a production line approach, without ever jeopardizing quality. Consequently, it takes between two-three years to train each employee.
After recruitment of skilled labour and internal training is complete, the other challenge for RG Solution is to engage the customer and build a solid client base. Once a product has been sold, customer loyalty usually follows. RG Solution knows that seeing is believing. On that note, the company decided to take a unique approach to the process by building beautiful loft apartments that clients are welcome to stay in on site while observing the stages of construction on their projects.
"A lot of companies talk about quality, but we go one step further by getting people to actually come in and see how we make our product. Once they see the quality for themselves we get a very loyal customer. That's why we really welcome them to see their product being built every day. We will offer our apartment for them to stay for free, that's how confident we are about our product," said Dufresne. It is a demonstratively confident approach along with dynamic innovation that has certainly paid off for RG Solution over the years and is sure to continue in the years to come.