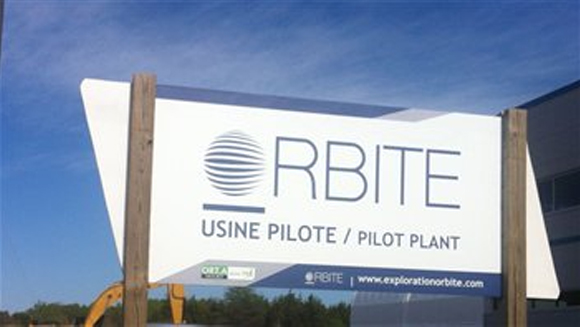 Orbite Aluminae Inc. shares rose more than six per cent in heavy trading Tuesday on news that the Quebec company has produced its first tonne of high-purity alumina.
The stock reached $2.82 in midday trading on the Toronto Stock Exchange, up from the previous close of $2.65, with more than 2 million shares changing hands.
Montreal-based Orbite is trying to commercialize a patented technology for extracting alumina from clay soil.
The locally sourced alumina is extracted from clay in the Grande-Vallée territory in Quebec's Gaspé region.
Company founder, president and chief executive officer Richard Boudreault is betting that he can economically produce the alumina to supply the province's aluminum producers and help them save millions of dollars in transportation costs to bring in the raw material from abroad.
Orbite says it plans to also produce a higher-margin, high-purity alumina (HPA) used to make such items as LED lighting systems, as well as high-value elements including rare earths and rare metals.
The company said on Tuesday it successfully produced its first tonne of high-purity alumina during the last week of December and early January as part of its initial commissioning and testing operations at its commercial-scale facility in Cap-Chat, Que.
HPA samples were independently tested by Evans Analytical Group of Liverpool, N.Y., the company said.
"The initial production demonstrates the company's ability to design, build, and operate a commercial alumina facility on time and on spec using its unique patented technology," Mr. Boudreault said in a news release.
Non-commercial production of HPA is to continue through the commissioning period at a rate of less than one tonne per day, the company said.
The first HPA samples should be ready for shipment to customers in Europe, the Americas and Asia as the material becomes available during the first quarter of 2013, it said.
Orbite says its HPA-making process should produce higher purities at lower production costs than those of existing producers.
Commercial production of HPA is slated to start in the second quarter of 2013.