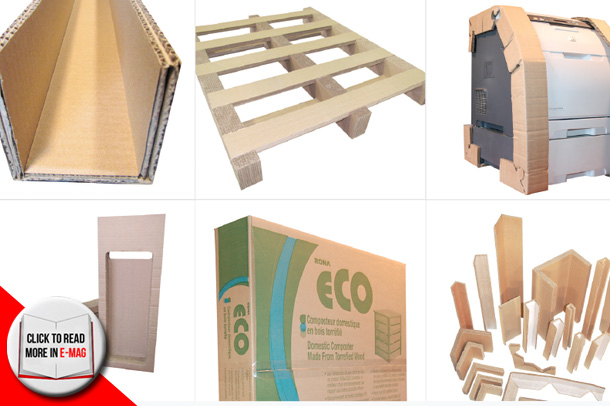 By Dillon A. Meilleur
LM Packaging is a Quebec-based corrugating company dedicated to providing its clients with sustainable, innovative and eco-friendly methods of packaging valuables.
"This is what LM is all about: Innovation – Solution – Protection. Our L-Shape Corners, U-Channels and Corrugated Machined Blocks are unique and certainly the strongest ones in the Canadian market, giving full protection to our clients' products," said Sales and Marketing Manager David Welsh. LM produces versatile, cutting-edge, cardboard packaging to store and handle products, allowing clients to confidently ship everything from heavy machinery to fragile items.
LM Packaging, or Emballages LM as it's written in French, was established in 1992 by a group of eager, wet-behind-the-ears businessmen. The idea to start their own packaging company first came from their fathers who together owned and operated their own major furniture plant in Quebec. As furniture manufacturers, an intricate part of their business was the storing and handling of their products safety and professionally. In 1992, the two business owners were caught in a lockout with their box suppliers and the experience showed them an opportunity that they passed on to their children. This was how LM was born. Today they have grown and expanded into a national packaging powerhouse that continues to create eco-friendly alternatives.
Setting themselves apart
LM Packaging is about three things: innovation, solution and protection. Ensuring their staff is educated and trained in the latest industry trends is a core part of LM Packaging. They keep a watchful eye on the industry to stay up to date and keeping ahead of the curve is vital to LM Packaging's success and advancement. There are multiple ways LM differs from other packaging companies; their innovative and personalized design is leading the way in the industry. LM was a finalist in the Packing Association of Canada (PAC) "A Day in The Life" event in 2013. "It was a great experience. For the first time, we have shown to the packaging industry, via a main event, what we were made of," Welsh said. LM is dedicated to understanding their customers and their specific requirements. "We also visit trade shows in various business sectors to make sure we understand our clients' needs and realities," he added.
LM Packaging offers full research and development support for all of their clients.  They oversee the entire packaging and logistics line, making sure everything is running properly and efficiently. Not only do they want to save customers money, but they want to provide them with personalized, sustainable packaging. An additional service LM offers to its clients is a full audit of a company's packaging department. They guarantee a seven- to 10-percent savings after the audit is complete and a plan of action is implemented.
The eco-friendly touch
LM Packaging is a fully eco-friendly corrugating company. All raw materials used in the production of products are 100% recycled fibres. LM is striving to supply Canada with sustainable, eco-friendly packaging that can be reused and recycled. This innovative process eliminates the issue of cardboard waste and provides companies with Earth-friendly alternatives.  Even the waste produced by LM is recycled and sold to companies for reuse, ensuring that nothing is wasted.
"We are operating a fully eco-friendly business. Our raw material comes from 100-percent recycled fibres, nothing else. The glue we use for lamination is also eco-friendly. And guess what? Our waste is recyclable, sold to pulp and paper companies, and our final products are also 100% recyclable!"
LM produces and provides their clients with sustainable, reusable packaging that reduces their carbon footprint and overhead. Waste management for non-recyclable materials can be extremely costly. LM Packaging's cardboard-based products are durable, reusable and 100% recyclable. Most packaging companies expect their clients to purchase packaging in bulk, which leaves clients with limited storage space. LM provides five-day production and delivery of all products, allowing clients to maximize valuable storage space. This massive reduction in packing materials and packing time can save companies thousands of dollars each year. LM products are divided into two families: boxes and protection items. Protection items are what LM is truly about; supplying their clients with not only protection, but peace of mind.
New technology trims costs and assembly time
State-of-art technology is used on the company's assembly line. Their innovative technology is what allows them to create durable, sustainable cardboard packaging for any application.  LM recently purchased a Rapidex 66, a superior production machine that cuts, folds, prints and glues the raw materials together, transforming nothing more than a few pieces of cardboard into something durable and long lasting. This high level of technology creates significant efficiencies, reducing not only overhead but production and assembly time. All products are designed and produced in-house by a team of skilled engineers and maintenance personnel. LM takes pride in their products and stands behind their packaging 100 percent.
Welsh joined the LM Packaging team two years ago and he's never looked back. He had been working as a consultant for the company for several years when a management opportunity opened up, and he didn't hesitate to join the team. Welsh decided to join LM Packaging for two simple reasons: their enormous potential and exponential value. Welsh said he truly enjoys the challenges of working at LM Packaging, describing it as the perfect fit for him and extremely well-suited to his skills and expertise. "I did not decide to join the packaging industry, but more a company with large potential and great value," he said.
Growth is part of the future
Over the next few years LM Packaging plans to rapidly expand across Ontario. They currently have two production plants located in St-Francois, Quebec as well as current sales in New Brunswick, Ontario and Alberta. In the future, they hope to expand and develop a distribution network in the United States. LM Packaging attributes a great amount of their success to their IT partner, CDID,  who helped them implement enterprise resource planning (ERP) and customer relationship management (CRM). Each is an integral part of the LM Packaging business model.  ''We have grown 20 percent in 2014, and we still have plenty of room to grow.''
For more information on LM Packaging and their sustainable personalized packaging, visit their website at www.emballageslm.com.