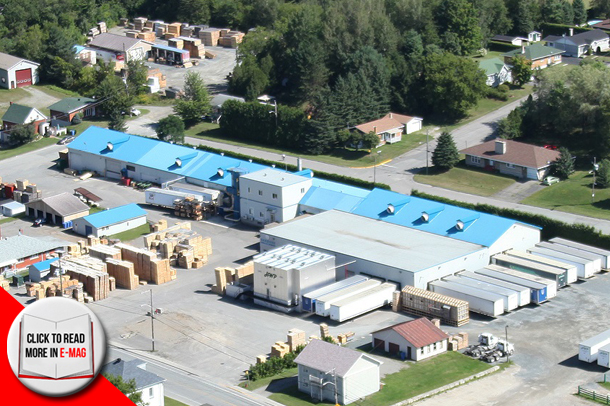 From 'Good to Great', HWP is gaining growing momentum on the cusp of its 70th anniversary.
By Leah Kellar
HWP Herwood Inc.—one of North America's leading manufacturers of wooden pallets and crates— has experienced growth of between 25 and 30 per cent since 2011 and continues to climb now in its 69th year on the cusp of its 70th anniversary in operation.
"It's quite phenomenal. I think we've been doing the right things and investing in the right products, for the right purposes, and seeing the market in a different way than other competitors are seeing it. Foremost, we've put together a very good team," said co-owner and vice-president of Sales and Strategic Business Development for HWP, Mark Patrick Tame in conversation with Business Elite Canada.
Tame started as a consultant for HWP before he was invited on as a partner. He has a background of 15 years of international business consultancy, developing Quebec and Canadian businesses' export markets and sales forces, particularly with a knack for success in the lumber industry. When explaining the recipe for HWPs growing financial success in a tough commodity niche market over the past nearly six decades, Tame references advice from, "Good to Great: Why Some Companies Make the Leap…and Others Don't" a book about exceptional business management practices by author James C. Collins.
" Put in the 'who' first, and then take care of the 'where'—so that means put the team together first and then grow the business with the team that you have, and that's what we did.
HWP is a wood packaging manufacturer of pallets and crates as well as the components that are used in the assembly of these packaging products. Three generations of the founding Wheeler family have operated and grown the company.
The wood packaging and pallets industry is a fairly tough one with only 500 companies in Canada, out of which 73 per cent are small organizations. HWP has gone through three phases of growth to experience the continuous success and leadership in the market that it is seeing today. The initial expansion happened in 1965. Founder Henry Wheeler's youngest child, Malcolm joined the company and purchased about 20 percent of the company shares in 1970, and in 1971 he was tasked with taking control and rebuilding the company from the ground up after a large fire burnt the first company facility to the ground. He met the challenge of rebuilding and in 1974, HWP partnered with a lumber company to reach the $1-million mark.
Current president, Jason Wheeler, joined in 1990 and his younger brother, Shane Wheeler became financial director of the company in 1997. In 2011 HWP saw the third phase of its expansion when Tame joined on as a partner and the company invested $2.7-million into lean manufacturing lines and adding two new kilns. The wooden pallets and crates manufacturing and distribution industry is a very versatile and competitive niche commodity market in North America.
There are many ways of using a pallet from shipping products, to storage in a warehouse or facility, to using a pallet racking system or pallet stacking system. Pallets can be used in almost any industry and may be acquired through rental from distribution or other outlets, ownership purchase, or building one's own. Pallets can be used recycled or brand new.  Most commonly, pallets are used for stacking products for warehousing, and in the shipping process.
Pallets are used in almost any sector from pharmaceuticals, to food, to construction products and materials such as cement. HWP produces approximately 2.2-2.4-million units of pallets a year. HWP is also Quebec's biggest pallet supplier located near Windsor, Quebec.  The company also serves Ontario, the Maritimes, and the Northern New England United States. Tame notes that HWP currently has no plans for expanding internationally, simply because pallets will only sustain about eight hours of freight time, so often pallets are shipped from Windsor, Quebec to Windsor, Ontario, or north of Quebec, or as far as Boston, Massachusetts.
However, HWP is now looking to distribute across Canada.
"We had to find what the others weren't doing. We've had to trust in ourselves and in our business instincts. I have also been counter-stream, which just means that I was going in different ways that other people weren't trying to do yet. It seems to have paid off with our one-stop-shop," said Tame.
The company provides just about everything that is pallet-related, such as custom wood pallet and crate designs. All wood packaging produced by HWP surpasses the standards set out by the Quebec Pallet and Container Manufacturers Association and International shipping requirements, and complies with the strictest ISPM-15 international heat-treatment standards to ensure cargo using wood pallets and crates may freely cross borders anywhere in the world. HWP has really distinguished itself from other companies in the business by offering a diverse range of services including pallet solutions, pallet recycling, and even pallet repair.
Its range of pallet solutions employs kilns and heat treatment to standards to guarantee the annihilation of all larvae and parasites that may be present in the wood before use. Wooden crates and containers are made to order and built with expertise with an in-house design and carpentry team. HWP uses wood in the production of its pallets because wood is greener, more durable, recyclable and repairable, and it comes at a cheaper cost to the client. A plastic pallet can cost between $45-$60 without the option of repair if it breaks, while a wooden pallet can cost between $5-$25, and are fixable for a variable cost enabling them to last another few lifecycles.
Tame has noticed a trend within the market in that companies that are not financially solid, such as the so-called "mom and pop shops". Many of these places have had to close due to a tough economy. He notes that the banking system, international, and national markets have made life more difficult for those struggling in the local commodity markets in their efforts to receive funding.
"We've noticed the trend in the lumber industry, beginning in the 2000's, a sort of cleaning up of the lumber industry throughout North America, where the people that aren't as financially solid have had to close their mills. That of course extends to anyone who has been in the lumber industry from wholesalers to retailers," said Tame.
"Being a one-stop-shop sets us apart by quite a margin," said Tame.
He added that HWP has never filed for bankruptcy in its nearly 70 years of operation, while three major companies in the Quebec pallet manufacturing market have closed their doors over the past two years. It also helps to be green. HWP recycles wood for client companies passing them through an automated roller and a woodchopper that grinds the pallets, which are not fit to be put back into circulation.
"It's added value to recycle pallets, and we're also actually creating a fuel or a bio aspect that we can either resell to others that will use it as a heater, or use it as a particle-board and press it back and produce particle boards with it," said Tame.
In house, HWP is approximately 125 per cent sustainable. The other excess percentage that is accounted for comes from clients, but in house there is no waste in the recycling of HWP's own wood. The company also recycles its own plastic, cardboard and steel. HWP also has cooperative agreements with certain companies for the recuperation of plastics and steel.
"That's why we're very green. Yes, our official colours are green, but that really adds up to who we are in the industry," said Tame.
HWP also uses natural gas at its facility to reduce the cost of the electricity. The family-owned company partnership has been fortunate over the years to have long-standing supportive relationships with many lumber, nail and professional suppliers, such as the industrial engineers it works with to refine and implement lean manufacturing. Heading into its 70th year in business is an accomplishment in and of itself for HWP Herwood Inc.
"In a very uneasy industry, and we are leading the way as a third generation company without ever being in dire financial problems. Being in such a tough industry, I think that is quite a milestone for us," said Tame.