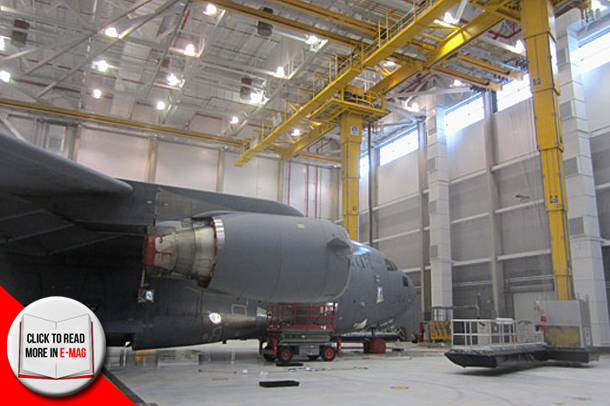 Success built upon in-house Research and Innovation
By Cheryl Long
It was a project in a small Saskatchewan town with a population of less than 1,000 that truly set Burnco Manufacturing Inc. apart from its peers.
In 2010, Burnco was sub-contracted to do the design-build on a product storage building at the PotashCorp's mine in Rocanville, Saskatchewan.  The building – the fourth largest of its kind in the world by volume – measures 750 metres long, 100 metres wide and 45 metres high at its peak, and has capacity for 500,000 tonnes of potash and related materials. To put the job's size in perspective, typical structural projects contain 500 to 1,000 tonnes of fabricated structural steel; the Rocanville job boasted more than 10,000 tonnes.
"We were responsible for all of the design of the steel structures, the cladding systems, the corrosion protection systems as well the procurement of the material and the installation of the material for this product storage building," explained Kevin O'Neill, sales and marketing manager for the Concord, Ontario-based company. "We were responsible for everything above the concrete foundation and above the concrete slab."
Burnco Manufacturing was founded in 1994 with a focus on equipment automation for the manufacturing sector. The business grew quickly and by the end of the decade, Burnco was outfitting up to one million square feet of manufacturing space annually with the machines that would fabricate products like desk drawers, filing cabinets and other light steel structures sold by their clients, O'Neill said. But in the early 2000s, the construction of new manufacturing facilities started to slow down and Burnco began looking for ways to expand their work in the construction sector, using their in-house knowledge to find ways to apply automated and semi-automated fabrication procedures to the structural steel business.
One of the initial products they worked on was the open web steel joist, a building staple in most warehouse roof spaces. The lightweight steel truss uses a triangulated web system to provide direct support for the roof, and the angles and joists have traditionally been welded by hand as part of their labour-intensive manufacturing process. The industry had been controlled by just a few steel manufacturing companies, O'Neill explained, and despite repeated efforts, they had never been able to find a way to automate that process.
Eventually, Burnco's research and development team realized that the only way to automate production of the joist design was to change the product. They created a new open web steel joist using a light gauge steel and launched a trial project, putting the design through a proof of concept line. The end result was a competitively priced design that will eventually become more economical than the current joist, given the rising costs of base materials, O'Neill said. Because this type of joist is primarily used in North America, there's an opportunity for Burnco to market their new design internationally.
"We're looking forward to going around the world with this design and bringing it to any other country that's building large buildings," O'Neill said, "even in what could be considered very poor countries, because of increasing industrialization and increasing demand for large buildings, modern buildings, for storing and fabricating…"
Today, Burnco describes themselves as an end-to-end provider of structural, mechanical, engineering and maintenance services. Some of their custom manufacturing processes have reduced labour inputs by 75 percent while increasing throughput by as much as 50 percent, O'Neill explained. One project they worked on involved an interlocking steel pile system where 20 people produced four piles a day. Burnco's involvement in the project changed that ratio to six people producing six piles a day, resulting in lower labour costs and an increase in production and quality.
"Taking that automation aspect a little bit further, we have a pair of single arm, three-dimensional working robots that have been programmed to do a number of different repetitive tasks for a number of projects," O'Neill said. One job requires the robot to cut and prepare steel for future welding. "It's actually cutting the sections of the steel beams and plates on a specific angle at a specific location so that the particular beam can be used later on and welded to something else," he explained. Other robots have been programmed to do repetitive welding in difficult locations.
"Sometimes because of the shape of a member it's very difficult for a human being to get inside and do the weld by hand. In this case, the robot can actually manipulate itself and get into the right position to make the weld," O'Neill explained. "We find the quality is as good as the best welders we have and then we're able to devote those highly skilled welders to the most complex and most complicated welding (jobs) that can't be automated."
The bidding process makes the quest for ongoing work a challenging one. Though Burnco has worked on multiple jobs for the same clients, they're still required to put in their bid like their competitors. It's a given in the construction industry. But their ability to handle some of the more complex jobs has given them an edge in the past. "…we're able to use our knowledge and our experience to get a step ahead of most of the other steel fabricators," O'Neill explained. "Within the Toronto and southern Ontario area, the structural steel market is absolutely cutthroat. There are more fabricators than you can shake a stick at," he said. But the majority of the projects are small and less complicated, allowing Burnco to move in on jobs that are larger in scope, such as the three large hangar projects they undertook for Canadian Forces bases in Trenton and Petawawa.
The past few years have brought several accomplishments to Burnco Manufacturing. In 2012, the organization made Deloitte's prestigious Canada's Best Managed Companies lineup, an achievement that can open doors and bring instant credibility to businesses that earn a spot on the renowned list. This year, Burnco is celebrating their 20th anniversary, and looking ahead to expanding the business into the mining and oil sands markets throughout western Canada.
"We have the intellectual and human resources here to get complicated projects done and we're just looking forward to growing with the western Canada economy," O'Neill said. An agreement between Burnco and a Canadian transportation group has allowed the Ontario company to compete price-wise against fabricators located closer to sites out west. Thanks to lower labour costs compared to the western workforce and innovative transportation solutions, Burnco is able to bid competitively for new projects.
They'll celebrate the milestone anniversary this year by focusing on what's needed to ensure the company's future success: the continued focus on providing cost effective solutions for our clients and bring automated building technologies to the market.