---
---

Pride and Profesionalism

---
---
By Anna Guy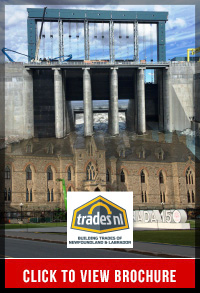 Trades NL: The Building Trades of Newfoundland and Labrador provides highly trained, diverse, safe and highly productive working tradespersons to the Newfoundland and Labrador Building and Construction industry by fostering pride and professionalism in the trades through training for life-long career opportunities.
Trades NL: The Building Trades of Newfoundland and Labrador has started 2018 on the right foot, having spent most of December contributing to important causes across the island. More than only bricks and mortar, Trades NL has strengthened its commitment to build communities through philanthropy and engagement. Most recently, just before Christmas, NL Building Trades made a four-year, $120,000 contribution to School Lunch Association, helping increase assess to complete, healthy meals for over 5,400 students a day across the North-East Avalon. As well, it made a similar four-year commitment to The Gathering Place, assisting with providing hot meals to needy persons.
It's a vital part of the Trades NL's wider strategic plan to increase community engagement and give back to the communities in which it, and its member unions, work. On behalf of its 16 union members, Trades NL has given back $20 million in the last five years, with a focus on health care and children's charities. "It is important to give back to the community every chance we get, whether that be volunteering on boards, or putting money back into the community," says Darin King, Executive Leader for Trades NL. "By leading by example, (our members) help make the community where they are living better for everyone."
It's hard to think of a community that hasn't been impacted by Trades NL. For the past 50 years, Trades NL has provided coordination and support for its approximately 20,000 members throughout the province across 16 craft unions in the construction sector. King says Trades NL provides a "collective voice" for its workers in government, in bargaining, and to promote healthy and safe work conditions with decent wages, pensions and benefits.
Beyond that, Trades NL has supported the largest mega projects in the province's history, including Hibernia and Churchill Fall. More recently, Muskrat Falls, one of the largest hydro-electric projects in the world, was negotiated on behalf of the province by Trades NL as a single unit and project proponent, as was Voisey's Bay Vale nickel mine, and Hebron, another major oil and gas development project. On the ground floor, Trades NL is continually involved in labor relations discussions and interpretations over collective agreements.
"Of all the things we are proud of, we are most proud of having the best trained workers in the province," says King. "And in the rare instances that we require more training in a particular trade than we have, our member unions provide the training," he continues. King states Trades NL has an exemplary diversified work force, and the need to tap into outside skilled tradespeople is rare.
Government relations and community outreach is another huge priority, says King. "Doing stakeholder relations, and meetings with companies and contractors, always out there beating the doors, looking for opportunities for our members to get work, ensuring workplace safety and construction regulations…in short, we do whatever effects the collective 16 (unions)," says King.
King agrees the construction industry in this province had enjoyed a period of upswing for more than a decade through major projects in Bull Arm, Long Harbour and central Labrador. As the NL construction industry prepares for a slowdown, Trades NL has embarked on a strategic plan to guide the council and help develop a set of strategies for next three to five years in order to best position the organization, and therefore its member unions, to take advantage of the opportunities that arise. "Trades NL operates in a very positive labour relations environment with minimal grievance and work interruptions," says King. "And we will continue to maximize the opportunities for our members during changing times."