---
---
Helping kids be kids
---
---
By Anna Guy
It's hard to imagine: putting a price on a child's mobility or comfort. Thankfully, through the help from donors, Easter Seals Ontario helps families from cost getting in the way of something so invaluable.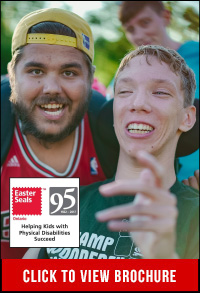 The reality is living with a disability is expensive. For a family, it can cost more than $40,000 a year to care for a child with a disability, and the cost can be prohibitive if not for the financial assistance from Easter Seals Ontario. In tangible terms, this means assisting with the purchase of mobility aids from electric wheelchairs and walkers to ramps in the homes and vehicles. Items like bath and toileting aids, communication and writing aids, and orthotics are also costly—yet vital—for families. Easter Seals Ontario offers funding for those items and more.
95 Years Supporting Children
This year, the Canadian registered charitable organization is celebrating its 95th year supporting children with physical disabilities. With help from both corporate and individual donors as well as foundations, Easter Seals Ontario has helped thousands of kids not be limited, and experience a childhood full of adventures and freedom. For their families, Easter Seals offers support for equipment, summer camp as well as post-secondary scholarships so they can focus on what's most important: their child.
"A wheelchair to a child with a disability is like a pair of running shoes to child without one," says Easter Seals Ontario President Kevin Collins. "For example, a power wheelchair alone can cost $32,000, far exceeding the budgets of most families. Without this piece of equipment kids with physical disabilities cannot reach for their dreams, but as soon as they have it, the sky's the limit."
Collins knows the benefit of Easter Seal Ontario first hand. "I was born with a disability, and used a walker and scooter since I was quite young," says Collins. "I know the impact of knowing my family could afford those pieces of equipment. Now being able to work with this incredible team that makes an impact for these families is a great opportunity for me to show a person with a disability can achieve their dreams and goals."
Easter Seals Ontario currently has over 4,000 Ontario families registered for their services. This includes everything from funding for mobility equipment and communication devices, to fully accessible summer camp, education resources for parents, and academic scholarships. Easter Seals Ontario's deep understanding of the needs and desires of kids with disabilities means programs and services that are designed to make a truly wonderful impact in their lives.
Summer Camp
In Ontario, summer camp is synonymous with childhood. Easter Seals Ontario makes sure all children, no matter their physical capabilities, are afforded the opportunity to experience camp through its two properties, Camp Merrywood and Camp Woodeden.
Last summer, more than 800 campers attended Easter Seals camp in Ontario. In total, over the past 80 years more than 165,000 Easter Seals kids, parents, and family members have benefited from a break in their normal routine that Easter Seals' camps provide. For kids with physical disabilities, camp allows them to learn new skills and experience freedom and exhilaration, things that hopefully carry through their entire lives. "Going to camp is literally life-changing for some of our children," says Collins. "It gives them the opportunity to play and meet new friends and be all they can be."
Fundraising Initiatives
Canadians want to help improve the lives of people with disabilities. Easter Seals makes that easy to do. The level of funding assistance may vary per year based on availability of Easter Seals funds, so fundraising is instrumental for the organization.
Each year, fundraising initiatives are kicked off with the annual Conn Smythe Sports Celebrities Dinner. This year's notable guests of honour included Blue Jays past President, Paul Beeston, Canadian tennis star Dennis Shapovalov, Olympian gold medalist Penny Oleksiak, hockey heroes Eric Lindros and Johnny Bower, and many more. Through ticket sales, sponsorship and silent and live auctions, this year's dinner raised over $330,000.
Opportunities to donate to Easter Seals Ontario continue throughout the year. It's hard to think of a more fun-centric group of events; there is the Celebrity Hockey Classics Series, Computer Charity Golf Tournament, Drop Zone (ever wanted to propel down a 32-storey building? This one is for you!), Sailing Regattas, the Toronto Maple Leafs Annual Skate, Dancing with Easter Seals Stars, and many, many more.
Of course, there is also the Easter Seals Telethon. A Canadian institution at this point, this year will be the 35th Telethon event, and it will take place in six communities throughout Ontario, including Toronto, Peterborough, Sudbury, Sault Ste. Marie, South Eastern Ontario and Windsor-Essex. Celebrating success stories, the Telethon showcases Easter Seals kids and their families, and recognizes those donors and sponsors who have helped so much.
"The telethon is our showcase to demonstrate what our donors have provided to kids and families, and how the kids are thriving because of it," says Collins. "It puts a face to the work our donors have done, and enables them to see exactly who their funds help and how they make a difference. It is also a great opportunity to thank our sponsors and donors. It gives us the ability to raise awareness for some of the issues kids with disabilities face, and of course helps to raise much needed funds for these kids."
UnstoppABLE
This year's Easter Seals national campaign, UnstoppABLE, focuses on the accomplishments of children with disabilities, not their limitations. National ambassadors like Zak Madell, a Paralympic wheelchair rugby athlete who, after only one year in the sport, led Team Canada to a silver medal at the 2012 London Paralympics, put a face to the remarkable boys and girls who have benefitted from the Easter Seals programs.
Closer to home, one boy and girl is also chosen each year to represent Easter Seals Ontario as an ambassador. This year, 15-year-old Grace Kennedy and 16-year-old Benny MacDonald were chosen for their dedication to representing kids with physical disabilities and desire to give back.
In her own words being a 2017 Easter Seals Ambassador will give Grace the opportunity to "be the voice of those who may not have a voice and to speak about acceptance for all people."
Being a 2017 Provincial Easter Seals Ambassador means the world to Benny. He says, "I look forward to meeting new people and continuing to develop an understanding of physical disabilities for everyone. Being able to represent Easter Seals is an honour. Every day on this Earth is a beautiful gift."
The Easter Seals Ontario team sees these courageous kids and their families face tremendous challenges every day. "Given the right support, we see them rise to these challenges and become remarkable human beings," says Collins. With the right kind of support from Easter Seals Ontario and donors across the country, they are truly unstoppABLE.
For more information on Easter Seals Ontario, please visit www.EasterSeals.org