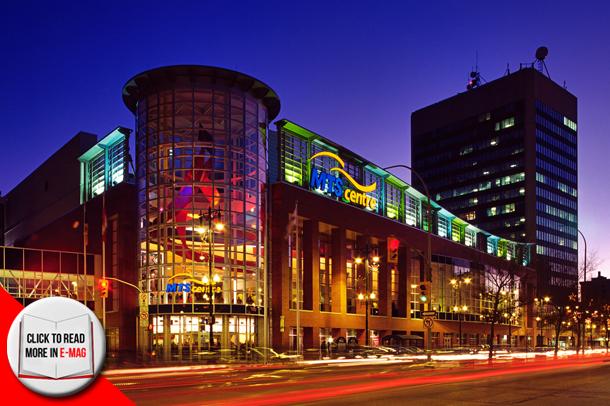 Alive with Opportunity
By: Mudeeha Yousaf
            The Canadian dream is alive and well in Winnipeg, a place that truly personifies what the Great White North is all about: a heart of gold and a field of dreams. With a rich history dating back to 1873, Winnipeg is the seventh-largest municipality in Canada and the geographic centre of North America. A culturally diverse city with a thriving arts community, Winnipeg is also a frontrunner in the transportation and distribution, aerospace and advanced manufacturing sectors. The city is home to the Winnipeg Jets, Canada's Royal Winnipeg Ballet, over 100 nationalities and a growing population of 778,397 within its census metropolitan area. Given the incredible momentum experienced of late, it's clear this city is in the midst of a rebirth the likes of which hasn't been seen in decades.
            With Mayor Sam Katz at the helm, the city is basking in its rediscovered role as one of Canada's economic powerhouses. When asked why he decided to run for office a decade ago, Mayor Katz is unequivocal. "I decided that it was time to make a contribution, and I believe that running for office is the greatest contribution that you can make," said Katz. "I have two daughters and a son. I want Winnipeg to be a place for them and other young people to enjoy; a place where the opportunities are compelling enough to convince our youth to stay here and help make our city a better place to live, work, play and invest."
            Since taking office in 2004, Mayor Katz has been working to position Winnipeg as a city of opportunity at the heart of the continent. Winnipeg's uniqueness stems, in part, from its geographic location. It's one of just two Canadian cities to boast three Class 1 railways: CN, CP and BNSF.
The city is also home to CentrePort Canada, the country's only tri-modal inland port and foreign trade zone. "Our history is built on transportation and rail, and we believe this combination will always result in an important edge for Canadian companies locating here," explains Diane Gray, president and CEO of CentrePort Canada Inc. "We're working hard to take maximum advantage of this reality." Gray had previously worked for the Province before bringing her leadership to CentrePort in 2009, and her active role in promoting the 20, 000-acre port as a gateway to desirable markets makes it "a key part of the equation when it comes to attracting interested investors from around the world."
            Winnipeg's recent membership in the World Trade Centres Association only adds to the city's growing global reputation and underscores a unique investment platform that provides support for large-scale industrial development. "It's a real opportunity to integrate and connect the private sector to opportunities that exist globally, especially for small- to medium-sized businesses," says Gray. "It's about access to global markets, connecting to new opportunities, and securing information and support within service markets around the globe."
Essential to advancing the city's infrastructure is CentrePort Canada Way, a recently opened $212-million expressway jointly funded by the Government of Canada and the Province of Manitoba. "It's futuristic in that it was designed not only to support current needs, but also to address long-term requirements. We're delighted our federal and provincial partners are working with us to help make this vision a reality," says Gray. With the completion of CentrePort Canada Way, a new common-use rail facility in development, as well as its primary location next to the iconic and award-winning $585-million Winnipeg James Armstrong Richardson International Airport, CentrePort companies will be able to access road, rail and air options with greater ease than ever before.
Mayor Katz also cites infrastructure improvement—the condition of the city's roads, sidewalks, back lanes, bridges and sewer systems—as a top priority when it comes to ensuring the long-term viability of the city.
            "In 2013, we introduced the Local Street Renewal Reserve to help tackle the city's infrastructure challenges, funded by a one per cent property tax increase dedicated to the revitalization of local streets, sidewalks and back lanes," says Mayor Katz. Based on the success of the Local Street Renewal Reserve, the City of Winnipeg has created a similar program to focus on its regional streets. Said Katz, "Our long-term goal is to improve the condition of our streets and ultimately move into a cycle of maintenance, rather than having to play an endless game of catch-up."
            Economic Development Winnipeg Inc. (EDW) is Winnipeg's leading economic development agency. The organization is tasked with attracting investment into Winnipeg to grow its 10 distinct economic sectors, as well as increasing visitation to the city through its Tourism Winnipeg division. As part of its mandate, EDW works with public- and private-sector organizations to introduce innovative initiatives designed to advance Winnipeg's economy.
"We market and promote Winnipeg in a way that elevates our ability to attract foreign direct investment, addressing any viable niche, and we provide targeted economic expertise that makes us stand out from competing jurisdictions," says EDW's president and CEO Marina R. James. "In all instances, we aim to ensure that Winnipeg continues to grow with a diversified economy. And we're mobilizing the latest in place-making strategies to champion the city as a great place to live, work, invest and visit."
YES! Winnipeg, an initiative within EDW, works to expedite successful business ventures in the city. YES! Winnipeg has set the ambitious five-year goal of helping to facilitate 4,200 jobs at maturity. As of December 31, 2013, its third full year in operation, the initiative has been credited with helping to secure approximately 1,830 local jobs.
"Winnipeg probably has the one of the most diverse economies in the country," says Mayor Katz. "We continue to do well in aerospace manufacturing, bio-composites and agribusiness. We have a tremendous amount of advanced manufacturing and transportation/distribution here, along with financial services and a growing ICT industry. Ultimately, we want to keep our core businesses satisfied with Winnipeg. We want to retain them and help them grow right here, while at the same time attracting national companies and increased foreign direct investment. The best outcome is to continue to nurture a balanced and diverse economy."
            Thanks to EDW's leadership in submitting a comprehensive application, Winnipeg was recently named a 2014 'Top 7 Intelligent Community' by the Intelligent Community Forum, edging out hundreds of rival cities around the globe with equally lofty ambitions. The city is home to industry-leading corporations, such as the Great-West Life Assurance Company, Investors Group, National Leasing, Winpak Ltd. and Pollard Banknote. From just about any angle, Winnipeg is an investors dream: stable, diverse and thriving business opportunities abound.
Winnipeg's upward trajectory is partially due to global investors' interest in the city. "We're seeing a large private-sector construction boom, and I think it's because we've created a climate whereby people know Winnipeg is 'open for business,'" says the three-term mayor. "We have development agencies like CentreVenture working diligently to revitalize the heart of our city, which has created a cascading effect in spurring additional investment. More than ever, national and international investors are taking notice of Winnipeg. I'm getting calls from Germany and China asking about the potential to invest here."
Winnipeggers and visiting tourists alike are rejoicing in the expansion of Winnipeg's retail market, with the recent opening of the city's first IKEA and Target stores, and H&M's announcement to open later this year. "When I was first elected in 2004, the two questions I was asked most often were these: When are you bringing the Jets back to Winnipeg? And when are you getting us an IKEA?" laughs Mayor Katz. "The arrival of these higher-profile international retailers reflects a confidence in Winnipeg's economy. When you make those kinds of investments, you have an abiding faith in our economy. We've got tremendous potential, and I'm confident we'll continue to attract new investments within this sector." Retail sales in Winnipeg have outpaced the national average recently, and the city is a popular shopping destination for those living in bordering provinces.
Winnipeg is set to make a splash in 2014, signalling a promising future for the flourishing city. "By all accounts, this will be an exciting year for Winnipeg. Our skyline is changing, thanks to several new downtown developments, and we're intensely focused on revitalization and development," says Mayor Katz. "We prefer to grow up and not out and, for the first time in 25 years, we are seeing multiple new high-density projects supporting our downtown."
Also making headlines is the Canadian Museum for Human Rights, which is certain to shine an international spotlight on Winnipeg when it opens in September. The $351-million museum–the first national museum to be located outside the National Capital Region–is situated at The Forks, a 6,000-year-old meeting place framed by the banks of the Assiniboine and Red rivers and nestled in the heart of downtown Winnipeg. As well, $200 million has been earmarked for the Journey to Churchill exhibit, opening later this year at Assiniboine Park, located within one of North America's largest urban forests.
A consummate four-season city, Winnipeggers are constantly outside and active. "We've spearheaded a major initiative in active transportation, and we continue to expand on our transportation network," says Mayor Katz. "Since 2008, over $80 million has been invested in active-transportation facilities in the form of cycling paths, pedestrian corridors, buffered bike lanes and dedicated AT bridges. We continue to fund these kinds of transportation initiatives to ensure Winnipeg remains active-transportation friendly. I think we're making tremendous progress on this front."
Although Winnipeg's sturdy roots were first planted by the city's optimistic forebears, the continuing progression of Winnipeg's economy rests on today's youth. As in any major metropolis, access to skilled labour is an important aspect of a stable and growing business climate. "When businesses move here, that's what they need. And we want to make sure Winnipeg's youth understand that they can build a great future here," says Mayor Katz. "And if you want to recruit youth, you have to make sure you have quality jobs for them. You also have to offer them a vibrant and affordable city. All of that exists in Winnipeg."
Winnipeg has several well-established post-secondary institutions in place to nurture in-demand skill sets: the city boasts four universities, a major college and several vocational institutions. And, staying true to its indigenous roots, the City of Winnipeg supports an Aboriginal Youth Strategy (Oshki Annishinabe Nigaaniwak) that implements, on average, 22 projects per year. Building on the success of the Strategy, the City opened an Aboriginal Relations Department in March 2013, which provides experienced leadership to support programs and services from an aboriginal perspective, and it allows the City of Winnipeg to better engage with this vital part of the community.
"Aboriginal youth represent the fastest-growing segment of our population. They have unbelievable potential to be a great asset to the community," explains Mayor Katz. "However, young people leaving the reserves and moving into the city often find themselves facing an uphill battle. We want to provide these young people training and employment initiatives that will give them opportunities to succeed, and also the tools to help them reach their goals."
One such initiative the city has put in place is its Primary Care Paramedic Training Program, which gives aboriginal youth the opportunity to receive training from the Winnipeg Fire Paramedic Service, allowing new doors to swing open for the program's participants.
Winnipeg is making its mark, not just here in Canada but on a global level. The city's diverse and engaged citizens, its thriving arts scene and its ever-present evidence of prosperity prompts Mayor Katz to conclude: "By any measure, when you look at Winnipeg, you'll see an extraordinarily vibrant city that offers something for everyone. It's an exceptional place to live."