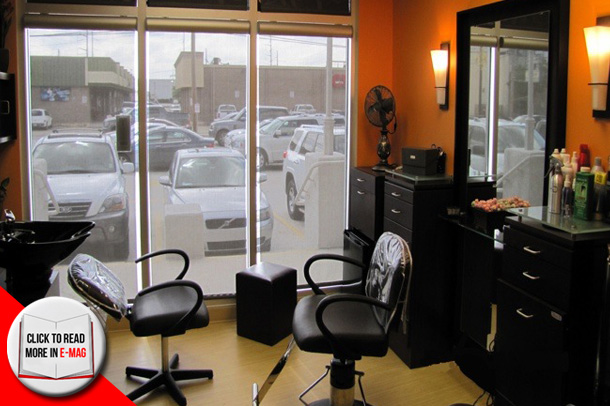 Edging its way into the Canadian market
By: Mudeeha Yousaf
The traditional salon model may soon be relegated to the past with the introduction of innovative business practices that challenge the status quo and offer professionals in the health and beauty industry alternatives to their current work arrangements. Ken Suddaby and Linda Lefebvre introduced the salon suite concept to Canada early this year. The salon suite model began in the United States about a decade ago and is transforming the salon industry.
Ken and Linda acquired the Canadian Master Franchise rights to My Salon Suite Canada in 2013. It is a franchise that is edging its way into the Canadian market, having proven its success in the United States and which will no doubt receive the same warm response north of the border. It is a true semi-absentee franchise that, once built and leased out, takes about one day a week to manage.
Each My Salon Suite location is an up-scale, luxurious beauty complex consisting of private fully-equipped, turn-key suites that are leased to health and beauty professionals such as hair stylists, massage therapists, nail professionals, and aestheticians. "The model is ideal for those who dream of going into business for themselves and want to get away from the drama and politics of a traditional salon—all, while having the opportunity to make more money," says Ken.
Currently, Ken and Linda are in the midst of launching their first corporate location in Ottawa, and are seeking to attract seasoned salon and beauty professionals who will bring their current clientele with them and become stable My Salon Suitetenants. The suites have tremendous appeal for these individuals for a number of reasons. They become business owners almost overnight without having to invest capital; they retain 100% of their billings (this is particularly relevant since most salon professionals pay at least a 50% commission on their billings); and they retain 100% of the profit on product they sell.   Their clients love having their salon professional all to themselves in beautifully appointed private suites.
"What attracted us to master franchise this business in Canada is that once you get the location up and running and the desired occupancy level you want, there is not a lot you need to do to keep it going—it takes about a day of your time to run it. And as an added bonus, there are no employees to have to manage," says Linda. "In a typical business, the first year or two after you open is the real crunch time as you're trying to drive the public into the location and attract customers. This model is a destination business that doesn't rely on walk-in traffic—the   salon professionals are your only customers because they bring an already established business with them. What makes My Salon Suiteunique is that the majority of the work is done in the six months before you open. You're busy finding property, fitting it up and getting it filled, but once that is done you don't have to do much compared to other businesses." The salon industry is relatively recession proof and doesn't experience the same ups and downs that other industries do. It is a win for investors who wish to keep their day jobs and accumulate new income.
 "Franchising is a wonderful way for people who are currently in traditional salaried jobs to have a lower risk approach to getting into business for themselves." Linda adds that working on your own business is a "refreshing change" from traditional corporate Canada.
My Salon Suite Canada plans to get several franchisees on board this year and its goal is to open between 50-70 locations across Canada over the next 5 years. To qualify, franchise candidates need to have $800,000 net worth and $250,000 of liquid capital to invest. "As a master franchisor I want to build a vibrant system of talented franchisees who love being in business for themselves," closes Ken.
For more information on My Salon Suite, visit www.mysalonsuite.com