Where adventures begin!
By Cheryl Long
There's something magical about an RV. Not only do they replicate a perfectly outfitted home away from home but they're designed to transport you to some of the happiest places in the world, whether it's a campground filled with family memories or a sun-warmed destination that leaves thoughts of winter behind.
One of the most exciting moments in an RV purchase happens when you step inside and marvel at the combination of engineering and design that transforms a vehicle into an amenity-filled retreat. From relaxing living areas and cozy bedrooms to fully-equipped bathrooms and well-appointed kitchens, these abodes on wheels symbolize freedom and fun.
In 2004, the RV business became a major part of Gene and Susan Minard's lives when they opened Minard's Leisure World in Weyburn, Saskatchewan. Positioned between the capital city of Regina and the U.S. border, the city had nothing to offer RV customers and Susan saw both a need and an opportunity. "People wanted to be able to purchase RVs plus parts and accessories," she said.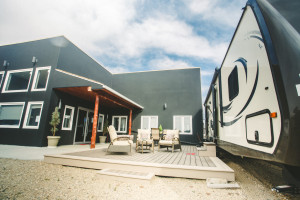 Armed with a background in marketing, Susan launched the business out of a 9,000-square-foot building sitting on six acres of land and run by a staff of five. Just over a decade later, the successful venture has more than doubled in size and now operates out of 19,500 square feet of space, offering buyers close to 16 acres of recreational vehicles. Today, Minard's Leisure World is one of the largest RV dealers in Western Canada with 50 employees, 17 different lines of RVs and further expansion that has seen the company branch out into additional businesses. Minard's Steadfast Homes, which just opened a second location in Estevan, Saskatchewan, specializes in a choice of manufactured, modular and ready-to-move (RTM) homes and Offices to Go provides mobile office trailers that are ideal for the construction, commercial and oilfield industries.
"We have the largest selection in Western Canada, which gives us buying power," Susan said. "We are aligned with the best RV manufacturers so we can offer quality, size and price."
Marketing background helpful in business
Susan's marketing experience has served the business well. She spent five years working as a marketing director for a clothing company, which showed her the importance of successful marketing and how that can translate into business growth. "My main role day to day in the business is marketing. I write and voice all the radio ads for Minard's Leisure World, write the ads for Minard's Steadfast Homes and our son voices those. I also do sales when needed," she explained.
Not only has the company grown size-wise, but they've expanded their post-sale services to include four certified technicians and two mobile vans that serve customers on permanent sites or those experiencing an emergency. Pick-up and delivery service is also available, along with a full selection of accessories listed in their online parts and accessories catalogue.
Years of hard work and dedication are paying off for the Minards and their flourishing business. Last year, they won RV Business magazine's Top 50 award, which is handed out annually to dealerships across North America in recognition of their overall business operations, customer service and professionalism. They have also received the top Venture RV dealer award and are among the top five K-Z RV dealers.
One of 2014's Best Managed Companies
But one of the company's crowning moments was realized this March when Minard's Leisure World joined the prestigious list of Canada's Best Managed Companies for 2014. Sponsored by Deloitte, CIBC, the National Post, Queen's School of Business and MacKay CEO forums, the annual awards recognize excellence in Canadian owned and managed companies. Businesses that make the list go through a rigorous evaluation process that looks at their management skills and practices, vying for a place on one of five levels. This is the first year Minard's has been named a Best Managed company, joining 49 other inaugural businesses for 2014.
The designation adds value to the company, Susan explained, and fosters a sense of confidence and pride among their employees. "It's their hard work that got us to where we are and it will hopefully attract new employees in the future," she said. The process encouraged Susan and Gene to take a hard look at all of their companies and consider where they were succeeding and where more work was needed.
"It was also a good time to reflect on the past 10 years. To see the growth in print – it was pretty amazing," she said. "The process has actually really made us aware of decisions when we make them. We now ask ourselves, 'Would a Best Managed Company do that?' It also made us thankful — for our families who stood behind us, our friends for encouraging us, and our employees for having the faith in us."
Today's RVs are larger yet lighter
The RV lifestyle has been a popular one for decades, and that trend continues today. Advances in design and technology have made today's vehicles lighter and easier to tow despite the fact that larger sizes are now available with additional slide outs, outdoor kitchens and auto level systems.
Though the majority of their customers are families, RVs appeal to all ages, Susan said, and it remains one of the favourite vacation choices among Canadians.
 "We have such a beautiful country to see. You can stay locally and enjoy nature or travel. You don't have to cross the border if you don't want to. It's very economical and builds family memories. It's an amazing lifestyle," Susan said.
Though recent economic turmoil has posed challenges for some businesses, others like those in the recreational industry will benefit from lower gas prices as spring temperatures rise and thoughts turn to summer getaways. For families who've only ever dreamed of owning their own vacation home on wheels, this might be the year when it becomes a reality. For Susan, it's a lifestyle that she believes most would enjoy.
"We feel very strongly about the RV lifestyle. We love it and live it. If you haven't tried it, you should. It will bring a richness to your life that you can't imagine."
To learn more about Minard's Leisure World and the joys of the RV lifestyle, visit  www.minardsleisureworld.com.
OUR PROUD SPONSORS: