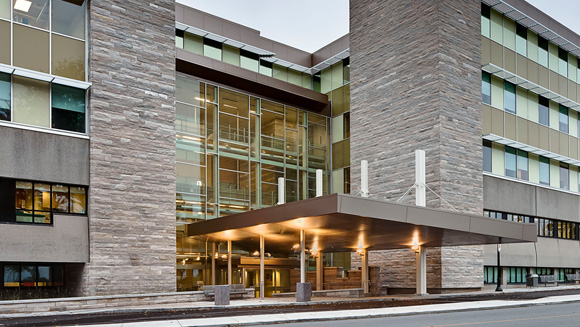 Hospitals are the cornerstones of healthcare delivery in Canada. They are places where people go in hopes of getting better – whether that means healing a broken leg with a cast, treating cancer with chemotherapy, or recovering from a prolonged illness. They are spaces where one should feel comfortable and well cared for.
So it was understandable when Kingston General Hospital (KGH) sought to improve its aging facilities to better service its patients by launching the construction of its multi-phased Redevelopment project in 2008.
Krista Wells Pearce, director of planning for Kingston's hospitals, explains the roles of KGH and the importance of redeveloping.
"KGH is the acute care inpatient centre. It really is the only trauma emergency department; a 24/7 go-to centre for the area," she says.
PROJECT BACKGROUND
The goal of the project was to create purpose-built space to accommodate current standards of clinical practice in seven priority areas including cancer care, kidney dialysis, intensive care, pediatrics, acute inpatient mental health, medical/oncological inpatient services, and central processing services.
The KGH Redevelopment project included 170 000 square feet of new construction and 143 000 square feet of renovations, which are split between the seven areas listed above. The impetus for the first phase of hospital redevelopment was to catch KGH up in the areas that were most outdated and crowded — spaces that could no longer sufficiently accommodate new technology and contemporary healthcare equipment.
"These are the areas that our redevelopment program was based on. We had significantly outgrown our space and we needed to catch up with contemporary standards," says Wells Pearce.
For example, the Cancer Centre was built in the mid-1970s and while patient intake has increased 300 percent, the space had only increased by around 30 percent. Pediatrics was operating out of an old adult rehabilitation unit. The usage of the old rehab unit was supposed to be temporary, but temporary turned into 13 years.
"The kids were in an old, outdated space that was originally built for adult rehab. We needed to build a purpose-built pediatrics unit suitable for kids and their families," Wells Pearce explains.
BUDGET AND PLANNING
The planning and formulation stages of the project began in 2006 with HDR Architecture Inc. Tenders were then called in 2007 for the build-finance project. After prequalified teams were invited to bid on the project, PCL was awarded the construction contract in July 2008.
Wells Pearce recognizes key players who helped get the project completed under budget and ahead of schedule: HDR Architecture Inc. and the contractor PCL. The project was publicly funded in the normal share of capital cost through the Ministry of Health and Long-Term Care. The portion of the project that is not covered by the Ministry of Health, approximately 10 percent of construction costs and the majority of furniture and equipment, had to be funded through community fundraising. Infrastructure Ontario was a co-sponsor in managing the project.
UNDER CONSTRUCTION
Implementing construction projects doesn't mean that hospitals can stop providing its services – people will always need hospitals for various health-related needs.
"We had to do all of this work and maintain full operation of the hospital," says Wells Pearce.
To better manage this added challenge the project was separated into 27 different phases.
Doing construction work above, below, and beside functioning spaces proved to be an endeavor that required a lot of organization and skilled management.
The 27 phases took almost four years to complete. Wells Pearce doesn't sugarcoat it when she describes the process as "painful." With almost 1100 planned utility shutdowns that required a lot of coordination with the facility support team, many different people were involved with the project's smooth delivery, including members of the maintenance and security department, environmental services and IT. Although the "behind the scenes" coordination wasn't always obvious to passers-by, it was instrumental to the success of the project.
"I wish we had kept track of the man hours. The efforts that extended beyond our project management team were astronomical," says Wells Pearce. She also notes that the series of 27 phases weren't sequential — several phases were happening simultaneously in different areas of the building.
FEEDBACK
While Wells Pearce is particularly proud of the expert coordination skills everyone involved was able to put forth, she also values the feedback from the staff and the public. She says feedback and reactions from staff have generally been positive.
She notes that the opening of the new chemotherapy centre was particularly special. The new chemo centre has a lot of day-lighting and has a lake view.
"It's just a gorgeous space. This was one of the most significant transformations in the project.
"Some of the staff cried. I cried when I first saw it. Patients no longer had to come to a cramped little space in a basement that didn't have any natural light to receive chemotherapy," says Wells Pearce.
The KGH Redevelopment project was a great start, but the Hospital's redevelopment is far from over. Wells Pearce says KGH has already moved onto planning phase two. A pre-proposal has been submitted to the Ministry of Health and KGH is preparing master plans to outline future development needs.
"Our next list of priorities at KGH includes redeveloping the surgical suite, the labour and delivery suite and NICU, our clinical labs and the emergency department," says Wells Pearce.
Wells Pearce describes phase one of the redevelopment project as a "long marathon". She credits the Infrastructure Ontario management model that helped keep the project on schedule. PCL also had to deliver within their timeframes and as a result, Wells Pearce and her team had to keep pace.
"It really was a job well done," she says.
Nicer spaces that are purpose-built for specific functions provide comfort for patients, families as well as the people that work there.
"From a health care perspective, the new space at KGH now reflects the wonderful care provided."
The completion of the project now ensures that quality spaces make a bigger difference in peoples' experiences at KGH, in addition to the wonderful care they already receive.