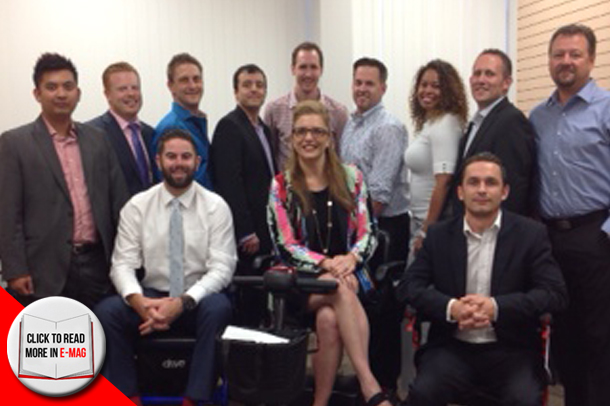 Enhancing Quality of Life through Innovation
By Leah Kellar
Since 2000, Drive Medical has given the gift of independence to aging consumers with innovative products, which focus on functionality and value to improve their quality of life. Drive Medical is the fastest growing global company manufacturing and providing home medical equipment (HME). Canadian CEO, Kathy Sarafian, credits Drive's growth to its focus on the future of market needs and its commitment to helping seniors stay at home longer, safely and more comfortably.
"We are very committed to helping our customers provide excellent service to the seniors and their caregivers, and most importantly we help them stay financially viable and healthy," she told Business Elite Canada. "We have a very large breadth of product offerings that provide quality innovation and value. Our commitment to value means that we will give our customers the same products (as our market competitors) only less expensive, or at the same price for a better product." We don't stop there, we further differentiate ourselves through unique training and programs that will help our customers sell these products to grow their business through excellent customer service and adopting best practices. 
Drive Medical started in New York when its founding partners recognized a need for HME of the future. Company founders were pleasantly surprised by the number of interested customers and by the business' initial rate of growth. Consequently Drive Medical, then known as Medical Depot Inc., grew into a global entity. Their first business plan was a very small structure based on sourcing and bringing some new philosophies and new business models to the industry. Sourcing is still a core competency of Drive Medical today, along with a spirit of high-energy, constant improvement, and forward-thinking drive—hence the company's early name change.
The multi-national company now has corporate offices and distribution facilities located throughout the United States, Canada, the United Kingdom, Germany, France, Romania, China and Taiwan. The Company's North America Technical Service Center is located in Bohemia, New York. Drive has continuously had a robust growth of 20%+ year over year fueled by their undying winning attitude, a vision to serve and make a difference and state-of-the-art technology. This is partly demonstrable through the number of acquisitions Drive has made in a little over a decade.
"We have a very busy M&A department. Wherever there is a gap in our product line in terms of innovation, we seek strong brands to bring under the umbrella of Drive."
Drive just completed another two acquisitions of Medquip and Dupont this year, bringing the number of acquisitions to a total of 18. In an industry that traditionally focuses on the past, Sarafian says Drive stays innovative by maintaining a forward-thinking paradigm and embracing change and new trends.
"We are passionate about what we do and we have changed the way HME is seen as an industry by setting new trends and being open to change and customers who have new or forward thinking business models."
Drive manufactures a complete line of durable medical equipment, including mobility products, home care beds, bariatric products, wheelchairs, sleep surfaces and pressure prevention products, respiratory equipment, self-assist products, power wheelchairs, power scooters, rehabilitation products, pediatric products, patient room equipment , personal care products and electrotherapy devices. Drive's customer base spans many verticals including: home healthcare providers, healthcare distributors, and retailers (both independent and chains). Recent expansion includes a new Long-Term Care Division and a new Acute Care Division. Drive's commitment to providing best value for products, a one stop shop and expertise on how to grow sales has  benefited and made a difference to home care providers that partner with Drive.
"It's about a sense of purpose and passion and establishing a team and mindset that allows you to grow in any economic climate like Jim Collins described in his book, Great by Choice. We are focused on discipline, creativity and relentless desire to grow and improve. Then we try and transfer that to our partners so they can do the same. That is the Drive model and how we recruit, hire and train," said Sarafian, who has been with Drive Medical for four and a half years now.
Prior to working at Drive, Sarafian started her career with Proctor & Gamble in paper products working on brands like Luvs/Pampers. She then spent a combined 17 years of her career in Vision Care with Allergan and AMO Canada (now known as Abbott Medical Optics Canada) both companies are subsidiaries of publically traded multi-nationals. It was the genuine level of passion and enthusiasm demonstrated by the executive team: Harvey Diamond and Rich Kolodny, which attracted Sarafian to a position within the company, as well as the opportunity to do something more entrepreneurial career-wise.
"It's all about innovation in the areas of convenience, safety and independence as we expand our breadth and depth of product offerings," said Sarafian.
For example, Drive's new walker "the Nitro" won the innovation product award at the Medtrade Show last year.  "We keep blowing our forecast with this product which we will be soon introducing the tall, hemi, bariatric sizes along with an option for hard seat in very cool premium colours", says Sarafian.  Most recently, Drive's Painaway TENS Therapy unit won the product showcase award in Home Healthcare category at the 2014 NACDS. Looking into the future, Drive has exclusive rights to a lightweight scooter design that can be converted into carry on size en route, such as when boarding a plane or train.
"The young seniors (as we call the group following the 75-80 year and up seniors) are a different generation who expect functionality, comfort and lifestyle- and they are willing to pay for it" asserts Sarafian, "they want to be able to take their scooters with them to Florida along with many other products we have made easy for travel".
Drive's core demographic in the HME market is a target audience of women between the ages of 45 to 60 that are often making purchasing decisions for their elderly parents. Drive's website has a section for professionals and also a section for consumers to make education and information on products much easier. It is the best in the industry loaded with resources for Drive customers along with consumer videos and 360 or magnified viewing of products. 
One of the biggest challenges for Drive comes from the way that HME products are generally perceived in society.
"Home Care and the HME industry – is one area in Health care where there is total alignment in goals between the government, the industry and the patient ….we all are keen to keep the seniors at home where they feel emotionally dignified and happier. In order to accomplish this we need to be proactive about safety and embracing HME products" said Sarafian.
Our hope is one day our products will be seen as a preventative solution for before "the accident", as well as after any such unfortunate incidents that may lead to major set backs to ones long-term quality of health. Sarafian feels that seniors could really benefit from changing their mindset towards mobility, and bath safety products. For example, many seniors resist using a cane or a walker when they have balance or gait issues because of their pride or ideas about not giving in to aging.
"They don't realize that a split second could change their lives forever. Accidents happen, that is why we all buy insurance. And they happen a lot more when you get older."
This practical wisdom is backed up by the statistics:
One-third of people 65 and older fall every year.

A bad fall resulting in a hip replacement surgery costs the health care system approximately $30,000- $40,000.

Over 60 per cent of the falls happen at home and mainly around the stairs or in the bathroom.

Falls are the most common cause of injuries and hospital admissions for people who are 65 and older.
So why would everyone insure their bathrooms with some safety products?
If a caregiver or government invests in 5-6 products, then that would make the bathroom safer with an estimated total cost between $500-700.
"In today's world we are all about products that may keep us looking young. There is so much focus on cosmetics, Botox, surgeries, etc., but media doesn't focus on the fact that nothing could accelerate aging faster than a bad fall and injury forcing someone to be using a wheelchair for life."
Drive Medical continues to see growth and the direct impact its products have made to the short and long-term quality of health and wellbeing of seniors. But, Sarafian notes that moving forward in this direction requires mental shifts of thought in society about the healthy preventative solutions that HME provides.
Our goal is to make these products acceptable, and for seniors to reason, "I want to stay healthy, active, and vital, and that is why I am going to do it the smart way."