Fresh Made. Fresh Baked. Fresh Pizza.
~By Cheryl Long
Chuck van der Lee knows the exact number of pepperoni slices on a Papa Murphy's large pepperoni pizza. "60," he says proudly. "And on our family size we have 80 pieces of pepperoni, and there isn't one speck of the top that isn't covered in pepperoni!"
That's the sort of intimate knowledge and passion that fuels the latest trend in one of North America's – if not the world's – favourite foods. While there is no shortage of pizza chains throughout Canada, Papa Murphy's Take 'n' Bake Pizza is bringing a new concept to the table with its freshly-made pizza that's baked in your own home. "Personally I'm very excited about growing it across Canada. I'm very proud of the brand and equally proud of our franchisees and store managers and the role they're playing in helping us grow this," van der Lee said.
Papa Murphy's was first introduced into the U.S. market in 1981 in Portland, Oregon as the result of a merger between Papa Aldo's Pizza based in Portland and Murphy's Pizza out of Petaluma, California. The aim was to create a product that exceeded pizzeria quality but could be baked in the customer's home, avoiding that lukewarm "out of a cardboard box" experience associated with traditional pick-up or delivery chains.
The franchise made its move into Western Canada in 2006 with the opening of its corporate location in Surrey, B.C. At the same time, van der Lee was nearing the end of a 20-year career with Rogers Communications. As chief executive officer of Rogers Retail, van der Lee was spending great amounts of time travelling between his home in Vancouver and Toronto until 2009 when a company reorganization became the impetus to leave Rogers and look for other opportunities in British Columbia.
Expanding from 20 to 50 stores across Canada
Van der Lee was already familiar with Papa Murphy's when he began researching new ventures. In fact, at one time there had been talk about putting the pizza concept into some of the Rogers stores. Already acquainted with the company operations and head office executives, he took the plunge by purchasing the company's four Canadian corporate locations and several new stores being opened in Alberta. It was, he explained, the genesis of the company. Today, van der Lee is owner and president of Papa M Pizza Canada Inc. and has plans to continue expansion across the country. In five years, he hopes to see the number of Papa Murphy locations grow from 20 to 50 as the chain spreads east.
"We don't plan to open any more company stores, all the emphasis will be growing through a franchise network," he said. "We've recently signed an area developer for the province of Saskatchewan and he's committed to opening up seven new stores." He also has at least two strong prospects interested in Ontario franchises, van der Lee said, and has also received inquiries from Newfoundland and Nova Scotia.
So how exactly does Papa Murphy's differ from the multitude of pizza chains stretched across Canada? Freshness is what makes the product truly unique, van der Lee explained.
"The dough is made fresh every day — it's not frozen, and all the ingredients are made fresh every day or prepared fresh every day. The cheese is grated fresh in store, the vegetables are diced and sliced, the fresh pepperoni and all the proteins … and I think that is the biggest difference."
Fresh, custom pizza in 15 minutes
Rather than dropping a cardboard box on to the dinner table and hoping for something palatable, Papa Murphy customers slide their freshly-made pizza into a 425-degree oven for about 15 minutes and then serve a high-quality, custom pizza. There's also the option of cooking the pizza on a stone and grilling it on the barbecue. Either way, Papa Murphy's is proving to be a simple recipe that's poised for success.
"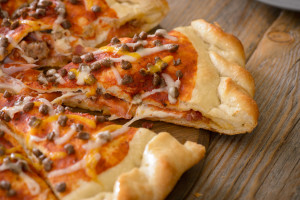 Once we have people try it a couple times, they become converts and some of them become stellar advocates because, once again, the product is so good and it's affordable (and) the value's there," van der Lee explained. "Whether it's mom or dad buying the product, they feel comfortable that they're buying something that's fresh. We think it's healthy, the ingredients are top-notch … it speaks for itself."
The product is priced competitively, somewhere between the grocery store and a sit-down restaurant, van der Lee explained, adding that a family of four could easily dine for about $20. That's after choosing from an extensive menu that includes four types of crust (gluten-free is available), a multitude of fresh toppings and for those who just can't decide, a number of tried-and-true signature combinations like Canadian, Hawaiian and Murphy's Combo. There's even a Mini Murph kit that lets children make their own pizza at home. A selection of sides rounds out the menu, including nachos, dessert pizzas, ready-to-bake chocolate chip cookie dough, bread and salads.
The nachos were actually a Canadian invention, van der Lee said, and they're particularly popular for special events. They're being tested in some of the U.S. locations and in return, custom pasta that's being marketed in the States should be available in Canadian stores this fall.
Franchise offers owner-friendly benefits
As a franchise opportunity, Papa Murphy's is more "owner-friendly" than some concepts. They offer operational simplicity, which means no ovens, dining rooms, delivery service, drive-thrus and, perhaps the most appealing feature, no late hours. The morning is typically spent prepping the day's ingredients in advance of the 3-7 p.m. rush. A typical store has 12 to 14 people on payroll, van der Lee said, and four to five operating the "make line" each day. The goal of moving customers in and out of the store in three to four minutes makes for a quick pace, and keeps hungry customers happy.
What also makes Papa Murphy's unique is the company's commitment to community involvement and their pride in going a step beyond the norm.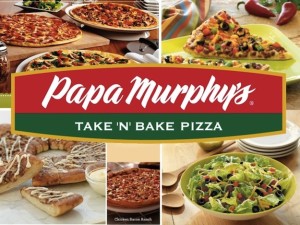 "We'll actually take part in community fairs that are happening, community events that are happening, other new store openings that happen … we really, really stress community involvement."
 Behind the scenes, staying on top of technology and finding new ways to be innovative is another key to the company's success. They implemented a new point of sale system unique to the pizza industry that increases operating efficiencies by tracking inventory and labour. They set up an online ordering option, which now represents about six per cent of weekly revenues, and will be launching a text messaging program that will send special offers to customers "without bombarding them", van der Lee said.
"Beyond that, we're extremely nimble," he explained. "So the fact that we're a small team and we're working seven days a week, we make decisions quickly. We can move on new programs and make things happen without a lot of delay. There's no bureaucracy here."
Pizza served 43 times a year in most households
The typical North American household dines on pizza an average of 43 times per year, van der Lee said. It's a popular choice for those who are too busy to cook or need easy fare for a large gathering. By adding in the freshness component, Papa Murphy's is turning a popular convenience food into a product that meets a much healthier standard.
Few can resist a truly good pizza, and van der Lee has his own favourite combination: a delite crust with pepperoni, bacon and jalapeno peppers. "Of course, I can really get into just a solid pepperoni pizza too!"
For more information about Papa Murphy's, along with a multitude of tempting pizza flavours, visit www.papamurphys.ca.