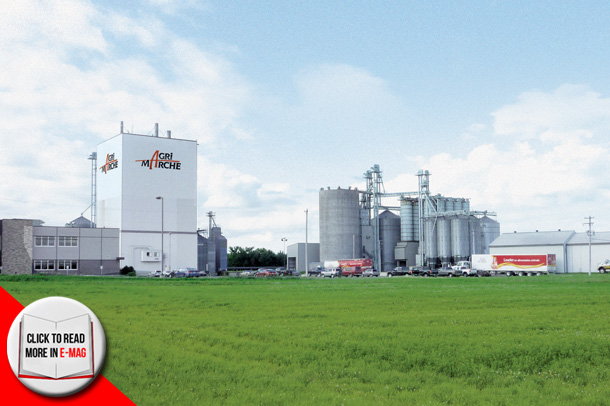 Leader in Animal Feeding
~ By Leah Kellar
Agri Marche is looking to the next generation to take the family-run company to the next stages of its evolution as a leader in animal feeding in Quebec and Ontario. The company's professionalized, yet family-run approach to management that incorporates a strategy for long-term planning has been the key to its success— placing it on the list of Canada's Best Managed Companies of 2013.
"It's a lot of work preparing the next generation to take on the reins," third generation president, Patrice Brochu told Business Elite Canada.
Agri Marche's exceptional management leadership in the agriculture sector started in Quebec in 1913 when founder Joseph-Napoleon Brochu opened his first general store in Saint-Henri. Close ties to agricultural producers helped grow the company, and in 1954, Mr. Brochu built a mill that offered specialized animal feed products. In addition to producing grain-based animal feed today, the company also operates pig and poultry breeding farms, as well as a grain transhipment centre.
In the early 1960s, Donald Brochu took over the family business from his father, and now the company is headed by his sons Patrice, Jean-Pierre, and his daughter, Guylaine. Agri Marche's all-in-the-family approach to management has developed over the years to hone an efficient decision-making process.
"I think what we've done over the last number of years is look at the client needs and focused on the agility we have to turn things around. This is especially the case when we see things coming down the pipe and we have to make changes in advance. We have a very lean management system where decisions are made quickly, they're endorsed, and things move fast," said company president, Patrice Brochu.
This winning decision-making system is thanks to taking a traditional family-run operation and professionalizing it over the years to meet modern market demands.
"We've professionalized the business. Yes, it's still a family business at heart, but we've professionalized it. We have a family council whereby our vice presidents every quarter meet with an advisory council, which includes three shareholders of Agri Marche, plus two external advisors, and we review the whole operation. These external advisors give guidance to us for strategic alignments. Every three to four years we go through a full-fledged strategic planning process by which we identify what the new trends are for the next few years, how we want to maximize these trends, and where to go from there," explained Patrice.
"Also, a part of our strategic managing process is bringing things to the employee level. We communicate to middle management and staff our strategic goals, where we want to be so we can get buy-in from the employees."
Patrice Brochu was merely 12 years old when he started working on the farm. The business, while professionalized, is still very much a closely connected family affair with his sister, Guylaine Brochu, holding the position of vice president of the holding company for Agri-Marche and his brother Jean-Pierre is Vice-President of grain merchandising.  Recently, Patrice's son works as a summer job in the client services division taking feed orders. The company proudly boasts client loyalties spanning over 25 years.
While Agri Marche has enjoyed much growth over the years under its evolving family management strategy, it has had a relatively low profile outside of the agricultural community until being placed on Canada's Best Managed Companies list last year.
"Being a B2B business has also kept Agri Marche off the radar outside of the Ag community, however receiving this national recognition is a complement to its management systems and financial performance," said Patrice.
He can readily list a number of unique challenges that Agri Marche has been able to overcome and adapt to over the years, and at the present time. One of the toughest at present is the demographic of the hiring base in the Quebec City region where Agri Marche is headquartered.  Competition for employees is fierce.
"Quebec City is running under 5 per cent unemployment right now. So we are in an area where there's a lot of employment, there's a lot of opportunities for people here in Quebec City," said Patrice. He also acknowledges that the traditional "blue-collar job" stereotype of working in agriculture persists to some degree among the younger generation in the region.
"The challenge is the manpower for our farms, it's very difficult to recruit qualified labour. It's been a major challenge. We also need good IT staff, it's tough to find the IT staff as well," explained Patrice.
He identifies another ongoing obstacle for the company as being the value of the Canadian dollar—particularly when it reaches parity with the U.S dollar.
"That has affected us a lot given the hog prices are tied to the Canadian dollar.
Wherein the prices of hogs we receive is based on the Chicago Mercantile Exchange, and our dollar goes up and we get less money for our pigs. It's tough for the clients and it's tough for us. Over the last few years, as you probably know with the whole ethanol issue, and the price of grains, the whole grain complex has gone up considerably, so in order to feed our animals via poultry or hogs, there's been a significant increase in costs," said Patrice.
He likens the uniquely ideal situation for Agri Marche to the car manufacturing industry wherein a climbing Canadian dollar value is generally not good, but good for most other industries when it is at par or higher. He estimates that an ideal value for Agri Marche would generally be 85-90 cents to the U.S. dollar.
Patrice says the company was not really affected by the most well known threat to the agricultural industry of several years ago with the so-called "Mad Cow" disease and food recalls over the years due to contamination issues in the feed supply.
"In terms of product quality, we have had to work through the Canadian Food Inspection Agency (CFIA) in order to respect their guidelines, our feed mills have to be HACCP approved," said Patrice.
HACCP is a production control system in Canada for monitoring food safety. Every year, Agri Marche is audited and their production systems are validated to be safe and compliant with regulation.  Agri Marche also has an internal traceablity program whereby the company can trace back feed lots on farms to their origin.
"We've invested a considerable amount of money in the last few years on a fully integrated ERP system." It's very rare of a feed company to have such an IT system in place and working," said Patrice.
Research and development has also played an increasingly practical and organic role in terms of the company's competitive edge as a producer and a feed mill manufacturer.
"We stay innovative in terms of what we try to do in our R&D department. We use our corporate farms as research facilities and we adapt our results there to maximize performance growths, be it for our own animals, and by defacto the client's animals, so what's good for Agri-Marche will be good for the clients needs too. It's rare that you'll find in Canada companies that have significant animal production and that have a very large client base."
In terms of expansion, Agri Marche takes an organic and strategic approach, looking into opportunities where there may be a fit for the company with acquisitions. Agri- Marche has also had to adapt to the rapid demand of the market by streamlining its operations in innovative ways.
"Animal feed is animal feed, yes there's optimization, but how to really address the client's needs in terms of animal husbandry, we've done modifications of our barns in terms of minimize operating costs. What we want to do is to maximize revenues of Agri-Marche's clients," said Patrice.
The Brochu family has made significant contributions in terms of innovation to forward the progress of the swine industry. The family has built a reputation of service and quality that is sure to continue into its third generational leadership with a continued focus on performance based results.
"That's really where our focus is, on selling our results. We test our own products in our own farms and our idea here is to maximize our own revenues, and that translates into maximizing the revenues of our clients as well, so if it's good for us, it's good for our clients," said Patrice.
Agri Marche's strong family cohesion at the basis of its management strategy is what Patrice believes will see it rise to adapt to the challenges of a saturated market.
"Obviously, we're dealing with a mature industry, so we have to find ways to continue our growth. Some of it will come from organic growth, internal growth, some of it will come from acquisitions, and being a mature industry for us to have competitive prices, it's a question of volume, that's why our need for us to grow is to continue to have our choice place in terms of volume with our suppliers," said Patrice.
"But, preparing the next generation to take over the reins of the previous generation is the important ground work we must do to see that steady growth continues, from where ever it comes, into the future."