By Anna Guy
Through the 1960s to today, High Voltage Specialist, PowerTel, has forged the way in EPC Electrical Contracting—to date, PowerTel has constructed 1000's of kilometers of powerlines in Canada and the United States for utilities, First Nations communities, mines, industrial facilities, and private installations.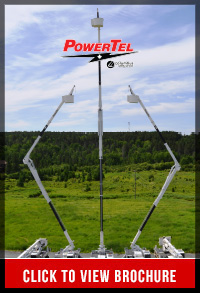 PowerTel was originally the dream of Clary Gatien, who was an electrical apprentice at Ontario Hydro in 1939. In 1950 he went into Manitoba to build a large Switching Station for his brother Rene who was the Project Manager. Rene had been a huge mentor to Clary being 11 years his senior. The two brothers talked about the future with Rene's son-in-law Herb Krueger, graduate of Colorado School of Mines. Herb was a very good Administrator, estimator and project developer. Then In 1968 Clary and Herb incorporated their business and registered it as PowerTel Utilities Contractors Limited.
In 1982 Clary built a new office on his family farm in Whitefish. Clary and Herb set up to access the booming Sudbury area mining industry and nearby areas of Elliot Lake and Timmins.
From there on, mining operations in the area depended on PowerTel to construct transmission lines, distribution lines and substations to power operations, and PowerTel was awarded contracts to bring remote communities online.
1987 with PowerTel in good hands, Clary ventured into the private power business with Cobalt Power and the Ragged Chute run-of-the-river HEP project. PowerTel was the general contractor managing the EPC project and performing all the electrical work. In January 1988 Wayne and Dean bought Clary's half of the business and continued running PowerTel with Herb Krueger. Wayne as President, Herb Secretary-Treasurer and Dean Vice President.
The company grew tremendously over the years and in 1996 started the process to develop the Western James Bay communities. 1999 PowerTel teamed up with SNC Lavalin to do the Five Nations Energy Inc. (FNEI) Omushkego Ishkotayo Project. This was a complete EPC 138 kV Transmission Line that ran 270 km from Moosonee to Attawapiskat. The Project connected Fort Albany and Kashechewan in late 2001 and Attawapiskat in March 2002 to the provincial grid and was delivered on time and under budget, a theme that is consistent throughout the PowerTel story. FNEI is the first 100 per cent First Nations-owend transmitter in Canada.
In 2003 Herb's two boys Mike and Chris joined Wayne and Dean as owners of PowerTel as Herb retired. In 2004 the group ventured into the manufacturing industry with the purchase of the rubber tracked vehicle business (HICO) in Montreal. In 2005 built a new facility at Whitefish, moved the business from Montreal and rebranded it PowerTraxx. PowerTel and PowerTraxx are both registered trademark names as well as the PowerTraxx logo.
Today, PowerTel is one of Canada's leading high voltage contractors, offering services in Transmission Lines, Substations and Distribution Lines including all phases from development to commissioning.
50th Anniversary
As PowerTel prepares to celebrate 50 years of success (July 2, 2018) next year, Business Elite Canada talks with its current President A. Adnane Rakib, President (the first one not named Gatien), and John MacKinnon, Vice President, Business Development, about the company's industry-leading safety programs, quality management systems, personnel training, apprenticeship training and strategic plans for continued growth and expansion.
"I believe part of our success has come from being very diversified," says Rakib. "We provide services to the large utilities, but small companies as well."
Rakib says PowerTel is proud to bring power to large communities through large utilities, and to any new developments—typically in mining. "We still pursue those projects to provide services to get power to new developments. We are also proud of our record of providing power to many remote First Nations communities in Northern Ontario."
Rakib says one of the biggest challenges in working in remote areas is access. Over the decades, PowerTel has achieved one of the best track records in off-road utility construction, so much so that the company developed an off-road tracked vehicle fleet subsidiary called PowerTraxx. The units have been shipped all over North America through PowerTraxx sales and PowerTel's rental division. "We have managed projects on every type of terrain imaginable," says Rakib. For maximum efficiency and dependability, PowerTel has put together the most complete line of vehicles available for transmission construction.
The stand-alone business manufactures vehicles and equipment for off road and remote application, "all that you need to build power line or substations on tracks, not wheels," says Rakib. "The advantage is you can go anywhere and everywhere."
New Energy
PowerTel has evolved with technology, and now regularly provides high-voltage services to solar and wind farms. A recent project was with Northland Power's Cochrane Solar Farm, 30 MW ground-mounted photovoltaic solar project in the town of Cochrane, Ontario. A current wind generation project is a 107 km 230 kV transmission line and interconnection station for the HIW LP 300 MW wind farm with Pattern Energy and Henvey Inlet FN for the Henvey Inlet Wind Project. "We have connected hundreds of megawatts of renewable energy and PowerTel will continue to connect thousands more," says MacKinnon.
"We have another sister company called EPTCON. They also have done a fair number of solar projects and wind projects and in addition to the construction work, they also manufacture the electrical equipment such as combiner boxes, inverter buildings and the E-houses. Between PowerTel and EPTCON, we have the expertise to successfully deliver multiple concurrent energy projects," says MacKinnon.
People Power
As proven by PowerTel's half-century of success, the company has a rock-solid team of highly specialized powerline technicians, electricians, equipment operators, mechanics and project management people that are something both MacKinnon and Rakib are keen to emphasise. PowerTel emphasizes training as an integral component to employee empowerment with a stalwart dedication to safety, quality, and risk management. PowerTel's goal is zero lost time accidents—providing quality service in a "Safety First" atmosphere focuses on zero incidents period.
"The key to success in power line and substation projects is the people," says Rakib. "Our line of work requires workers with both a solid education and a great deal of hands-on experience to be able to deliver our customers' projects. We have a highly specialized work force that is, truly, the backbone of our company."