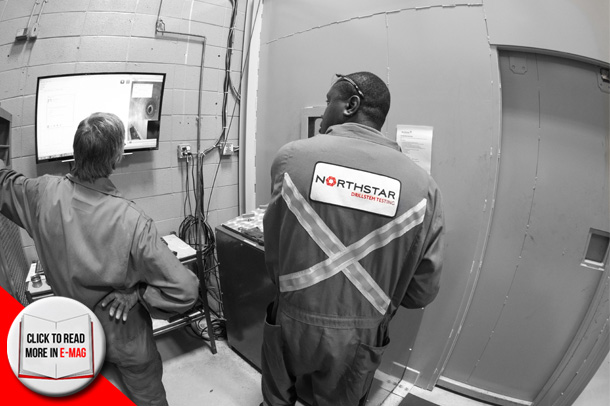 By Cheryl Long
It's not unusual for the team at Northstar Downhole Technologies to be packed up and ready to go at a moment's notice. Specialists in drill stem testing, the Western Canada company can mobilize quickly in the most exotic of locations, ready to lend their expertise to this internationally growing industry.
For more than 30 years, Northstar has been setting the standard in drill stem testing (DST) worldwide, specializing in field services, manufacturing, tool engineering and innovation. Their global operations are located in more than 15 countries, supporting onshore, offshore and remote well testing operations; and their specialized services deliver data that allows oil and gas companies to evaluate a reservoir and make critical decisions on their exploration drilling programs.
Testing can be conducted in either cased or open well environments, recording such qualities as productive capacity, pressure, permeability and the extent of the reservoir, and ultimately helping to determine the site's commercial viability.
Shifting from service to technology
Decades ago, Northstar began as a service-oriented organization but the needs of the industry are causing the company to shift its focus over to products and technology.  "We're maturing as a business enough that we can't be just a service business; we have to offer product technology and support it through service," said President Keith Marshall. "That would be the big directional shift; it's not an easy one when you've gone to market as a service company for 30 years."
Northstar is a family-owned business, though Marshall describes the organization as a "business family as opposed to a family business" with an emphasis on professionalism and the ability to separate family from business. But Marshall wasn't always headed down his current career path. After earning a Bachelor of Commerce degree from the University of Calgary, he worked for PricewaterhouseCoopers as a management consultant, gaining experience in finance, outsourcing, information technology, procurement and supply chain. Eventually, he decided to help his father with the business, providing "a bit of energy to get that offshore portion growing", and ended up increasing Northstar's team from 15 to 80 employees today.
The company has always placed a priority on innovation and investment, putting dollars back into equipment, customer service, support processes and its specialized team. Their vision is straightforward with a focus on professionalism, dependability, relationships, creativity and drive. But when it came to expanding the business, Keith had to look beyond Canada where the demand for drill stem testing was declining, and sell the company's services on an international scale in countries still conducting exploration. He needed to get Northstar's name known among the operators of offshore projects drilling the $100-million wells, and the internet was the answer.
"I think we were definitely early adopters of the internet and making sure we got ourselves recognized," Marshall explained. That meant focusing on search words aimed at drill stem testing, which was a challenge for a unique, boutique-style service. "That's probably our main tool (for branding), just appropriate placing on the Internet."
Industry pushing for innovative solutions
Another challenge is the fact that downhole technology in the oil field is still in its infancy stage, and that creates a new level of complexity. Specialized tools and skills are needed to work in the environments, and technology can barely keep up as operators drill deeper and work harder to force the reservoir to produce more quickly. There is an increasing amount of pressure on companies like Northstar to come up with innovative ways to get the most out of the reservoir, as fast as possible.
"Operators go to a bank and they get funding, or they go to their investors and get funding and they're expected to make a return and the faster you get a return, the better," Marshall explained. "They're working for the banks, they're working for speed. That's really changed in the last 10 years, so they're looking for any advantage they can get (and) that forces it down the line through the service companies."
Part of Northstar's edge over the competition lies in the company's ability to be onsite at a job in the shortest time possible. They've focused substantial efforts on ensuring that equipment is ready to ship  and the team has what they need to operate effectively in a remote environment, and it's paying off.
"We've been in 15 to 20 different countries in the last 10 to 12 years. A lot of what we did was package up the business so it didn't matter if it was a job in Thailand or Papua New Guinea; it would be the same process, the same effort to get there," Marshall said. "We really put a lot of attention into that so we can go into any country within a week or two's notice. We can be on a drilling rig and all our equipment flies on commercial aircraft. That's obviously the key to our business. If we get calls, we go."
Being involved in overseas projects means working in challenging environments and following standards that don't exist in Canada. In fact, in some cases they had to build their own standards, which has solidified Northstar's ability to operate on an international level. Today, as they move towards the innovation of new technology, the company is confident that they have all aspects of their industry covered.
"When we get into isolation, monitoring, well control and stimulation, we're also manufacturers and engineers," Marshall explained. "We have an engineering team, a design team, and a facility in Edmonton where you can prototype with an engineer on site. We're really a centre of excellence for downhole technologies."
3D printing and robotics are part of the future
The company's offices in Calgary, Alberta and Nicosia, Cyprus have them situated near two major petroleum basins. But exciting things are also happening in their manufacturing centre in Edmonton, Alberta, where one of the latest innovations involves 3D printing. The next generation of tool designers are looking at problems differently than in the past, Marshall said, and one of the answers lies in the high-tech printing process.
"You're dealing with exotic materials, dealing with the design constraints of a downhole tool, and that's why 3D printing is so exciting," he explained. "It changes how you look at the design.
We have a tool out right now where we've done basically a gearing system on a 3D printer with exotic ink alloy metals, which to my knowledge has never been done," he added. "I think that's pretty interesting. We've got a lot of fun stuff going on."
The 3D process also allows Northstar's designers to create tools that offer greater accuracy and reliability. One example is a steel gearing system that can be printed as one unit rather than six parts that have to be assembled and serviced, which is crucial when they're being transported to off-the-beaten-path jungle locations.
The next level of innovation is looking at downhole robotics and high pressure/high temperature electronics. One of Northstar's newest prototypes is a wireless tool that allows them to "talk" up and down to the tool, even when it's situated 3,000 metres into the ground. The wireless option would remove some of the operational barriers that can occur with current technology that relies on mechanical movement or pressure differential.
"Everyone is still at an early stage," Marshall said, "playing around with what will work the best. There's a bit of a race on that."
To learn more about drill stem testing and Northstar Downhole Technologies, visit www.northstardst.com.