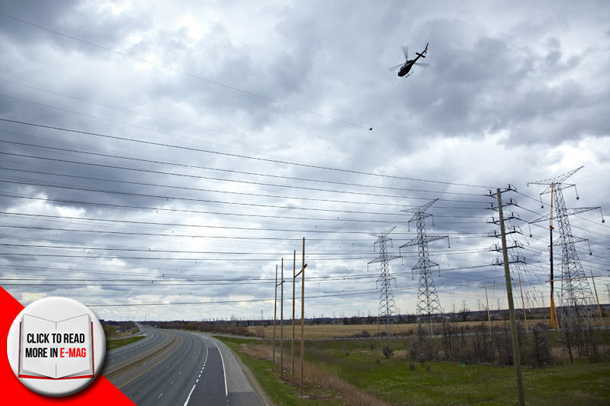 Hydro One- Bruce to Milton Transmission Reinforcement Project to meet Ontario's needs for the 21st century
By: Jesse Champagne
Hydro One is the largest electricity transmission and distribution company in Ontario, with estimated total assets of $20.8 billion. Hydro One accounts for nearly 97% of Ontario's transmission capacity, effectively owning and operating all of Ontario's electricity transmission system. Their distribution system covers 75% of Ontario, serving 1.3 million residential customers and is the largest in the province.
Hydro One aims to build a clean, modern and dependable electricity system for current and future generations. Their newest (and biggest) project to be put into service was the Bruce to Milton transmission line. The new line provides additional energy from clean and renewable sources to the areas of Milton, London, Guelph, Mississauga, Brampton, Hamilton and St. Catharines.
We had a chance to speak with Michael Power, the Chief Engineer & Director of Project Development with the Bruce to Milton Transmission Line infrastructure project, and asked him a few questions. Mr. Power, who has been with the company since 2001, believes that Hydro One is one of "the influencers of technical solutions." Not only is the Bruce to Milton project the largest to take place in Ontario's transmission system in 20 years, it is also the largest power line recently put into service in Canada.
Touching on the benefits of the project, Michael believes that "we now have a much greater capacity to move the power to parts of the province that are actually in demand of it. This is power on demand. We can't bottle it and save it for later, it has to be used at the time it was generated."
Despite overseeing the project in its entirety, the aptly named Mr. Power firmly believes that "it's not the efforts of a single person; it's the efforts of the team we have in place that carries the burden of getting this project done."
He continued, "There are hundreds that we could name because it's not just one person that gets credit for this; it's the work of almost the entire company on this particular project, from the CEO down."
As a committed member of the community, Hydro One strives to "work with the local communities along the way."
A lot of their interaction with the community has to deal with concerns regarding the environment. "We [have] a very good team of… engineers in the biodiversity program… We go back and create the environment as it was before we set foot on the land, and in some cases we've even enhanced it as part of our footprint when we are departing. That will be an ongoing, 'years to come' initiative that is very closely monitored.
When asked which aspect of the project he was most proud of, Mr. Power's answer was instantaneous. "Safety. We contributed 2.5 million man-hours of technical and construction contribution. Of that number, in excess of 1.5 million of it was direct construction contribution, and over the 30-month period we did not have a single lost-time injury on that job anywhere, and there was some 40-45 construction sites ongoing at any given time."
He added, "The time to build and the cost and all the [other] stuff is nice but safety [is the most important]. It doesn't mean anything if someone were to be seriously injured on a project."
One such safety implementation was the use of large helicopters instead of climbing towers: "We chose this time not to take the approach of climbing towers – this added to the safety element of [the project]. We used large helicopters for what we did. It was more expensive but [we] got more work done."
Despite some outcries from some experts within the industry, Hydro One maintained its focus on safety and efficiency.
"[The decision] came under a lot of scrutiny from a lot of the more experienced people in the field – not in the company but in the field – [but] because we benefitted on safety the use of helicopters became huge and we were able to get more work done for dollar spent."
One of the early challenges involved with the project was "with respect to our contracting methodology. We tried some new business approaches – in the construction phase we used 'earned value management' for the first time on a large-scale project to huge success. I give credit to that tool for keeping us on the timeline with the costs and the accomplishments."
The Bruce to Milton Transmission Line also looks to integrate over a dozen wind and solar projects. The project is expected to transport in excess of 3,000 megawatts (MW) of clean and renewable power from the Bruce area to southern Ontario. Ontario Energy Minister Brad Duguid stated, "The Bruce to Milton transmission line is an integral part of Ontario's Long-Term Energy Plan to build a clean, modern and reliable energy system and replace dirty-coal with cleaner sources of power."
Looking to the future, Hydro One is expecting to gain "OEB approval this year and  hopefully break ground next spring" on a new transmission station in Clarington, just east of Oshawa, as well as another project located on the Detroit River.
As Hydro One moves forward as a transmitter of clean energy, the company is steadfast in their belief that working with local residents, businesses, and communities is the best course of action. They will continue to serve local interests in an "open, fair and transparent manner", ultimately delivering reliable and affordable electricity across Ontario.