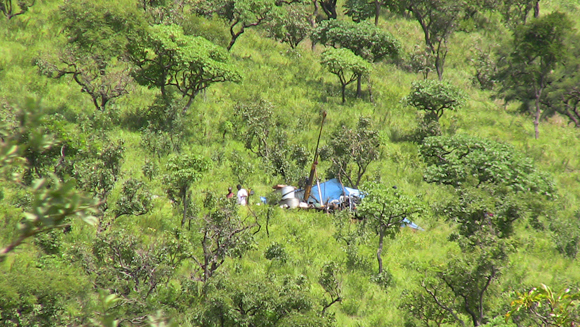 Going where no other drilling company has gone before
Energold Drilling Corporation has definitely gone where no other drilling company has gone before. Unsatisfied with the way mining companies were approaching exploration in third-world countries, Energold became concerned with the lack of sensitivity to local environments and communities. Thus began pursuit to design a more environmentally-friendly rig. Since its inception as an exploration company, Energold has grown to become one of the most environmentally and socially conscious drilling companies worldwide. In the past five years, their focus has remained on leaving the smallest possible ecological footprint as a result of their drilling endeavours and creating a sense of sustainable community in the places they work. This outlook and strategy has led to Energold winning a number of awards in its young life, including  PROFIT 100 – Canada's Fastest Growing Companies (2009-2011) the TSX Top 50 and Business in  Vancouver's Top 100 (2007-2011 inclusive)..
With the help of a talented team of engineers, Energold developed a unique rig design that would be less damaging to local environments.
"We developed, in conjunction with others, a rig that could be broken down into different pieces and moved in manually, by canoe, airplane, pick-up truck, however you want to do it," explains CEO of Energold Drilling, Fred Davidson.
He explains the rigs themselves are very simple to operate and they are specially designed to be installed and set up on site very quickly.
There's no real secret behind Energold's success. The unique, component-driven, and portable nature of their drilling rig allows them to explore parts of the world that were previously inaccessible. Starting out with one rig eight years ago, Energold now boasts a fleet of about 240 rigs over 95 of which are its modular rigs .
A unique rig design
When they first started out, Energold observed the impacts of the rigs and drilling practices of other companies on the environment and local communities.
"We're working in a lot of places where it's impossible to get a rig into the sites without having to build a road. The road can be a kilometer or two long and in many cases, it goes through farmers' fields causing severe damage, not to mention the wait time it takes companies to get road building permits" says Davidson.
While some financial compensation may be provided for the physical damage created, Davidson says the companies never really compensated locals for the "emotional damage created by the roads and subsequent drilling."
"At the same time, you'll see the locals standing there watching the gringos driving a bulldozer and pulling a ten ton rig across their field. Nobody from the community is able to participate," Davidson says.
This is where Energold is different, their rigs and drilling expeditions overseas operate primarily with local labour forces. Davidson says they not only hire locals, but they get them to bring in the rigs onto their traditional trails so the fields and pastures are not disturbed.
"It's a good way of dealing with social alienation of the community that results from mining and exploration," he says.
Furthermore, Energold's rigs take up less space. The rig only occupies a space of about 3.5 meters by 3.5 meters as opposed to the 15 meters by 15 meters of other, bulkier traditional rigs with their ancillary equipment. Energold recently acquired Dando Drilling Drilling International in the  UK, a highly-regarded engineering groupthat helps the company continuously improve and upgrade rig design and productivity.
"We're always looking at making them safer and more convenient," says Davidson.
Energold also works with Atlas Copco, and Core Boss who Davidson says are "very proactive in terms of designing and redesigning equipment that meets our specifications."
Davidson says Energold also consults and debriefs the drilling crews when the come out of the fields, taking their ideas to engineers in order to make the rigs more effective.
Engaging local communities and creating industry
Currently servicing mining and energy sectors in the Americas, Africa, and Asia, Energold operates 240 rigs in 23 countries, Davidson describes the whole industry as "exciting."
"Every country has its own stories and adventures," he says.
According to Davidson, the exploration industry has underspent in the past 20 years and as result, Energold is venturing into remote and often volatile regions. "Mining companies are realizing the low hanging fruits are gone and have to head to the frontiers to replenish their reserves."
What further differentiates Energold is their commitment to community building and local engagement.
 "What's exciting is that we're able to give people who have no hope a job and a career and going forward, we're creating industry where there never was and that's very satisfying," says Davidson.
When employing locals, Energold's policy is to "push down" the skill set and train them to work with the equipment. Whereas the  employee would not experience culture shock or a language barrier working in their own backyard, Energold also receives the benefit of this local knowledge and access.
"It works for us because they know how to work in that culture and it works for them because we can give them a high-skilled, good paying job," says Davidson.
Moving forward
As the company moves forward, there are a number of opportunities in frontier mining, oil sands drilling,geothermal  and even water well drilling. The oil shortage has left companies searching for new ways to excavate deposits in various places and Energold thinks they have just what it takes to tap into the oil industry.
"Our fleet is designed to exploit existing deposits. Most people are unaware that most oil sand deposits are going to be done from underground and not from open pits. More and more, the rigs that we're putting into the field are capable of drilling to those depths and those target ranges for the oil sands," explains Davidson.
And of course, Energold hopes to do this by leaving as small a footprint as possible. Energold has also made its way into the water well sector with the help of Dando,one of the  leading water well equipment providers in the world. Dando in particular, is one of the UN and World Bank approved water well comtractors in Africa. Energold operates in many third-world countries where clean water is an on-going critical issue.
Part of the recent string of acquisitions included Bertram International Corporation, which added significant capabilities for Energold into the oil sands coring and seismic oil/gas drilling industry in Alberta, Canada. The niche sector attracted Energold because of its higher margins, synergies on equipment and human capital, and a significantly larger overall market. Whereas worldwide expenditure in mineral exploration only now exceeds $16 billion a year,  The big oil giants like Shell or Imperial Oil can easily spend that a year between them.
Energold has a five-year plan. Their objective is to become a global drilling company that is not strictly bounded to drilling for minerals, energy, or water. Energold wants to help drill it all, and generate a good profit at it for their shareholders.  As the world demands more commodities, there is a pressure to provide drills quickly. In the next five years, Energold hopes to triple in size, which will further assert their international presence and expertise in the ever-growing field. Davidson believes he has just the recipe to ensure Energold's success: "You have to develop the right attitude, the right training, and the right skill sets. We continue to seed new markets as natural resources become more scarce and clients need to go off the beaten path for the next big discovery.. The Energold investment logic is simple, in a gold rush, one can do very well selling plenty of shovel and picks.