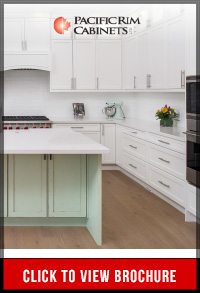 By Anna Guy
If the kitchen is the heart of the home, then cabinetry is the arrow. The award-winning workmanship that Pacific Rim Cabinets has earned its reputation for elevating each and every kitchen its cabinetry graces. Through outstanding collaboration and exemplary custom service before, during, and after installation, Pacific Rim Cabinets has maintained a long-standing position as purveyors of high-quality cabinetry for contractors and private homeowners on the West Coast.
Based out of a 23,000-square-foot facility just outside of Vancouver in Delta, B.C., Pacific Rim's 20-year legacy is built on outstanding value and personalized customer care.
"Kitchens have been my life, my passion, for over 40 years," says Bill Dewinetz, President. Bill Dewinetz has dedicated his life to his business, having grown the business from the ground up, with a successful corporate model and pioneering a flexible manufacturing system. The company's high level of workmanship and strong business values has taken Pacific Rim Cabinets to the Canadian, U.S. and overseas markets—in fact, the company has strong roots in the Japanese markets, and has shipped its fully-completed cabinetry to distributors for over two decades.
Now a second-generation business, Bill's son James Dewinetz has joined the team as VP and Controller. Whether working with private homeowners or professional contractors, Pacific Rim understands that cabinetry is one of the biggest investments in a kitchen, but that it also makes the biggest impact. "It's the biggest expense and it is the biggest feature, the thing people notice right away," says J. Dewinetz.
Showcasing Style
Between Pacific Rim Cabinetry's design team and hundreds of door styles available, every customer's unique vision can be achieved. "Depending on the level of detail and focus, quality cabinetry gives our customers the ability to express their own style. It allows them to showcase their personal preference," says Dewinetz. With styles categorized in three main groups of contemporary, transitional and traditional, as well as the wide range of wood species, plus colours stains and finishes, Pacific Rim Cabinets can be customized to the homeowners' exact vision, complementing the rest of the house.
Customers are welcome to view the company's extensive showroom where they will find examples of the many different style combinations on offer, all set up in different configurations to help visualize how the cabinets will look inside the home—including all the handles, hinges, soft-close mechanisms, and accessories to finalize the look.
"We have a team of style consultants who help guide customers to narrow in on their dream kitchen, with a single point person through every step on the design, installation, and after," says Dewinetz. "It's encouraging to have one person that [customers] know they can talk to, because the process can take months depending on whether our customer is doing a new build or renovation, and we want to make sure those things are done to perfection and on time and budget. Our custom cabinetry can range from $8,000 to $80,000, but are all made to the highest in functional capabilities, with a 10-year limited warranty."
Form and Function
Constantly pursuing new and improved ways to service customers through quality workmanship, Dewinetz says somethings never change. "Understanding design and engineering, for instance. We want the great look and have it function the way it is supposed to, we have to find that perfect balance."
Dewinetz emphasizes that function is as much of a priority as form for the team. "Functionality—how the kitchen it designed and set up so that the homeowner is able everything accessible and safe—is a speciality of ours. There is a science to how far apart is elements in the kitchen are, and the ergonomics of the space that allow the user to use the kitchen to its ultimate potential."
Superior Craftsmanship
Hand-made finishing touches elevate Pacific Rim cabinets to the next level. Dewinetz credits his team of craftsmen for taking wood and creating beautiful works of art. "We are also manufacturers contending with the changing of market trends, the environment and technology. But we are true to ourselves and maintain traditions in woodworking that are by hand, and this is the best way to provide quality and value for your investment."
"The level of detail in hand-crafted elements is outstanding," says Dewinetz. "Our team are true craftsmen in terms of how they put things together, and we are very proud of their talent."
Proud members of the Canadian Kitchen Cabinet Association and Greater Vancouver Home Builders' Association, Pacific Rim Cabinets priorities locally sourced materials whenever possible. The local real estate environment has also impacted the company in recent years. High house prices are prompting home owners to invest in renovations rather than moving. And for contractors, including high-value items like custom cabinetry strengthens their investment and generates higher interest from buyers.
"We are definitely still seeing activity that way," says Dewinetz. "Our demographic is the mid-to-higher end market that market and over last few years it's really taken off. When custom cabinetry is properly made, it is going to last, and is a very good investment," says Dewinetz. "That has helped us, certainly. More builders use us repeatedly because they understand the value proposition."
While home design trends come and go, designers and woodworkers know quality and workmanship never goes out of style. With growth opportunities emerging in Japan, and demand growing from the west coast of the U.S., Pacific Rim Cabinets' customer base is growing as fast as its custom possibilities.