---
---
Proud History, Bright Future
---
---
By Anna Guy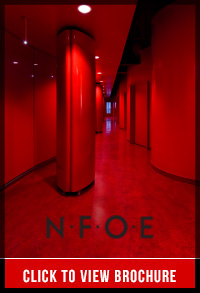 It's not every day that a company with a legacy of over 100 years is as forward thinking and modern as NFOE.
With over a century of experience, Montreal-based architectural firm NFOE brings innovation to design and its processes. Known for exceptional collaboration and partnerships with other disciplines, NFOE has taken on some of the country's most challenging and technically complex projects like the Dubrovsky Molecular Pathology Centre at the Montreal Jewish General Hospital, the Science Complex at the University of Montreal1, and the Canadian High Arctic Research Station (CHARS)2 , slated to open in late 2017.
NFOE's history can be categorized into three principal eras. Established by Ernest Barrot in 1912, and leading up to 1965, projects realised across Canada included administrative and institutional office buildings, a theatre, hotels, railway terminal buildings, academic and university lecture halls. In the era from 1965 and up to 1990's, the practice included the design of healthcare facilities, academic research laboratories and work in the pharmaceutical and manufacturing industries. From 1990's to present the practice has further flourished in the field of high tech industries such as life sciences, research and manufacturing of pharmaceutical and biotechnology facilities as well as light and heavy industrial complexes. More recently, projects such as elementary schools and an aquatic complex have further diversified NFOE's portfolio.
"We have a long history, but the challenge of design and architecture has always been the same," says Rafie Sossanpour, Director. "The aim has always been to achieve exceptional design."
Since the 1960s, NFOE's technical expertise has established the company as one of the best in the business. "In these disciplines, our challenge has always been the marriage between technology and engineering with architecture and design, which requires seamless integration when dealing with high-tech facilities," continues Sossanpour. "That has been an enduring key strong point of our firm—the capacity to integrate programmatic and technical requirements in highly sophisticated, controlled environments."
This expertise has led NFOE to participate on major projects including the research centers for CHUM3, and MUHC4 Glen campus hospitals and the Science Complex at University of Montreal – Outremont. NFOE was chosen to work on the $125 million Canadian High Arctic Research Station (CHARS) project because of its extensive experience in architectural design, including science and research facilities, and in the leading-edge application of sustainable development practices. The technical challenge of designing well controlled environments in the extreme climate of the Canadian Arctic required a similar approach to that of many of their highly technical projects.
The firm was also selected to participate in a $61 million Aquatic Centre in Laval5, QC. The facility has ambitious sustainability goals and targets LEED Gold certification, maximizing energy-efficiency as well as water conservation and highlighting the importance of protecting natural ecosystems.
"Because of the complexity of many of our projects, our clients often appoint engineering firms as principal consultants," says Christine Hudon, Director. "From that perspective, we commonly practice an integrative design approach with the entire project team and pay attention to technical project requirements from the onset."
Collaboration on a project is second-nature to the NFOE team, whose innovative partnership with clients has created a blue print for the industry. "We involve stakeholders very early in the process, and have a tradition of working closely with or for the engineers—we collaborate with the various disciplines at every step of the process," says Mark Brooker, Director.
Successful partnerships with clients have resulted in multiple projects at the Montreal Jewish General Hospital including the Dubrovsky Molecular Pathology Centre, as well as at McGill University with the renovation of many of the laboratory spaces in the Otto-Maass Chemistry Building. Through the design of laboratories and research facilities NFOE demonstrates that good design satisfies both technical constraints and aesthetic concerns.
"Given our experience in complex projects," says Brooker, "we have a head start in the current design environment of sustainable design since the integrated design approach is really how we have been operating all along."
This approach is also applied to other types of projects including schools. In recent years, the firm completed renovation and expansion projects for the CSDM including the Barclay School Expansion. The expansion of the school was designed to integrate with the existing heritage building, while projecting a more modern expression. The expansion was designed to meet the client's sustainability targets including improved access to natural daylight for existing rooms, and a reduction in energy consumption.
The transition from highly technical projects to projects with sustainable considerations or targeting LEED accreditation is seamless. Environmental stewardship is encouraged to promote high performance design. NFOE is diversifying its practice to include more commercial and civic projects, such as a new data centre for Vidéotron. The firm was recently selected as a finalist for an addition to the Musée d'Art Contemporain de Montréal6. This type of institutional project is a reminder of the firm's early days and brings NFOE back full circle.
1. In consortium with Lemay / MSDL architectes
2. In consortium with EVOQ architecture
3. In consortium with MSDL, JLP, Lemay and Parkin Architects
4. In collaboration with the IBI Group/Beinhaker Architects
5. In consortium with HCMA Architecture + Design
6. In consortium with Dan Hanganu architectes