---
---
Reach your sustainability goals
---
---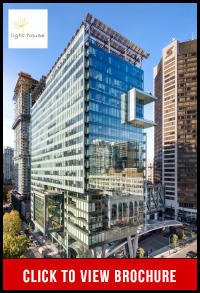 By Anna Guy
You're in the construction industry and you want your building to not only get LEED® certified, but also be a space that makes workers happy.
Or you're in the market for your first home and energy efficiency is important. Or perhaps you work for a manufacturing company who needs marketing strategies to remain competitive.
Where do you start?
Whatever your sustainability goals are, Light House Sustainability Building Centre has the answers.
Since its founding in 2005, Light House has been a catalyst for green building in B.C. With the construction industry consuming 40 per cent of the country's energy and 50 per cent of its primary resources, according to Statistics Canada, the opportunities in sustainable building are magnified. To remain competitive, the building industry is seeking out opportunities to fill the demand for greener, more energy-efficient and in demand construction methods and technology. We know the buzzwords, but knowing the science behind them is the key to success.
Light House are sustainability experts who provide collaborative, customized, professional services to the building industry in B.C., and beyond. From every step in the building chain—from conception, to handing over the keys—Light House's interdisciplinary team of experts can take ideas and turn them into green buildings, thriving communities and resource-efficient cities.
The not-for-profit company is dedicated "to advancing green buildings, health and wellbeing and sustainable economic systems into which green buildings are intrinsically integrated," says Joanne Sawatzky, Director of Green Building Services. "We provide training, education, research, policy advisory and project management services to businesses, policy makers and the real estate and construction industries."
For instance, the Light House team works with design professionals, developers and contractors seeking green rating systems like LEED®, BOMA BESt, Whistler Green, BuiltGreen®, Green Globes, WELL, Fitwel and Passive House. Light House goes beyond managing project certifications but also educates and advises clients on their marketing strategies, internal corporate sustainable responsibility.
The need for education and advocacy has never been greater, according to Sawatzky. "Light House is seeing an intense focus in the industry on buzz words such as carbon neutral, net zero, passive house, circular economy, biophilic, active design, health and wellbeing." Whether a new build, or a retrofit, Light House guides clients to the simple energy efficient strategies of passive first, then active and then renewables.
"We present courses, seminars, and one-on-one consulting so that our clients understand at the ground level, what does it mean to be sustainable, to reach performance goals, or exceed them," says Sawatzky "What is the investment and what is the return on that investment? We offer a new webinar series to help break barriers in greening the industrial building sector."
Light House also holds courses to answer similar questions from manufacturers and suppliers. This valued services helps companies promote and market their services to access the green market, and add value that compels customers to trust, select and specify their products.
Zero Emission Cities
The City of Vancouver is the first Canadian municipality to establish a goal that will require all buildings constructed from 2030 onward to achieve zero Green House Gas (GHG) emissions—which can be seen as either a huge opportunity for the building industry to step up, or a huge challenge. To fill the industry gap, Light House developed the first comprehensive long term strategy for guiding British Columbia's residential buildings towards being carbon neutral/near net zero. (The report can be downloaded from the Light House website). Light House continues to seek opportunities to support the building industry achieve this goal.
By definition, a net-zero building "means the total amount of energy used by the building is the same as the amount of renewable energy created on the site," says Sawatzky. Strategically, Light House is working in partnership with companies and associations currently in Europe, where energy prices and environmental factors have forced the advancement of carbon neutrality faster than in North America.
A broad range of issues must be considered to create optimal Net-Zero Low-Carbon building energy solutions, such as understanding energy demands, calculating carbon performance, establishing a baseline, and developing policies. In close collaboration with clients, Light House works to outline a systematic and holistic approach to identifying the best solution for each project with optimal match between different energy sources and technologies.
"Among our many initiatives, our soon to be launched Net Zero Energy buildings (NZEB) virtual world-tour is expected to garner a lot of interest," says Sawatzky. "The virtually tours will tour far away buildings we all wish we could visit. Each tour will showcase NZEB, providing insight into the challenges and successes and offering best practice solutions that can be transferrable to the Canadian market. There is a definite surge in the marketplace for this type of education and support."
Health and Wellness
Light House believes incorporating health and wellbeing into buildings is the next big push in the building industry. "Because there is so much emphasis on energy and sustainability and quantifying those, clients who are knowledgeable in those areas are going one step further into this realm," says Sawatzky. The industry, she says, is aware of the fact that we are inside for up to 90 per cent of our life but haven't been doing much to really enhance our exposure of the built environment. Light House plays a defining role in shaping that movement that embraces wellbeing as part of design, construction, and operations methods to create healthier environments which focuses on the people the spaces are built for.
"Buildings impact the environment and the people who live, work, and breathe in them. Let's all work together to create thriving, life enhancing environments we can all be proud of," says Sawatzky.
For over a decade, the industry comes to Light House for finding ways to integrate and understand the green building sector.