---
---
Structural engineering solutions
---
---
By Anna Guy
Todd Inkpen of Inkpen Engineering Ltd. is a born problem solver. When Western Canadian companies need to translate their design visions into reality, Inkpen Engineering finds the answer.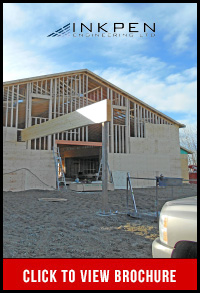 Inkpen Engineering's dynamic structural engineering design and drafting services provides the backbone to its clients businesses. From 43,000-square-foot industrial shops, to production facilities, commercial retail centres, and much more, Inkpen Engineering is the provider of choice for structural engineering services related to buildings, cranes, and below-the-hook lifting devices.
Inkpen started in the industry in 1996, when he graduated from Memorial University with a bachelor's degree in Civil Engineering. His first major job was working on the Confederation Bridge in Prince Edward Island. (Considered one of Canada's top engineering feats of the 20th century, the 12.9-kilometer bridge is the longest ice-covered water crossing bridge in the world.)
From there, Inkpen saw a need for engineering support and moved west to Alberta where he gained experience working on a variety of projects for clients such a as Suncor, and Syncrude, in both project engineering and project management roles.
These experiences reaped rewards professionally, but saw Inkpen spending considerable time on the road away from his young family. As is in his nature, Inkpen saw a problem, and solved it. In 2010, he sought out an opportunity to purchase a small engineering company in Edmonton. "My motivation was to be able to come home and be with my family," says Inkpen, "and this has allowed me to do that."
Since that time, Inkpen Engineering has guided clients through technological and innovative structural engineering solutions of all shapes and sizes. Inkpen Engineering provides a full complement of drafting services such as development permit drawings, building permit drawings, design basis/approval drawings, construction drawings, and fabrication drawings. Inkpen also offers clients timely and economical inspection and certification programs on a wide variety of cranes and lifting devices.
With offices in both Edmonton and Vancouver, Inkpen Engineering can effectively service clients throughout Western Canada and beyond. Licenced to practice in B.C., Alberta, Saskatchewan, Manitoba and Ontario, Inkpen states, "There are many markets out there waiting to be explored, we have only just begun."
Safety Excellence
Inkpen Engineering institutes safe work practices by setting and maintaining the highest possible safety standards. "This not only keeps our employees safe, but ensures our clients can be confident that their projects will be completed with an emphasis on safety excellence," says Inkpen, adding that Inkpen Engineering employees complete their responsibilities while complying with all applicable laws, industry standards and safe work practises.
Keenly aware of its clients' economic demands, Inkpen Engineering offers a variety of structural assessments and reports to assist clients with economical and customized solutions to meet these needs. "Everything is tied to economics," says Inkpen, "and if the project doesn't make financial sense, chances are it won't go ahead. So at all times, it is in our best interest to have economy as one of our foremost priorities. Safety is first, of course, but economy is often a close second."
Inkpen relies heavily on its architectural component to address even the most complicated engineering challenges. Often times, a client may need more floor space, or to put in a crane or an extra bay in their warehouse, for example, which takes multiple variables into consideration. "You have to go right back to your building's lot, and find out if it is in compliance with municipal building regulations," says Inkpen. "Once it has been ascertained that the lot is okay and we have a successful site plan, then we get into more detail design. Dependent on the classification of the building, we determine the right kind of foundation and frame type. We walk through the whole process, advising clients on the most economical and practical way of achieving their goals."
Bringing the Vision to Life
If the building classification requires collaboration with an outside architectural firm (occupancy numbers and classification determine this), the Inkpen Engineering team works closely with them to achieve the client's vision. "Architects tend to get very creative," says Inkpen, "and they love great big open spaces. Our job is to think about what is going to safely support the roof or floors above this great big space. We get back to first principles with our designs, and design our members, connections, foundations, and load points in a certain way to achieve what the architect wants. And provided the cost of the solution is within budget, everyone is happy."
Precise budgeting is something Inkpen Engineering is proficient at. It has to be, especially after operating during the economic downturn in Alberta. "We are operating leaner and smarter because of the downturn, and came out better for it," says Inkpen. "Fortunately, things are looking much more positive now."
Diversifying
Inkpen Engineering is expanding from structural engineering solutions to include other disciplines as well, offering clients "one stop shopping" for their engineering needs. "It's going to make a big difference for both our team and our clients," says Inkpen. "This expansion will give us access to a whole other market." Currently a team of nine, Inkpen has his focus set on expanding the company's service to incorporate electrical, mechanical and civil engineering. "We should have that in place by third quarter this year," Inkpen states.
Inkpen Engineering understands companies prefer one-stop-shopping when it comes to consulting services. "There is good reason for that," says Inkpen. "Coordination of activities and design is streamlined with a single team; there is a smaller chance for mistakes to be made between the disciplines."
Engineering solutions that reduces costs and add value for clients is the team's calling card. As part of the "Success by Design" approach, Inkpen Engineering incorporates expertise, technology and innovative solutions. Unparalleled commitment to its customers, exhaustive services, and exceptional quality of work makes Inkpen Engineering a leader in its field.