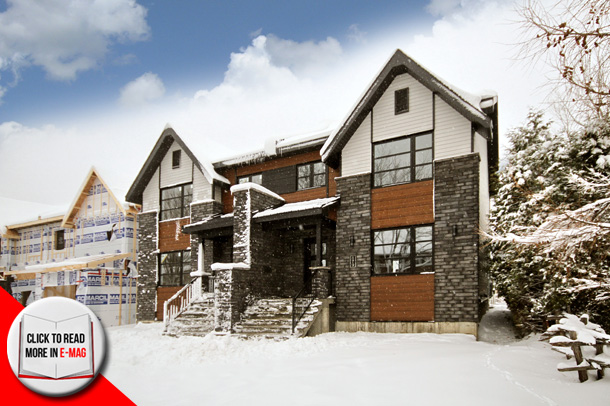 By Cheryl Long
Some partnerships just make sense.
Homebuilders Michael Bolduc and Francis Bisson both grew up in families involved in the construction industry and spent summers working in the business. They knew each other from school, played hockey together and later went on to form their own companies. Driven by a passion for home construction and a similar vision for their futures, the two Montreal-area builders joined forces in late 2011 and began taking on projects that would showcase their commitment to quality and customer satisfaction.
Over the past four years, HC Bisson Inc. has experienced steady growth, taking on more expansive projects for an increasing number of clients. Their speciality is new home construction using custom build/ready-to-build plans for a range of tastes and budgets. Whether they're working on a starter home or a larger custom residence, the goal is the same: to help their clients reach their home ownership dreams.
"We're not a typical production builder," Bolduc explained. "Pretty much all of our homes that have been built haven't been to the original plan that was conceived for that home. It's been modified or customized to the client's needs, and I think that's something that really sets us apart from our competitors."
More projects planned for 2015
Based in Chateauguay, Quebec, HC Bisson is involved in all stages of home construction, from finding the land to developing the projects and then following up with complete after-sales service. Each residence is covered by a five-year new home guarantee plan with the GCR, Quebec's provider of new home guarantees. Last year, they built 15 custom homes and expect that number to increase in 2015.
As the business grows, Bolduc and Bisson are determined to maintain their focus on customization. "Every home will have their own unique twist," Bolduc said. "Some homes are similar but there's no two homes that are the exact same. No two clients are the exact same either."
Those differences can apply not only to design, but to budget. To date, the average HC Bisson home has fallen into the $300,000 price tag with homes ranging from all ends of the spectrum. The builders offer the same level of service to their clients, whether they're constructing a first home on a limited budget or designing an expansive dream residence.
"Buying a home is one of the biggest investments in somebody's life," Bisson said. "People come to us, they've shopped around, and they've decided to go ahead with us. We offer quality construction, and people do see a difference between us and other builders and they trust us with their homes."
Gallery showcases stunning workmanship
HC Bisson's website is a testament to their work. Their online gallery offers a look inside many of the homes they've built, from eye-catching exteriors and uniquely appointed living areas to modern custom kitchens and spa-like bathrooms. The models page is a helpful starting point for homeowners in search of inspiration, complete with artist's renderings, specifications, interior layouts, pricing and even 3D visits.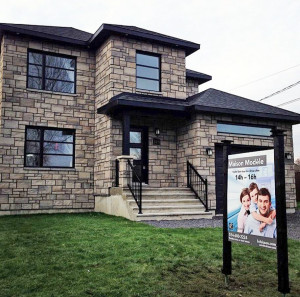 Not only has their work been recognized in customer testimonials but they were awarded the Abritat Master Builder Bronze award in 2013 and 2014, which recognizes excellence in residential construction. But the most important accolades come from the clients who trust them to build their homes.
"The most satisfying or biggest milestone of each project is the satisfaction of the client," Bolduc explained. "Each time we deliver a home to a client … the satisfaction of knowing that they're happy with what we've done…"
The first step in custom building — and often the most challenging — is finding the most suitable piece of land or development. Though they consider themselves part of a niche market, the next challenge is differentiating themselves from other home builders. Competition in the construction industry can be fierce and Bisson and Bolduc are continually looking for ways to separate themselves from other builders; to show potential customers that they're the right choice when it comes to hiring a home builder. That's why HC Bisson places a priority on customization and ease of doing business.
"A lot of our clients come to us after seeing other builders who've been established longer and have more well-known reputations. They come to us after they couldn't get what they wanted from other builders," Bolduc said. "Some customers feel that they aren't taken seriously by other builders," Bisson added. But as a smaller company, Bisson and Bolduc are the faces that clients see when it comes time to discuss their project. "We're the ones on the weekend selling our homes. We're the ones at night signing the contract," Bisson explained. "They're getting a straight answer because we're the ones building the house."
Clients part of the construction process
What customers also appreciate is the company's level of transparency throughout the home-building process. They encourage owners to visit the site during construction, allowing them to see the steps being taken to ensure a high level of quality. That level of service continues long after the keys are delivered. Both Bolduc and Bisson are the main contacts for homeowners post-sale, providing support if any issues arise after the home is built.
Part of HC Bisson's mandate from the earliest days has involved researching the latest and most effective practices in home construction. They've studied the requirements for Leadership in Energy and Environmental Design (LEED) construction, use efficient Energy Star products whenever possible, and try to incorporate environmentally-friendly options. "If a house is going to be well built and better insulated because of alternative products on the market, then that's something that we do," Bolduc said.
Though HC Bisson is a relatively new company, the two owners already have their sights set on expansion. Larger projects, renovation work, multi-family units, and commercial and industrial construction are part of their vision for the future.
"We're on the trajectory for growth right now," Bolduc said. "We spent the last years building up processes and the quality is there. Now we know we can expand and we can take on a lot more work. We're really happy with the plans for the future right now."
To learn more about HC Bisson and to view their range of projects, visit hcbisson.com/en/profile.