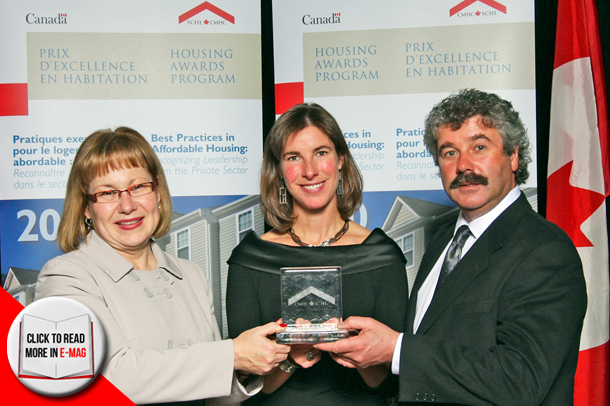 Combines Traditional Building Techniques and Proven Innovations
~ By: Perry King
Glacier Creek Pacific Contracting may have gained national recognition for their award-winning work on the Vancouver Olympics Athletes' Village in Whistler, British Columbia in 2010. But, since their inception in 1977, their impact on British Columbia has been profound for decades.
Established in Winnipeg as a family owned business, Glacier Creek has built everything from 25-storey high rises to single family homes in Manitoba, Saskatchewan, Alberta and British Columbia. Settled in Whistler, BC, and saddled with a skilled team at the pre-build and build stages, Glacier Creek looks to establish a strong rapport with their clients and partners. Since 1998, the company has erected 1 million square feet of floor area concrete and precast structures.
Don Coggins, Glacier Creek's marketing and sales manager, in an interview says that in this competitive industry, regardless of the size and cost of the project, or whether it's public or private in nature, the company will approach any challenge with open-mindedness and pragmatism.
"Depending on what and how we're building, we take very much a team approach to it," explains Coggins, who himself has about 30 years of experience in the industry, "we'll start with our techs, and we work a number of them, and look at what they're doing and how they're doing it and get involved very early in what they're designing."
Weighing cost with need and providing foresight at the sub-trade, contracting and development levels, Coggins says Glacier Creek wants to establish "good green bases," develop a good budget and establish best practices to prevent cost overruns and solidify construction timelines.
Conscious of all of this, Glacier Creek has maintained a 14-year working relationship with the Whistler Housing Authority (WHA) since they settled there in 2000. When it came to building 50 per cent of the Athlete's Village for the Olympics, a four-lot, four-building undertaking, Glacier Creek was rewarded the contract because sought out a defined timeline for the project — providing bunks for thousands of Olympic and Paralympic athletes, then converting them to affordable townhome and apartment units for residents once the Games ended.
Reusing fallen trees from Vancouver's Stanley Park and instituting district energy systems, the Village undertook environmental best practices. Lauded for the Village's design principles, and building the Village on time and on budget, the Canadian Home Builders' Association of BC rewarded Glacier Creek with a 2010 Gold Georgie for best public-private partnership.
It was that award that Coggins says solidifies the company's main philosophy.
"It goes back to our own philosophy, that housing should not just be affordable to buy, it should be affordable to live in as well," said Coggins. The Village cost $32 million to build in its entirety.
To this day, Glacier Creek has become Whistler's preferred builder for housing, completing over $90 million worth of construction for the budding town.
Performing large-scale projects since 1977, including concrete formwork, masonry and precast concrete erection, Glacier Creek has been growing as a household name in the province, with many more projects on the horizon. As the portfolio, Glacier Creek has splintered off into three divisions. Glacier Creek Contracting Ltd. and Glacier Creek Pacific Contracting Ltd. both focus on projects but the former division focuses on projects of larger size and scope, which value in the tens of millions of dollars, while the latter focuses on individual homes and customized projects. The third division, Glacier Creek Insulation Ltd., provides insulation services that support the company's environmental initiatives on build projects.
"The insulation company started primarily because we weren't ever happy with people we brought in to contract for insulation," Coggins explained. According to Coggins, citing a 2009 Canadian Mortgage and Housing Corporation study, 85 per cent of the value of a net zero homes comes from 15 per cent of the cost by addressing envelope issues and insulation needs — that better insulation increases the value of your home and monthly living costs.
"When you put that into practice, what is the most important thing you can do?" adds Coggins, who joined the team in 2007. "Make sure a house is sealed properly, insulated properly, and that's going to have a lot of benefit down the road in terms of what you do."
All of these measures have been taken to ensure customers are supplied with affordable housing and opportunities to purchase a home. In 2010, the company opened Glacier Duplex's at Rainbow, an 80-unit duplex project in Whistler which pre-sold 76 affordable units to WHA members. The units are all environmentally friendly, certified Built Green Gold 5 Platinum, with six units currently supporting solar energy.
"We really put together a complete package for people," said Coggins. "In other words, we arranged for the financing, straight to how they could afford it. The houses ended up, how they say, very green."
This project earned Glacier Creek a 2010 Canadian Mortgage and Housing Corporation (CMHC) National Housing Award — an honour they now share with the WHA.
Each year, the company's housing portfolio is growing and diversifying. In addition to a current project in the Wedgewood neighbourhood of Whistler, they currently have housing projects under way in Squamish. As well, in Pemberton, Glacier Creek is helping the Hill Academy, a Toronto-based private high school focused around high performance athletes, build a second campus. The Hill Academy Pacific will be open and ready for the 2015–2016 academic year.
The future has a lot on the go for Glacier Creek, but with a fluctuating housing market in British Columbia and across the country, Coggins says he would like to see a stable business that balances a reliance on technology and new techniques with tried and true construction principles and material usage.
In the end, he says, he wants to see a stable environment for all the key members of the industry, that it remains dynamic, creative and environmentally conscious.
"We want to see a stream of work in front of us all the time, so that we can provide the expertise, continue to keep and attract those people, all the time," he says. "Construction has its ups and downs, and that's the thing you have to ensure, that the stream is there."