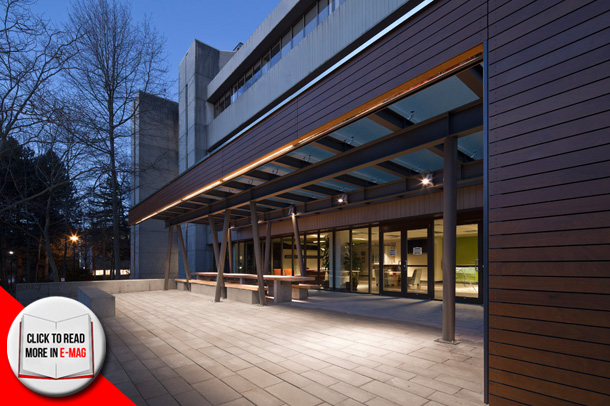 Building better lifestyles
By: Mudeeha Yousaf
As one of Metro Vancouver's primary construction companies, EJM Group provides general contracting, construction management and project management services across the commercial, institutional and residential sectors. Operating in the Lower Mainland area, the company uses a multi-faceted approach in tackling any projects that come their way.
The corporation was founded on July 27th 1999 by current President Ed Mocnik who grew his vision of operating a construction management firm upon completing a degree in the field. After 15 years in the industry, EJM has expanded its service-base to include new construction projects, upgrades and heritage restorations, and in 2003, when the economy in Vancouver started booming, the company grew its residential, custom home, and multi-family side. Today, EJM has completed over $140 million in construction projects, and have branched off into more institutional, government, municipal and public facility work, along with retaining its core residential and construction management aspect.
The firm embarked on its most prominent project in 2000, when it had the opportunity to work with ELIM Housing Society – the creation of a 22-acre aging-in-place campus of care for seniors. In the 12 years that EJM Constructed ELIM, it built independent living, assisted living and complex care units, and the 112 suite cast-in-place concrete facility was a venture in conjunction with Elim Housing Society and Fraser Health,  opening its doors in February 2009. "We're a company that is versatile and able to build anything from the ground in wood or concrete," says Mocnik.
Another commercial project of importance to the firm was Bloom, a $14 million project consisting of 79 townhomes, and currently, the firm is heading two multi-family commercial projects. Closing out nearly 20 projects per year, EJM works diligently to cater to its loyal customer base that make up 75 percent of their business through referrals. "We're true construction people. We can take on any type of project, from a new-build to a large-renovation or institutional build. We take this ability and offer it to clients successfully."
Mocnik, has coveted a spot as one of the "40 under 40" business people in Vancouver in 2005. "Construction in B.C. is very reliant on the pacific rim and global economy. One of the key elements that determines a project be it private sector or public sector, are land costs. Sometimes, the land costs can out-weight the actual cost of construction. This can make it a little more challenging in a competitive construction market, like Metro Vancouver," says Ed, offering his expertise towards British Columbia`s construction landscape.
Not only having the best interests of clients and employees at heart, EJM also recognizes the importance of building projects that are environmentally-friendly and ecologically viable. The company implements LEED standards to make sure structures are built to last and work with consultants to promote the concept. "We try to recycle in every project," says Mocnik. "We like to think we're giving back to the community and building better places that create a better lifestyle."
EJM Group has been named one of Profit Magazine's 500's fastest growing company four years in a row as well as ranks 24 among the fastest growing companies in Vancouver in 2013. The ultimate goal for the construction firm remains to maintain their origins and build on the strong roots they have planted.
For more information on EJM Group, visit www.ejmgroup.com