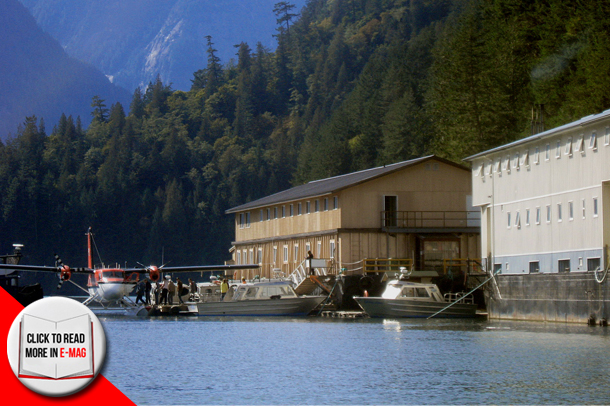 Western Canada's Premier Workforce Accommodation & Catering Solution
By Perry King
Providing land based and floating workforce accommodation for the oil and gas, renewable energy, major construction and mining sectors, LandSea Camp and Catering Services Ltd. has quickly become one of Western Canada's most versatile service companies.
From a handful of camps in 2010, LandSea has grown to operate multiple projects in all sectors year round. In an interview with the company's founder, Michael Coyne, LandSea provides "complete turn-key solutions" for companies looking to accommodate workers and provide nutritious meals in a remote land based or coastal setting.
"We work with our clients early in the development process. We determine exactly what they require for their project and workforce needs, and create that specific and unique environment" says Coyne, who, before incorporating LandSea, operated world class sport fishing resorts on the BC Coast for almost 20 years.
Providing a complete camp and catering package, the Squamish, British Columbia-based company arranges permits for land tenures, undertakes site preparation, oversees camp construction and then operates and manages the camp for the duration of a project. Their skilled and knowledgeable team offers a variety of camp configurations that can accommodate from 25 – 500 workers in just about any remote environment.
"We specialize in floating and land based camp solutions which makes us versatile and effectual," said Coyne.
LandSea intends to expand their business to new markets while maintaining and encouraging environmentally sustainable practices and working closely with local communities and citizens.
LandSea is proud to be in partnership with several First Nations throughout the province of BC and has established long-term relationships to encourage sustainable economic development, subcontractor opportunities, job training and education and ultimately developing growing capacity for these local communities.
This year, LandSea launched "Stepping Stones", a camp catering and accommodation services training program aimed at supporting entry level workers to obtain positions at remote camps. Upon successful completion of the course, students will have a basic understanding of the remote camp industry and will have developed the skills required to gain immediate employment.
"Our company is devoted to maintaining and building new relationships," remarks Coyne, who says that the first formal Stepping Stones Program was a huge success.
"We focus on creating a comfortable and quality experience for the worker, our staff and our client while considering the balance between service standards and industry needs." Coyne explained.
LandSea has always been conscious of their environmental footprint. By having expertise and involvement at every step of the process as, Coyne says that the impact can be minimized. Approaching business this way helps LandSea better pitch themselves to potential clients and helps to mitigate costs for both sides.
"It puts us on the ground early, which means we can work with our clients in design, construction and on-going operations," said Coyne, "which means that we can help to manage the project from an environmental standpoint."
"That is one of our big focuses, how do we get in there, how do we create the environment we need for the client and worker, and how do we remediate the land, clean up and put it back to how we found it when we leave," Coyne mentioned.
It is with this focus that LandSea has been constantly addressing their practices, becoming more efficient at setting up camps. In recent times, remote workplace and lifestyle needs have changed, specifically an increase in level of the quality of service for the workers.
LandSea adapts to industry needs by providing a better quality of living at their camps. In addition to offering first class catering, from a design standpoint, more executive suites and more attractive common areas are being planned and built for the workers.
"We're seeing that bar come up," Coyne said. "We're seeing greater importance with nutritious foods, more exercise and recreational opportunities and just a general better living experience."
Tapping into the thriving sectors in British Columbia and Alberta, LandSea has quickly formed a solid market, with the ability to provide their service to any sector that works in remote projects, including on the water. Their involvement in the oil and gas sector in British Columbia and Alberta is seeing tremendous growth with a recent move into Fort St John.
To Coyne, the key to that success has started from the energy, knowledge and experience represented in his office staff and management group which has radiated to the field.
"We've got key individuals here that understand how to deliver, to perform and how to create an experience that exceeds almost all operators," Coyne said. "For us, it's that top-down approach where we know what customer service means from a comfort and experience level. We know how to manage and create that experience and impress upon our management teams in the camps and on the ground to deliver that same experience."
LandSea's commitment to conquering unique challenges, engagement in communities and the ability to work in many different industries are just a few reasons why LandSea has become a proficient remote camp service provider.
"What we create is an environment where crews look forward to coming back, whether it be at the end of their day or after their break," says Michael Coyne. "LandSea hires staff based on high qualifications but more importantly on their guest service experience to ensure the guests staying with us are genuinely comfortable and feel well taken care of."
With the oil and gas industry thriving, an abundance of newly proposed clean energy, mining and construction projects, LandSea looks forward to continued success on land or sea.