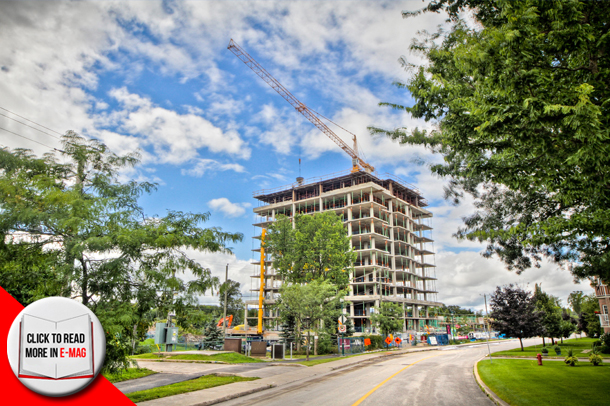 Exceptional construction quality and employee safety that's all in the family
By Leah Kellar
Santco Formwork is first and foremost a family business with a reputation of construction excellence in the commercial, industrial and civil sectors. Since 2001, six Santoriello brothers— the sons of company founder Antonio Santoriello who established Santco in 1982— have taken the reins to ensure total customer satisfaction, and employee safety.
In 2011, Santco was a finalist in price INNOVATION CSST for the development of a revolutionary anchoring system that improves safety on the jobsite. The anchoring system ensures the safety of the employee or subcontractor formworker, who is the first to be present on a site and builds the base and the structure of a building. Anchor points from which he is attached to the building during construction are often nonexistent or unsafe, but Santco's revolutionary anchorage system fixes this problem by allowing employees to attach to a secure point in any position on the building.
The anchor system consists of a sling-steel, with some resistance, which is attached by a tutor and installed in the reinforcing steel and cast in concrete. The system is so efficient and well recommended that even Santco's competitors are using this type of anchorage system.
"Throughout decades of being present all of the time on job sites, we noticed that the primary problem with the security was that people do not have an efficient way of tying themselves so that they don't fall off the higher floors of the building. So we came up with a very simple, but effective system to ensure the safety of our employees. Our team here in Montreal is very happy with it," said Lino Santoriello, the oldest of the six brothers and President of the company. Santoriello started in the business taking a trade in carpentry work. He soon after started working for his father upon finishing a college civil engineering program.
The Santco name is an abbreviated version of the first part of the family surname. There is an earned prestige and pride attached to that name for the brothers and their long-time customers, according to Santoriello. His brother Marco holds the position of General manager and development while the other four brothers are more integral to the hands-on oversight of projects. They also assure other specifics tasks as land surveyor, tower crane management, R&D, transport logistic and much more. They each manage approximately three to four projects each season. This allows at least one brother to be present on each job site that they are managing for about two to three hours per day.
"There's always one family member at every single project. That gives us a very important relationship with the customer; that means if there is an issue we don't have to pass it by many people before we can find a solution.  We can do something right there on the spot," said Santoriello.
The brothers have cooperated in partnership for over 30 years to deliver value to the customer in terms of quality construction projects from start to finish. Not too many siblings can come together in this way, but the Santoriello brothers have managed to do it and thrive with more than 60 outstanding projects completed in commercial, industrial and civil construction primarily in Montreal, Quebec. During their busy season the company employs approximately 300 people. Santco specializes in high rises and pavilion building structures, but has also completed many diverse institutional, civil and industrial projects, in addition to those in the commercial and residential sectors in Quebec. The brothers have no plans for expansion out of the province as yet. Santoriello says there is plenty of work to keep them busy within the province, particularly in constructing high-rises.
"Montreal wasn't known for its high-rise condominium sector, but with time and with new innovations coming in, they're now in demand.  It's been this way for the past ten or so years. Since there's less and less land around, we're going forward like Toronto to have more high-rises and more condominium buildings here," said Santoriello.
The company has literally reached new heights in Montreal recently, which is a great sign of things to come after three decades in business. Two years ago Santco constructed the highest residential building in Montreal, aptly called Altitude— a 40-storey building.
"This was a milestone project for us. It is a great achievement," said Santoriello. This project was completed for a long-time client of 25 years. He notes that Santco has many clients that have worked with them for 10 or more years.
"We are very near our customers and implicated in just before they start the plans and they invite us to ask us how they can reduce the cost of the structure with our experience," said Santoriello.
Santco is outdoing itself once again this year. It is following the landmark Altitude residential building with a second larger residential building called, Icon—a larger, 50-storey building currently under construction. Among its other projects in the city are a number of aquatic care pools, gymnasiums, pumping stations, renovations and constructions to McGill University, the expansion of Polytechnique Montreal and College Marie de France, the Jean de Brebeuf sports centre, the St. Hubert Airport Control Tower, Lapiniére in Laval, various canal and lock systems, highway bridge crossways, and many more already accomplished. Santco holds itself to the highest standards of innovation and conforms to a system of quality management based on the International Standards Organization (ISO) 9001 version that governs its quality control system on the four pillars of customer satisfaction, product quality, productivity, and security.
"We're one of the few companies in Quebec that use ISO 9001. This guarantees our customers a high standard of quality.  We have really set ourselves apart from the competition here with our ability to meet very tight schedules and still deliver top quality work," said Santoriello. "We'll meet your budget delivering top quality on time, every time."
Santoriello is aware of the challenge faced by many in the construction industry of a skilled labour shortage these days. Unfortunately Santco is no different. While he knows that the new generation of young labourers is different than the baby boomers going out the door, he is confident that the new generation will be increasingly attracted to the trades as the economy turns around.
One of the tactics Santco uses in its hiring process to attract more young skilled labourers is to give them plenty of information about the industry and the company while they are still earning their certificates and degrees in the trades schools. A prospective employee will attend two informational sessions with the company and follow a few courses when hired to become accustomed to the equipment and the Santco family way of completing projects efficiently, on time and on budget. All prospective employees in the construction industry are also obliged to go through the Commission of the Construction of Quebec (CCQ) to obtain a competency card that verifies their skills to work in a trades sector such as carpenters, crane operator and others.
While standards are critical to uphold quality, the commitment and cooperation of all the brothers in the Santoriello family are the key to its successful 32 years in business, and Lino Santoriello is sure it will continue into the next generation.
"I'm 50 years old, and the youngest brother is only 34, so you can bet we're here to stay!" said Santoriello.