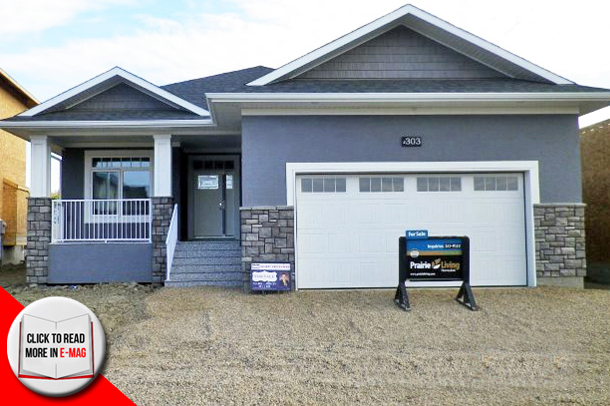 Superior level of detail and craftsmanship
~ By Leah Kellar
Jim Theoret, owner of Prairie Living Homes Ltd., is living his passion and realizing his goal— to develop the most beautiful and functional homes at affordable prices in Saskatchewan. It is a simple dream that has benefited so many of his customers, many of whom are loyal repeat home buyers. While some are forecasting that the Canadian housing market is due for a crash, the Saskatchewan government reported a 67 per cent increase in the value of property over the past four years since January of last year (2013).
A growth in migration, a large potash mining sector, a strong specialty mining sector, and a relatively new and thriving oil industry in the province are but a few other contributors that are helping the housing market overall in Saskatchewan now. Theoret is from a new era of homebuilders implementing innovations in his building practices that cater to this growing demand for new residential sectors in the province owing to a growing economy and population increase.
But the report wasn't all sunshine when Theoret started the company in 2007. It was a bit of a risk to follow his passion for home building, it required giving up his growing cabinet manufacturing company in Saskatoon, Saskatchewan in the same construction industry that he entered 23 years ago. Theoret began as a cabinet installer, also doing some on-site carpentry consisting of interior home finishing work. He began to sell shares of his company at the height of its growth at 60 employees, including sales and administration staff, in pursuit of the big picture goal—from installations to foundations.
Coming from a background as a cabinetmaker and installer, Theoret had to jump through some necessary legal hoops. First was to become a member of the Saskatchewan New Home Warranty Program, which is quite an intense application process. Also, he had to become a member of the Canadian Home Builders Association, which is required to buy lots from the city and to become a certified builder.
New builders in the City of Saskatoon are held on probation for the first home, meaning that they can only purchase one lot. Once the permit of their first home is closed then they are removed from probation and permitted to build more than one home at a time.
City inspectors ensure the homes comply with city building standards. For the first two years the New Home Warranty Program sends an inspector out at various stages of construction to make sure that the builder is competent and complying with regulations.
"It's an understandable procedure, because at the end of the day they're responsible for warrantying the home if something happens to the builder," notes Theoret.
Today he has all of his building permits and a great reputation for building excellent, affordable homes. Theoret is the sole owner of Prairie Living with only one assistant employee. He builds an average of 10-15 homes per year. After 23 years in the construction industry he is still very much a hands-on, on-site entrepreneur who prides himself on his ability to work very closely with tradespeople for maximum efficiency. He, much like the postal worker, visits all of his home construction sites at least twice daily, no matter what the weather. He admits that's how he is able to maintain the balancing act of overseeing up to 15 homes per year as a relatively small one-man-operation homebuilding company.
"Nothing really gets to be too much that way. I don't have to rely on anyone else other than myself, and so I've got no one to blame either," said Theoret.
That being said, he is grateful for the professional relationships he has been able to develop with a host of suppliers and tradespeople, most of which were with him from the beginning in 2007, who get the job done.
"Without their dedication, quality workmanship, and the products delivered through the suppliers, I wouldn't be where I am today. I am very thankful for that. I have a one-on-one relationship with my tradespeople, it's a camaraderie and they still get the job done," explained Theoret.
A key to the success of Prairie Living is the balance between affordability and custom home options provided. Starter homes are offered in the $350 thousand dollar range, which are approximately 50 per cent of the homes put on the market after completion, the other half are custom homes. These are the homes that tend to be in the higher price ranges to suit particular client specifications.
Prairie Living has completed several beautiful homes in the prominent Saskatoon, Saskatchewan communities of Greenbryre Estates, Rosewood, The Meadows at Rosewood, Hampton Village, Warman, Evergreen and Martensville meeting the boom in the need for housing in Saskatchewan indirectly due to the growth of potash and the oil and gas sector and the population increase primarily in and around these industrial areas.
Saskatchewan is seeing a steady inflow of people immigrating to the province, and to Saskatoon in particular— whether they're Canadians from abroad or international immigrants. What seems to be driving this is a strong potash mining sector, and a smaller specialty mining sector along with a budding oil industry that is doing very well. Not very many people outside of the province and industry may be aware of it, but there is a thriving mining industry in Saskatchewan in gold, diamonds and special gems. This means more business for the supply and machine shops with equipment and repairs for the mining companies.
"As long as we have this growth in migration into Saskatchewan here, I find that the housing market will of course continue to be strong. We still get the upward and downward trends throughout the year. Those are seasonal trends."
Temperatures of over 30 degrees Celsius in the summer, and -30 in the winter presents its own challenges to the industry, but Theoret tries to keep construction on the go for as many days as comfortably possible, especially to ensure that completions are on schedule for clients waiting for their custom homes. Standard projects have a general turnaround time within 4-5 months to keep up to the 10-15 homes per year rate. Time and production management is critical to that end. Theoret knows that if he went over 15 homes per year that he would not be able to manage and construction quality would suffer.
"The reason for that is my attention to detail in all aspects of construction from the ground up. If I wasn't able to offer that to my clients, I'd feel like I didn't provide the best home and service I could, so getting bigger is not my foremost goal. I gage my success on customer satisfaction just to make sure that everybody's happy, and at the end of the day that helps them to sleep at night, and it keeps me enjoying my work."