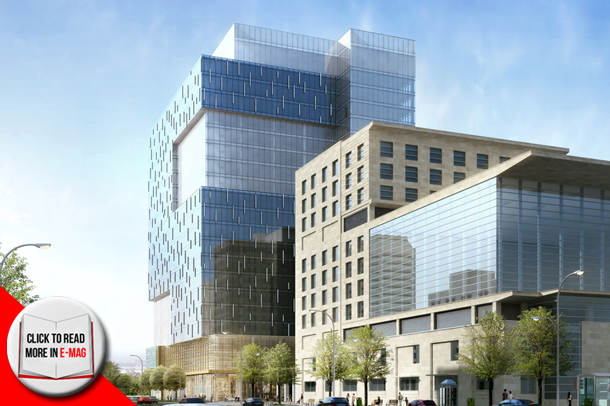 Guild Electric – One of Canada's largest electrical contractor on MaRS
By: Sunjay Mathuria
Established in 1954, Toronto-based Guild Electric has been a leading force in providing electrical services in Ontario. Since its inception, Guild Electric has evolved and expanded its services to include: Communications, Highway & Traffic, and Maintenance & Service. However, Electrical Construction remains the key facet of their business and they are the contractor of choice for various clients across the province.
With a workforce of more than 500 highly-skilled professionals, Guild Electric has been providing quality customer service for the past 50 years. As their website states, Guild Electric is "driven to satisfy customers." Guild Electric views their relationships with customers as partnerships. The management team is actively involved in all aspects of the project, from proposal to completion and they are available for any maintenance or alterations afterwards. Additionally, Guild's team can "fast-track your project, significantly reducing completion time without sacrificing quality or safety."
John Camilleri works as a project manager for Guild Electric and has been with the company for 35 years. Starting out as an electrician, Camilleri now works on many of Guild's high-profile projects, which include the first TIER 4 Data Center in Canada up in Barrie, Ontario.
Guild Electric is currently working on the MaRS Centre, a project based in downtown Toronto's Discovery District. The newly-improved MaRS Centre will be Canada's largest science, technology and research centre. With PCL as a general contractor on this project, Guild Electric signed on back in 2008. "It was kind of a design assist project and it kept going from there," explains Camilleri.
Unfortunately, the project was put on hold in 2009 due to economic hardships, but it soon got going again. As a subcontractor to PCL, Camilleri's role with the MaRS project is to generate estimates, organize sites with the foreman, order materials and ensure materials reach the site on time. Guild Electric's role with this project is fairly substantial and crucial.
"We're doing all the electrical in the building, except for the tenants. We're doing the high voltage distribution, the low voltage distribution, electronic metering, fire alarms, security, communications infrastructure, lighting protection on the roof," says Camilleri. He says the number of electricians on the job has grown to 30 as of 2013.
With so many projects on the go, there are bound to be different challenges. "The fact that the project got started, got put on hold for a couple of years, it gets hard to keep your crew together because when it starts back up again, you want to put the same crew back on it," says Camilleri. "Every three months, it would come back to us and there would be an uncertainty."
An additional challenge was ensuring that there were no price increases that would jeopardize the project as a whole.
Another challenge on the MaRS project was getting the generators up on the roof. But with every challenge Guild Electric faces, there is always a sound solution. The three generators, weighing in excess of 30 000 pounds, were disassembled and then brought up to the roof, where they were assembled once again. It is this kind of quick thinking that ensures Guild Electric gets the job done.
The MaRS project is a success so far and Camilleri credits the "good construction team, the PCL and the consultants. It's a good group of people and everyone worked together quite well."
As one of the top electrical construction companies in the province, Guild Electric is always looking for new ways to be innovative and stand out. This means keeping up-to-date on all the newest technological trends that make doing the job easier and more efficient.
Camilleri says Guild Electric has started using a GPS locating device this past year. "We no longer take measurements; we now input all our dimensions into a computer. We take the tool out onto the slab and it actually locates for you. There's no more measuring, so that's pretty innovative and pretty new," he says.
What set Guild Electric apart from other electrical companies are its people. Like Camilleri himself, Guild Electric has many long-term employees, which is a testament to the kind of workplace the company is.
At Guild Electric, there is always something on the go. And when the installation is complete, it does not necessarily mean Guild's job is finished too. "We've done a lot of pharmaceutical work in Toronto 20 years ago. We're still in those buildings doing maintenance work," says Camilleri. This kind of commitment to clients speaks volumes about the quality of the work that is done at Guild Electric.
Whether it's a major bank or a university, Guild Electric knows how to get the job done and with Guild Electric on the job, you can be sure it will get done on time.