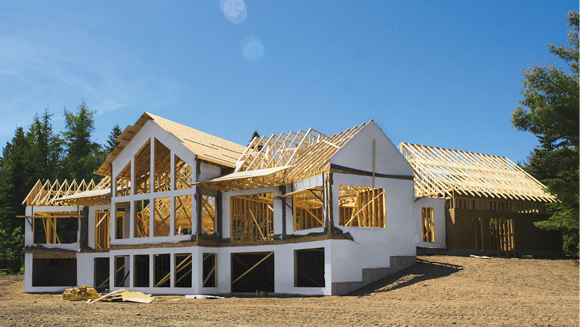 Architectural Design is Just A Truss Away
For over two decades, homeowners in Atlantic Canada have been calling Atlas Structural Systems for custom-designed floors and roofs. Based in New Brunswick, Atlas Structural Systems is a family-owned business that has been servicing a diverse clientele since 1988. Atlas Structural Systems President, Ola Johnson has been with the company since the very beginning. Starting out with just two employees and only a few customers, mostly from word-of-mouth, Atlas Structural Systems has grown to over 100 employees and has clients across the Maritimes and some parts of Quebec and the US. Although transportation costs limit the potential of further expansion, the company has retained a loyal customer base and has developed unique products for the changing housing needs.
"The honesty and the reputation is why they keep coming back and the services we give them. We also have quality staff, who are knowledgeable and professional – they know what they are talking about," explains Johnson.
And, according to Johnson, the company credits their success to doing their business "The Atlas Way," which primarily centers on collaboration and teamwork.
Johnson explains what he means by "The Atlas Way": "We partner up with our customers. We partner with building suppliers and with contractors. We make sure the homeowner gets what he or she wants. It's a service we're giving them, not a product."
Atlas Structural Systems is there to help you complete your dream home. And no home is complete without floors and a roof. As the company's website states: "a roof isn't just a set of engineered trusses, but a roof 'system' that not only provides structural integrity for the building, but contributes to its architectural design and appeal." Carefully following the customers' design specifications, Atlas engineers, designers, and construction workers help materialize your vision, whether that be stylish dormers or sweeping ceilings. When Johnson first started out, houses "just had regular roofs" and were "square blocks." But things have changed since then, as homeowners have more input in how their houses are built. They now seek custom-designed roofs of different shapes and styles.
Johnson ensures his company has kept up with the trends with its use of innovative technology. Before construction, on-site designers and engineers will work closely with customers to help bring their "perfect home" into fruition. With the help of such state-of-the-art programs as the Alpine System, a software for designers, Atlas ensures quality and accuracy for its customers.
"Our technology and equipment are first-class. The technology that we're using is always new," says Johnson.
Similar programs are used for floor design, too. Structural designers are available to provide site-specification requirements that are also suited to the customers' vision. Along with the various roof types to choose from, Atlas also offers a range of floor products, such as laminated veneer lumber and triforce open web joists. The staff at Altas understand that building a home is not only a commitment, but it is also an investment. They only use quality products that ensure longevity.
While comparatively small, Atlas has certainly become reputable. And they are expanding their services.
Last year, they added prefabricated panelized walls to their list of products.
"We did pretty well with that last fall and we're hoping to grow that. Our customers are giving positive feedback and people are excited about it," says Johnson.
Building walls for a house is a big job. That's why Atlas Structural Systems has coordinated its workers to ensure the job is completed efficiently and to the customers' satisfaction. Their prefabricated panelized walls are custom-designed and are made from kiln dried lumber, which is less likely to shrink. With their technological, design, and construction expertise, Atlas staff work closely together on each project from start to finish, making the process time-efficient and hassle-free. Product deliveries are made on time with respect to work deadlines and the average installment per wall panel is approximately 15 minutes. As their website says: "Faster cycle times for construction mean higher profit margins. Walls can be built and delivered to the site while the foundation is being poured."
Johnson is proud of the company's family history: his sons, brother-in-law, and sister-in-law have contributed to Atlas's ongoing success. However, he also considers the business itself and the customers a part of the family.
Atlas invests a lot of time in their staff to guarantee they have the right people for the job. They offer innovative career-enhancing courses in their employee certification program: "This program ensures the development of all employees so that they strive to become the best in the industry, and is focused on a broad base of skills, not just on what is requires for the current position being considered." In the program, all employees get a feel for the various aspects of Atlas – from manufacturing to design processes. Atlas not only offers skills for the job, but it prepares its workers for successful careers.
When it comes to roofs and floors, the staff at Altas Structural Systems know their work inside and out. From using innovative design programs to close collaborations between engineers, designers, customers, and builders, Atlas is certainly becoming a force to be reckoned with in the housing industry.
Over the past 24 years, Ola Johnson has witnessed his family's company grow tremendously. His hope is to become even bigger.
"I think we're getting big enough. The walls are the next step and we're developing that. We want to be number one in Atlantic Canada," he says.